Iowa Football 2012: Would Another 7-5 Season Put Kirk Ferentz on the Hot Seat?
April 11, 2012

Marc Serota/Getty Images
Kirk Ferentz has become one of the most beloved coaches in the history of the University of Iowa football program. However, a couple of disappointing seasons have begun to sour the tremendous fan support for the man who led the Hawkeyes to a 2010 Orange Bowl victory. Would a third straight mediocre season turn up the heat under Ferentz's coaching seat?
It's easy to fall into the somewhat recent trend in college football of putting coaches under the "what have you done for me lately" wheel of the bus. Fans and universities alike have fallen prey to the win-or-leave mindset that demands instant and constant success.
It's all about conference titles and BCS bowls.
Iowa has mostly been able to avoid this problem, in large part, because they weren't in a position to demand anything beyond consistent bowl appearances. The Hawkeyes failed to post a single winning season from 1961 until 1981.
Even though Hayden Fry ushered in an era of unprecedented success that included 14 bowl games in 20 seasons, Iowa fans kept expectations tempered. The memory of two broken decades was fresh in their minds, and they knew how bad things could be.
Kirk Ferentz has carried on the tradition. Despite failing to make a Rose Bowl appearance, Ferentz has led Iowa to 10 bowl games, including two Orange Bowls.
In the middle of that great run, though, was a stretch of three seasons that saw Iowa post thoroughly mediocre finishes. From 2005 through 2007, Iowa posted one seven-win season, a 6-7 season and a 6-6 finish.
Of course, following that stretch, Iowa enjoyed an 8-5 season that included an Outback Bowl win over South Carolina and an 11-2 season that saw Iowa win the Orange Bowl over Georgia Tech.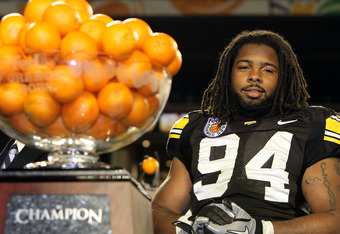 Doug Benc/Getty Images
Since then, the Hawkeyes have floundered a little. The last two seasons have been 7-5 affairs. Obviously, last year's finish was an Insight Bowl loss to Oklahoma.
Over those last two seasons, fans have grumbled louder than I can ever recall since the very beginning of Kirk's tenure at Iowa. Did that Orange Bowl victory change so many things in Iowa City?
In a nutshell, yes.
For two decades, Iowa fans have been waiting for the Hawkeyes to take that next step. They had become a perennial bowl team with occasional runs at the conference title.
They've been waiting to become a perennial threat for that title that makes occasional runs at even bigger things. I'm talking BCS bowls every four or five years—maybe an entrance in the national title discussion every now and again.
The Orange Bowl win made it appear that Iowa was there. They'd arrived, and what's more, they had the bulk of their playmakers returning for the 2010 season. There was national title discussion.
Instead of making a run at the conference crown and riding a few waves on the national scene, the Hawkeyes fell completely flat and looked for all the world to be a lower-tier Big Ten team that managed a mid-tier record.
That doesn't sit well, and honestly, it shouldn't. With a coach as highly touted (and highly paid) as Kirk Ferentz, there was no excuse for that meltdown and little excuse for the mediocrity that followed it.
Now, let's put aside the rant and get down to reality a moment.
Will Kirk Ferentz find himself on the hot seat? Not with Iowa AD Gary Barta. Barta (rightfully so) is more concerned with maintaining a competitive program that's financially stable, educationally strong and keeps out of trouble with the NCAA.
Kirk Ferentz has provided that.
Most likely, the grumblings won't go too far this year either. Fans are discouraged, but they also understand a couple of important truths.
First, this is a rebuilding year in a lot of ways. The defensive line is practically brand new. The offensive line replaces a couple of big contributors.
That alone makes Iowa football tough to maintain.
Throw into that mix the fact that they lost one of the best receivers ever to wear the uniform and are suffering yet again from a lack of experienced running backs. Also, they have to break in a new punter and try to build a special teams that's not a liability.
Then of course, there's a new offensive coordinator, a new offensive line coach, a new linebackers coach and all of the shuffling that goes along with those changes.
This will be an all-new Iowa team, and that usually means a ton of growing pains.
Second, Iowa is incredibly tough to sell recruits. It doesn't have the national appeal of Nebraska, Ohio State or Michigan. It doesn't have warm climate like the SEC schools or the beaches of Southern California.
It's a great school in the middle of a bunch of corn fields that gets colder than a well digger's you-know-what in the winter. Iowa City isn't a "city" by comparison to places like Miami. It's a long way from "home" for the majority of the nation's four and five-star recruits.
It's tough to compete with the best on a continual basis when your success depends on building up 2- and 3-star recruits every year.
Don't get me wrong. It's part of what I love about Iowa. The fact that they take "every man" and turns him into "Super Man" is awesome. It's a microcosm for the American Dream.
It also takes four years to put together, and just one or two classes that don't quite live up to expectations can set the program back in a big way.
Iowa is back in that cycle of trying to rebuild a couple of great classes that can carry the team back into the mix within the Big Ten.
All of this means that Kirk Ferentz will get a little slack. At least, he should.
He's a good coach, but he's not a miracle worker. The deck is stacked heavily against his team this year, and he really can't be expected to provide anything beyond a winning season.
Even that might be tough to pull out if injuries take any effect at all on the team.
If Iowa goes 7-5 for the third consecutive year, it won't be the first time under Kirk Ferentz. Still, he has pulled it out in the past. I believe he can do it again.
If three turns to four however...