Stanley Cup Playoffs 2012: How Dangerous Is a Healthy Detroit Red Wings Team?
April 10, 2012

Christian Petersen/Getty Images
The Stanley Cup Playoffs officially kick off on Wednesday night and if your team made it in, you feel my excitement.
The Detroit Red Wings will be making their 21st straight appearance in the NHL playoffs, the longest active streak among any North American professional sports franchise.
The Red Wings have an image of sorts among players, fans and analysts alike: old, but experienced.
Age can work against teams occasionally, and Detroit is no exception. Although no longer the team full of youth and energy as the Red Wings of the 1990s were, this Detroit Red Wings squad will come in with a chip on their shoulders.
At one point this season, Detroit was in the driver's seat in the NHL, but then the wheels fell off to injury.
The injury parade started with an innocent injury to the Red Wings goalie Jimmy Howard, who broke the index finger on his blocker hand.
Supposedly, Howard was to miss two games (even though it was broken) and then be able to return.
Two games turned into a month, and Howard saw his dream of breaking Martin Brodeur's single-season wins record of 48 come to an end as Howard finished the season with a 3-7-3 record, a far cry from the 32-10-1 he had been before the injury.
Then it seemed like no one could stay healthy, and the Red Wings were suddenly without Nick Lidstrom (deep bone bruise in ankle), Jonathan Ericsson (broken wrist), Pavel Datsyuk (knee scoping surgery) and Jakub Kindl (upper body injury).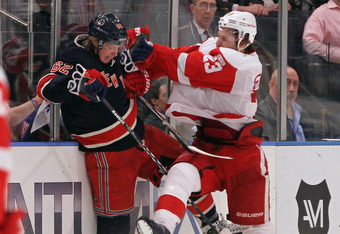 Bruce Bennett/Getty Images
All have since returned, but with varying degrees of success. Darren Helm is out until at least the later part of this week, and Dan Cleary lists himself at "50 percent" for game one.
Age obviously isn't going to help these Red Wings to overcome their injuries, but at this point in the season, everyone is playing with minor injuries here and there.
Detroit played the last quarter of the season short-handed with the injuries I have mentioned above, but with a nearly healthy lineup, how dangerous is Detroit this post-season?
Well, let's start in goal. Should we be worried about Jimmy Howard's play because of how he finished the season?
Considering the fact that from December 2nd to February 2nd (not counting the Montreal game) Howard was 18-5 with a 93.7 save percentage, I have to say no.
Howard will benefit greatly from captain Nick Lidstrom playing again, and even though Lidstrom cannot move as well because of the lingering effects of his bone bruise, Lidstrom will play a more stay at home role.
Howard will also benefit from the return of Jonathan Ericsson, something I would have not predicted myself saying before Ericsson's return from injury.
Christian Petersen/Getty Images
However, while injured, Ericsson's physical presence and ability to muscle players off of the puck was missed. Upon return from injury, Ericsson has been playing much more physically and clears pucks out of the zone on a regular basis instead of turning them over at his own blue line as he so frequently did before his injury.
Offensively, Pavel Datsyuk is the catalyst that makes it all go up front. While injured, Datsyuk's absence from the ice was so blatant because of the Red Wings' inability to penetrate the offensive zone and keep the puck in the zone for any length of time.
Datsyuk's knee doesn't seem to be bothering him at all, and he looks as creative as ever. But Datsyuk has just 14 points in the just over two months since the All-Star break. If he gets any where close to the productivity he had before the All-Star break (53 points in 48 games), Detroit will be more dangerous instantly.
The problem that I see for other teams facing Detroit is that Johan Franzen is starting to heat up offensively. This might not be obvious by Detroit barely making the fifth seed in the Western Conference, but other players like Filppula, Bertuzzi and Hudler have not been scoring as much as before Detroit was injury-ridden.
There is no denying the talent that Detroit has offensively. Because of their talent up front, the defense often gets overlooked.
Players like Brad Stuart, Nik Kronwall and new comer Ian White have proven that goals don't need to come from just the forward position.
Detroit led the league in goals by defensemen this season, and it was one of their contributing factors to their success for most of the season.
So to recap, how dangerous is a healthy Detroit Red Wings team?
It's been a while since that has been the case so fans may have forgotten how dangerous they can be.
That being said, If the Red Wings have half of the offensive chemistry that they had before the All-Star break, Nashville better duck and cover because this is going to be a high offensive series.
I don't have a crystal ball in front of me, but if the Red Wings get into gear offensively and they are allowed to have even a little bit of time and space, Nashville will be left wondering "what if" about this season.
For more article updates, Follow @isaacesmith91