Champions League: Why Chelsea Can Beat Barcelona in Their Semifinal
April 9, 2012

Clive Rose/Getty Images
Chelsea are belying their struggles in the Premier League this season with their advance into the semifinals of the Champions League.
The Blues are embroiled in what looks like a three-way battle for fourth place on the domestic front and, with it, a qualification playoff for next season's Champions League.
By contrast, they are just three matches away from winning Europe's premier club competition this term, something which would earn them a returning spot as defending champions and render fourth place as merely a route into the Europa League.
Standing between the west London club and glory are reigning holders and era-defining outfit Barcelona. Just as with almost every team slated to play Barca, Chelsea go into their two-legged tie as clear underdogs. 
Looking at reasons for almost any side to back up their case for beating the team widely touted as one of the best ever is difficult, and can feel like an exercise in clutching at straws.
However, there are reasons to give Chelsea and their fans hope that they can be the ones to upset the form book and deny the world the Clasico final against Real Madrid that most are confidently predicting.
There is a great degree of confidence that can be drawn from the sharp upturn in their results since Roberto Di Matteo was appointed interim manager following the sacking of Andre Villas-Boas.
Chelsea's attacking players have at times shown more confidence and swagger going forward, while their defensive players are helping the team to win ugly in the sort of fixtures in which they might have collapsed just a couple of months ago.
The problems which dogged the club during Villas-Boas's short reign that the Portuguese was not given ample time to solve may for the most part remain—namely an aging squad, a dressing room with too much player power, an under-par return of goals from the strikers and a lack of midfield creativity—but even with their struggles this season Chelsea still have a 100 percent record at home in Europe this season.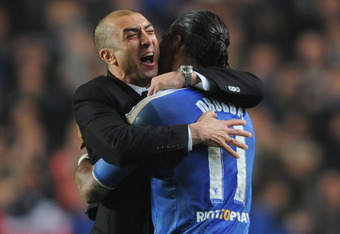 Michael Regan/Getty Images
In their five matches in the competition thus far—which have included visits from Valencia, Napoli and Benfica—their record reads won five, scored 16 and conceded just two.
Their recent head-to-head record against Barca is enviable compared to almost any other team out there. Chelsea have not lost to the Blaugrana in their last five meetings, stretching back to the first leg of their knockout tie in 2006. Barca won that tie by the odd goal, but Chelsea gained revenge the following season when a 1-0 win at Stamford Bridge and a 2-2 draw at the Nou Camp sent the Blues through.
The last time they met, in the infamous semifinal of the 2008-09 campaign which was characterised by the controversial refereeing of Tom Henning Ovrebo, Barca were held to a 0-0 draw in Spain before Andres Iniesta's stunning late goal sent the Catalan club through on away goals.
The respective trajectories of the two clubs may have been in opposite directions since that night, but such a record is something from which Chelsea must draw strength. If nothing else, it proves that they do not even have to beat Barca on the night in either of their upcoming fixtures in order to progress.
In fact, they could lift the trophy this year without winning another match if they manage to reach the final in Munich and triumph there on penalties. 
Chelsea gave up on winning the Premier League a long time ago, and while the prospect of a semifinal against Tottenham Hotspur in the FA Cup will be a grand occasion, it pales into insignificance compared to their bid to secure their first-ever Champions League title. 
A lot has been made of the curious piece of scheduling which pits Chelsea against Spurs on Sunday, April 15, just three days before they welcome Barca to Stamford Bridge for the first leg.
To make matters worse, the kick-off for the match at Wembley against their London rivals is at 18:00, an almost unprecedented occurrence that has infuriated the club.
However, Barca have things just as bad ahead of the second leg. They host bitter rivals Real Madrid at the Nou Camp on April 21 in a Clasico encounter which could well decide the destination of the Spanish title. Barca are currently four points behind Real, so a home win there would set up a thrilling end to the Spanish season.
Just three days after hosting Real, they will welcome Chelsea for the finale of their clash. If that tie remains in the balance, the rigours of their titanic domestic clash threaten to hamper their European hopes.
A lot of the reasons for Chelsea fans to draw hope from are circumstantial rather than footballing ones. On paper, Barcelona are clearly favourites against a club enduring its most topsy-turvy season for a decade.
However, they are factors which can potentially play into their hands and at least give rise to the prospect of an upset that will make this tie compelling.