Matt Barkley and USC Trojans Deserve Credit for Haiti Effort
April 10, 2012

Ezra Shaw/Getty Images
If you read this space regularly, you know that I am a loyal Oregon Ducks fan. I don't much care for the USC Trojans. I don't like Lane Kiffin. And I have been known to refer to Matt Barkley as "Blondie" in a manner which could be construed as derogatory.
But last week's news that Barkley is planning a trip to Haiti this summer to lend a hand to their rebuilding effort turned me into a fan of his—at least for one day. The fact that he has convinced 15 of his teammates to go along with him to the earthquake-ravaged country says a great deal about his leadership skills. And it says a great deal about his teammates.
My first—cynical—thought was: "How brilliant to position yourself as a do-gooder for the early Heisman race, Barkley." I'm sure there are many of you USC-haters out there who are thinking the same thing.
Yes, this move by Barkley, his parents, and his teammates has its roots in PR. I don't know if the sports information director at USC—or even the honchos in the Pac-12 headquarters—thought up this trip to Haiti.
It doesn't matter whose idea it was—it matters that he's going. Because this is not Barkley's first foreign volunteer effort—he's also traveled to South Africa and Nigeria—I think the idea for the Haiti trip most likely originated with him or his parents.
It also doesn't matter how much these 16 strong young men accomplish in six days rebuilding houses and delivering supplies, although I will hope they make their presence known in both a physical and emotional way.
What's important is to show the world that the most coddled, most pampered young people in our country still care enough about others to try to enact change. All college football players are not law-breaking narcissists.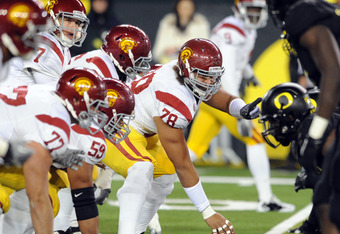 Steve Dykes/Getty Images
Those of us who pay attention to college football in our communities know that there are many wonderful stories of our favorite athletes and coaches contributing to a better society. Most of our schools do not get the attention that a storied program like USC does.
That's what makes Barkley's effort all the more important; because both he and his university are high profile, it helps draw attention to the feel-good side of the sport we all love.
It's good PR for Barkley and for the school, no doubt. He probably just solidified his hold on the Heisman, especially if the Trojans actually build something in Haiti.
I hope they do, and I hope that they represent all of us well who love college football. Thank you, Matt Barkley, for raising the bar.
Sean Penn should buy them all dinner while they are there, or would that be a NCAA violation?
P.S. I still hope to see Mr. Barkley on the ground a lot on Nov. 3. But I hope someone will give him a hand up.