NHL Playoffs 2012: 5 Biggest Matchups to Watch in Rangers-Senators Series
April 9, 2012

Christopher Pasatieri/Getty Images
The first round of the NHL playoffs features the best battles of the entire season perennially, and 2012 is no exception. The madness all starts with the New York Rangers and the Ottawa Senators.
These two Eastern Conference contenders come into this series in very different positions, but still have their eyes on the same prize. Something has to give.
On paper this may look like a lopsided series in favor of the Rangers, but the Senators have the talent and the personnel to make this interesting. The following are the matchups that will decide who ultimately wins this series.
Henrik Lundqvist vs. Craig Anderson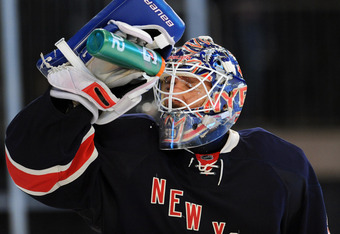 Christopher Pasatieri/Getty Images
While this looks as one sided as a goalie matchup could possibly be, don't count out Craig Anderson and the Senators just yet.
Anderson won 33 games this season, going through the good times and the bad, while acting as the anchor for an ever-swaying franchise. While his goals-against average of 2.83 is far from impressive, he has played much better as the defense has tightened up.
Looking at Lundqvist's win total will show a man that won just six more games than Anderson this season. While its true that his GAA was far lower at 1.97 and his shutout total of eight more than doubled Anderson's output, it's all about getting the offensive support at the right time.
Rangers Top Line vs. Ottawa's Top Defensive Pairing
It's honestly not even the whole Rangers top line the Senators have to worry about. Their biggest concern will come from the duo of Marian Gaborik and Brad Richards.
No matter who plays the other wing on the top line, this will be where most of Ottawa's defensive firepower is aimed because of the skill between this duo and their importance to New York's offense.
While the combined 142 points between the duo is impressive, the defensive dynamic duo of Erik Karlsson and Filip Kuba will keep the games close. Add in the offensive prowess of the defenders for the Senators, and they are as dangerous defensively as a team could be.
Daniel Alfredsson vs. Father Time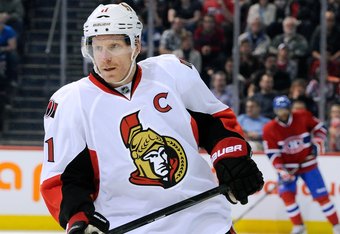 Richard Wolowicz/Getty Images
With 59 points in 75 games this season, Ottawa Senators captain Daniel Alfredsson's biggest battle this playoff season will be against father time.
At 39 years old, the star winger has seen his production slowly decrease while watching the game speed up and pass him by. There is no doubt that he has some game left in his tank, but just how deep he could go in a playoff run while still being effective has yet to be seen.
The Senators will have to play all four lines more often and shorter shifts if they want to keep their aging star fresh, but it will ultimately be up to Alfredsson to let the staff know how much he can take and when he needs to stay out another few minutes.
Paul MacLean vs. John Tortorella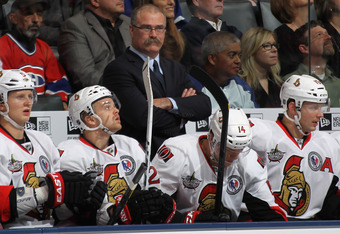 Bruce Bennett/Getty Images
While this looks like another one-sided matchup for the Rangers, do not underestimate the hockey mind of Paul MacLean.
After spending several years in the NHL as a player, the veteran coach served as an assistant coach under the tutelage of Detroit Red Wings head coach Mike Babcock. With that duo winning as often as they did, the Senators' success should be no surprise in Ottawa, even in his first season as head coach.
As good as MacLean is, much of his potential has yet to be determined. John Tortorella on the other hand, has been to the Promised Land and returned with the Stanley Cup in 2006. While most casual fans won't see the ins-and-outs of this battle, this could make or break the series.
Brandon Dubinsky vs. Jason Spezza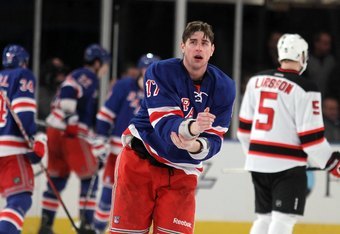 Bruce Bennett/Getty Images
While the top pairings and lines will always get the mainstream love, there is nothing better than watching two second-lines try to prove their worth.
In this case, the centers of the Rangers and the Senators are two totally different players.
Jason Spezza is a play-making center with a knack for putting the puck in the net, while Brandon Dubinsky is a hard-checking forechecker that takes as much pride in his defense as he does offense.
As they say, something always has to give in these situations, so it might actually be whoever each team aligns with the second-line center that actually make the difference. Either way, don't take your eyes off this series for a minute.
Check back for more on the National Hockey League as it comes, and check out Bleacher Report's NHL Page to get your fill of all things hockey.