WWE News: Former Superstar Colt Cabana Regains the NWA World Championship
April 9, 2012

On the April 8th taping of NWA Championship Wrestling from Hollywood, Colt Cabana defeated Adam Pearce to become the new NWA World Heavyweight Champion.
This will be Colt's second reign with the title. He previously defeated Pearce for the belt in March of 2011. He then held it for 48 days before dropping the belt to The Sheik.
After his latest victory, Colt posted the following message on Twitter:
So proud to be the 2x NWA World Heavyweight Champion. Helluva fight put up by @ScrapDaddyAP
The NWA World Heayweight Championship was once considered to be one of the most prestigious titles in all of professional wrestling, especially during the days of the "territory system," an arrangement that allowed multiple promotions to stay lucrative, exchange wrestlers and protect their own individual properties.   
The title has been defended in organizations such as World Championship Wrestling, Smoky Mountain Wrestling, New Japan Pro Wrestling, Eastern Championship Wrestling, Total Nonstop Action Wrestling and Ring of Honor Wrestling.
Several legends have held the title, including Lou Thesz, Buddy Rogers, Harley Race, Ric Flair, Sting, Barry Windham, Ricky Steamboat, Dusty Rhodes, The Great Muta, Masahiro Chono, Giant Baba, Terry Funk, Jack Brisco and several others.
There is no doubt that Colt is in good company, and he has every right to be proud of this victory.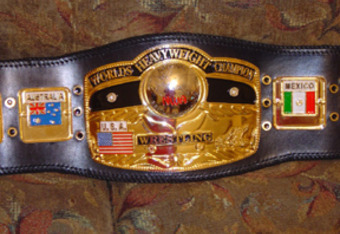 But of course, the title has not been free from bad news.
The reputation of the belt has been damaged by backstage politics, disputed reigns and the deconstruction of the territory system by "big-time" promoters such as Vince McMahon and Ted Turner.
One of the biggest setbacks occurred in 1994, when newly-crowned champion Shane Douglas threw the belt to the ground, called the NWA a "dead promotion" and declared his NWA-ECW Championship to be a world title. Shortly after this, Eastern Championship Wrestling seceded from the NWA and became Extreme Championship Wrestling.   
The title went on to be defended in smaller territories until the NWA reached a deal with Jeff Jarrett to form the "NWA-TNA" promotion, which produced champions such as Ken Shamrock, Christian, Ron "The Truth" Killings, AJ Styles and Jarrett himself. But then TNA became independent in 2004 and completely severed ties with the NWA in 2007.
Today, there are only two or three big fish that are in the shrinking pond that NWA has become. Nevertheless, Colt seems to be very happy for where he stands right now.
So, what is next for Colt Cabana?
For the immediate future, Colt's second NWA World Title reign should be a longer reign or at the same length as his first.
The NWA World Title is still a big deal on the independent scene. So perhaps this would make him valuable to Ring Of Honor, his former home. Colt is a former two-time ROH Tag Team Champion with his fellow Chicago native, CM Punk. Maybe he can be in contention for a singles title in Ring Of Honor.
And then there is his other former home: World Wrestling Entertainment.
Colt previously worked on the SmackDown roster under the name "Scotty Goldman," mostly as a jobber. He was released in 2009.
But his best friend, CM Punk, has name-dropped Colt several times over the last couple of years, most notably during his infamous "worked shoot" on June 27th, 2011.
Looking into the camera, Punk inquired, "Hey, Colt Cabana, how ya doing?"
Punk also wore a t-shirt on Raw in 2010 that read "I ✡ Colt," a reference to Cabana and his Jewish heritage. These actions have led some of the fans to chant Colt's name during Punk's matches.
A reunion of the Second City Saints would be a great WWE addition, especially for the Tag Team division.
Also, Cabana is good friends with other WWE Superstars, such as Zack Ryder and Daniel Bryan.
These relationships, and his latest title acquisition, could hopefully put him in favor of getting his old job back.
In the meantime, congratulations to the new champ, and congratulations to the NWA for trying their best to stay relevant in the current structure of pro wrestling.