Manchester United: Who Should Win Player of the Season for the Red Devils?
April 9, 2012

Clive Brunskill/Getty Images
It's been a season of ups and downs for United this year.
After crashing out of both European competitions to teams that the Red Devils should have realistically brushed aside with relative ease, focus was turned toward the domestic competitions.
After an impressive 3-2 victory away to Man City in the FA Cup, Sir Alex's men were knocked out of the next round by bitter rivals Liverpool.
However, with the weekend's results now behind us, it looks more than hopeful that United will be able to bring home a second consecutive Premier League title—their 13th in just 19 seasons.
As we approach the final six games of the season, it's time to start thinking about Player of the Year candidates.
I've decided to make this article a standard one and not a slideshow because I want to (with the help of a poll) gauge your view on who deserves it most.
What more can be said about Rooney that hasn't already been—and not just the good stuff.
Wayne shows year in and year out that he is a world-class, quality striker, scoring in crucial games and at crucial times.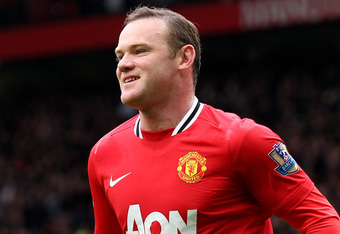 Alex Livesey/Getty Images
On top of this, he has very much led from the front this season.
After the controversy of last season, it seemed unlikely that Rooney would even have been a United player at the start of this campaign.
However, Wayne stuck by the Red Devils and has wisely kept his head down this season.
I have been very impressed by the new attitude Rooney has expressed over the course of the year, perhaps he is finally maturing—or perhaps it's just that because now we have someone to compare him to in the form of Mario Balotelli, he seems like an angel!
On top of this, his buildup play and passing has been far beyond what you would expect of an out-and-out striker.
Twenty-nine goals and counting for Rooney this year is enough of a claim in itself for the award!
Antonio Valencia
When Valencia was signed from Wigan Athletic three seasons ago, the majority of the Premier League thought it was a waste of money.
How wrong could they be?
Antonio has shown time and time again his quality, not just in the Premier League, but also on the grandest of European stages.
I honestly don't think I've ever seen a less selfish winger in the years I've been watching this beautiful game.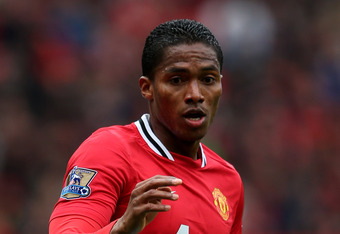 Alex Livesey/Getty Images
In fact, at times it's almost frustrating how happy he is to pass off to a teammate in open space—he deserves the odd goal or two more for the fantastic creative football he plays.
Since Nani's injury, Valencia has returned with even more class than before.
A true unsung hero and a brilliant candidate for this glorious award.
Ashley Young
This young (no pun intended) man has been a breath of fresh air for us this year.
I have to be honest—when I heard we had signed him, I thought it was about two years too late.
I couldn't have been more wrong! Young, more than any other player (except possibly Valencia), has had the ability to single-handedly change games in United's favour this season.
In a sense, Ashley is the perfect combination of Valencia and Nani—in terms of both ability and temperament.
Young will take the shot on when he sees the opportunity, but also knows when the right time to pass is (something that Nani despite all his skill still needs to learn).
His long crosses into the box are perfect for an aerially gifted player like Rooney, which is also great news for England going into the European Championships.
Ashley Young may have been one of the bargains of the summer.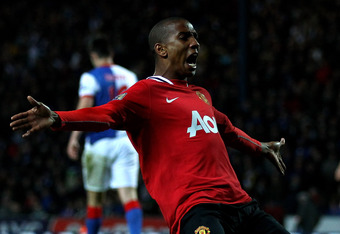 Clive Brunskill/Getty Images
Paul Scholes or Ryan Giggs
Obviously, there is no way they can both win the award, but I've included the two together because what I have to say for each pretty much applies directly to the other.
These two men just don't know when to quit, and thank God for that!
It's amazing (and to an extent somewhat worrying) that Scholes and Giggs are still sometimes single-handedly winning games for United.
Who could forget the trip to Carrow Road this year, against an in-form Norwich team?
Scholes and Giggs played like the champions they are in that match, and they brought home the bacon.
As amazing as the likes of Messi and Ronaldo are, will they still be able to play at this level of football when they are 36 years or older?
I'm certainly not ruling it out, but it seems unlikely!
These two men have dedicated their lives to United and never fail to amaze. 
Phil Jones
Another signing that shocked and confused many around the country.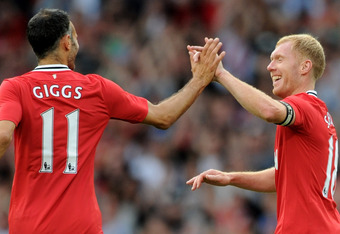 Chris Brunskill/Getty Images
There was no doubt that Jones had had an amazing season the year before with Blackburn, but could he really cut the mustard at United?
Yes, and how! The future United captain shows great maturity beyond his age and always keeps a calm head on the football pitch.
On top of this, his technical ability is amazing, both defending and when required going forward.
Unfortunately, it is unlikely he will pick up the prize this year, as he has been heavily hit with injuries.
Without doubt, however, this is a young man who will be winning this award, quite possibly on more than one occasion, in the future!
Johnny Evans
The last candidate on this list is someone that I myself wanted to be rid of as recently as the January transfer window.
However, since then, Evans has had a dramatic turnaround in his United career.
In the last couple of months, Johnny has finally started to show the defensive ability that Sir Alex must have seen in him when signing the young man up.
He has become a consistent winner of headers, and some of his tackles as the last man—an always risky task—have been breathtaking!
If the award was for who made the biggest improvement from last season, then Johnny would win it hands down.
The bad news for Evans is that's not quite how it works.
I doubt he will pick up the award, but whatever happens, he should be extremely proud of his accomplishments this season. As should the entire team.
Who do I think will win the award?
I believe Valencia or Young should win it, but I can see it going the way of Rooney for his goals.
Whoever wins, they will be deserving after an impressive season in the league for the entire squad!