When Brock Lesnar walked out to the ring last week on Monday Night Raw, his F-5 to John Cena sent shockwaves through the WWE Universe.
While many superstars in the back have questioned the move, bringing back a mainstream star like Brock Lesnar is nothing but great for WWE as a business. It may be a temporary Band-Aid, but it buys the WWE more time than they had.
All of the following reasons make his return worth the money WWE is reported to have spent (somewhere in the area of $5 million for one year), whether the other superstars like it or not.
Financial Boost

Was WWE Right to Hire Brock Lesnar Back?
Whether hardcore fans like it or not, the WWE is a business first and foremost. It is the goal of Vince McMahon and the organization to make as much money as possible.
Just like the Rock's return to WrestleMania 28 had the world buzzing and extra PPVs being ordered, the WWE is hoping to do the same with Brock Lesnar during the course of 2012 and end up feuding Rock with Lesnar in order to have the biggest main event in history.
The Rock has proven that he has the mainstream appeal to increase the buys on the shows he is involved in, and so has Lesnar. Of the six UFC events that had a buyrate of over a million, four had Brock as the main event.
Coincidence? I think not.
Publicity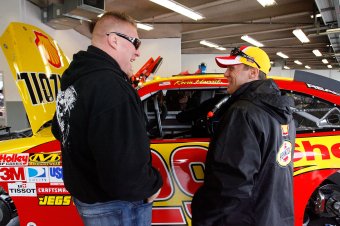 Jason Smith/Getty Images
When the WWE name hits the airwaves of
ESPN
or Yahoo! Sports, you know that the mainstream gap has been bridged. That's what Lesnar brings to the WWE.
All of the casual fans that liked him in UFC or respected him for trying out for the NFL will tune in to WWE to see what the guy they are familiar with will do.
Just like when your favorite actor hosts Saturday Night Live, you may not watch the show regularly, but you will tune in when he is on. The same will happen every time Lesnar is scheduled on Raw or a PPV.
Covers for WWE's Poor Talent Management
Word has been that the company will be looking to dump some underused or untalented superstars from the roster, but it won't be enough to save the company from its problem with developing future stars.
The company has many good stars coming through FCW right now, but most are trained in other companies. If WWE wants to continue to be the powerhouse it has been over the last 25 years, they need to start focusing more attention on talent development.
Check back for more on the World Wrestling Entertainment as it comes, and visit Bleacher Report's Wrestling Page to get your fill of WWE/TNA. For more Wrestling talk, listen to Ring Rust Radio for all of the hot topics you just can't miss (some language NSFW).