Major League Soccer Power Rankings Week 5: New York Red Bulls Surging
April 9, 2012

Richard Wolowicz/Getty Images
The New York Red Bulls sputtered in the first week of Major League Soccer action, but things have turned around in New York. Kenny Cooper and Thierry Henry look like the best forward paring in MLS, and there doesn't seem to be answer to how to stop them right now. 
Real Salt Lake came back firing this week with two wins in a short week. Is this week's showdown with perfect Sporting Kansas City the game of the year? Short answer: Yes. Both teams are stingy and both are in prime form.
1. Sporting Kansas City (5-0-0, 15 Points)  
Kei Kamara comes through in the clutch again, and Sporting K.C. becomes the first team since MLS's inaugural season to start the year 5-0. Oh, and Sporting hasn't allowed a shot on goal for 245 minutes.
That's pretty impressive (an understatement if I've ever written one).
2. Real Salt Lake (5-1-0, 15 Points)
Two wins on one week proved to be pretty easy for an RSL side that has come together again under Jason Kreis.
3. San Jose Earthquakes (4-1-0, 12 Points)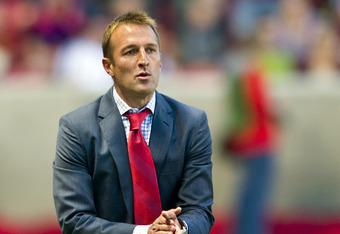 Doug Pizac/Getty Images
San Jose finally allowed a goal, but Chris Wondolowski added two more to his tally, and the Quakes dispatched a good Whitecaps team at home. 
4. New York Red Bulls (3-2-0, Nine Points)
Kenny Cooper and Thierry Henry each scored a brace over the weekend against Columbus—bringing their goalscoring totals to seven for Henry and six for Cooper. They continue to terrorize defenses, and will do so until someone can find an answer to their goalscoring prowess.
New York's defense is still iffy, but with an attack like this, it won't be tested that often.
5. Seattle Sounders (2-1-1, Seven Points)
A draw away to D.C. was deserved, but there are still questions about the Sounders going forward.
Is there a bite to this team? Or will it continue to flounder in important games?
6. Vancouver Whitecaps (2-1-2, Eight Points)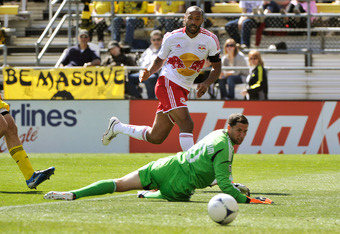 Jamie Sabau/Getty Images
A loss at home to San Jose puts a dampener on a solid start to the 2012 campaign for Martin Rennie's team. There are still issues with putting the ball in the back of the net for the Whitecaps, and it all needs to be sorted this week—which Vancouver has off—before Sporting Kansas City comes to town.
7. Houston Dynamo (2-1-0, Six Points)
The break continues for the Dynamo. How many teams are jealous of their schedule right now? The Fire are rested in waiting, though, and the Dynamo needs to show its muscle in its return to action next weekend.
8. Colorado Rapids (3-2-0, Nine Points)
Chivas' win at Rio Tinto looks more like the anomaly that it was. Colorado found out what so many teams will find this year—Real Salt Lake doesn't mess around at home. Next week won't be any easier, with a trip to Seattle.
9. New England Revolution (2-0-2, Six Points)
New England deserved a point in Dallas, but a sloppy giveaway from Shalrie Joseph and poor marking by the captain on a free kick in extra time gave Dallas the late win.
The Revs had a tough week of travel (LA to Dallas) and had to deal with tornado warnings on the road trip. All things considered, New England outperformed Dallas for much of the 90 minutes.
10. FC Dallas (2-2-1, Seven Points)
An injury-time goal from Ugo Ihemelu saved Dallas from a disappointing home loss. Injuries continue to mount for the Hoops, though, and will eventually catch up.
11. Columbus Crew (2-1-0, Six Points)
Columbus had no answer for Henry and Cooper. To be fair, not many teams will.
12. Los Angeles Galaxy (1-3-0, Three Points)
Another loss for the defending champs. And questions continue to arise about players' fitness and David Beckham.
13. D.C. United (1-2-2, Four Points)
D.C. United has tightened its defense in recent weeks. A draw with Seattle at home was fair, but there are questions as to who will step up and help Dwayne De Rosario.
14. Chicago Fire (1-2-1, Four Points)
A week off for the Fire was nice. Now it gets to host the Dynamo, another well-rested team, at home.
15. Chivas USA (2-0-3, Three Points)
Winning on the road is proving easier for Chivas than at home. A surprising win at Portland puts the rest of the league on its toes for when the Goats come to town.
16. Montreal Impact (1-3-1, Four Points)
Andrew Wenger scored his first MLS goal, helping Montreal get its first win in MLS and beating nearby Toronto in the process. Things are looking up in Montreal.
17. Portland Timbers (1-3-1, Four Points)
Is this the same Timbers team we saw in Week 1? A loss to Chivas at home was embarrassing for a team that was supposed to beat the sophomore slump.
18. Philadelphia Union (0-3-1, One Point)
No game this week for a Union team that really needs to figure things out. 
19. Toronto FC (0-4-0, No Points)
Out of CONCACAF Champions League and a loss to their newest Canadian rivals made for a horrible week for the Reds. There are still so many questions that need to be answered about this team, but the biggest has to be in the defense, where the team is thin and extremely weak.