Philadelphia Flyers: Sizing Them Up with Pittsburgh for Their Playoff Battle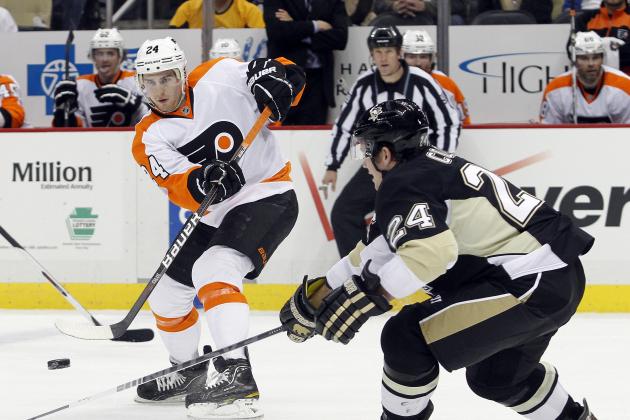 Justin K. Aller/Getty Images

The fortunes of two of the best teams in the Eastern Conference have them playing each other in the opening round in the 2012 NHL playoffs.
For the Philadelphia Flyers and Pittsburgh Penguins the first round might as well be the conference finals.
The winner of this round will still have to possibly face both the New York Rangers and Boston Bruins. But looking ahead will prove to be a fatal flaw.
The season series seemed to favor the Flyers, but when the playoffs start, so does a new hockey season, right?
Make no mistake this is a series that will be hard fought and well played. It could go either way despite Pittsburgh being a heavy favorite.
Begin Slideshow

»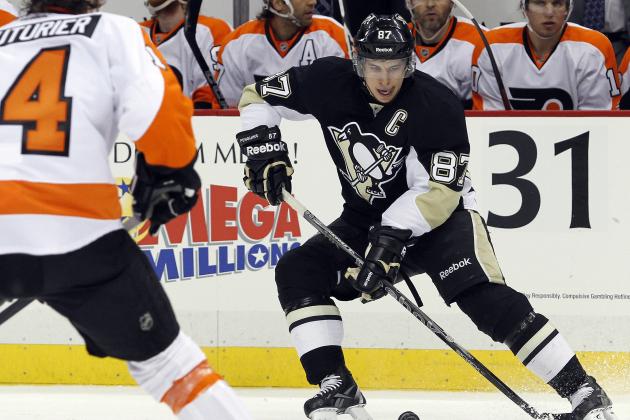 Justin K. Aller/Getty Images

Both teams have considerable depth at the forward position, but Pittsburgh really has the better arsenal.
The Flyers' young forwards have potential and will need to tap into it in order to keep pace.
Laviolette will have his hands full while Bylsma rolls lines consisting of names like Crosby, Malkin, Kunitz, Staal and Dupuis.
But the Flyers have some power forwards to ram down the Penguins throats too, even if they're less proven.
It's unclear whether Danny Briere will be available for the Flyers, but they still have Giroux, Hartnell, Jagr, Simmonds and Read—not as imposing as Pittsburgh's arsenal but still a potent bunch.
Advantage: Pittsburgh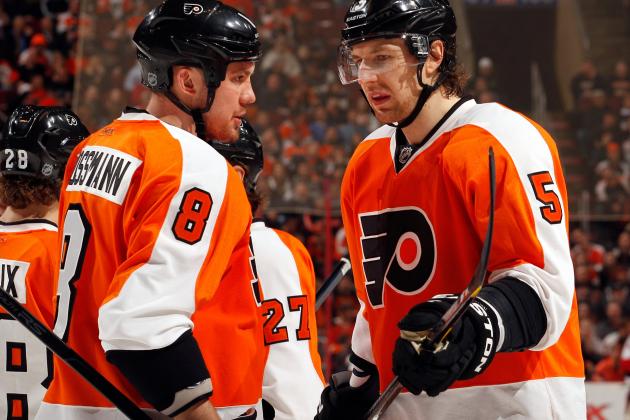 Rob Carr/Getty Images

Due to the ever so convenient knee on knee hit by Pittsburgh's Joe Vitale on Flyers defenseman Nicklas Grossmann, the shutdown defenseman's status is questionable for the series.
If available, Grossmann shores up Philadelphia's blue line, one that stifled the Pittsburgh attack for the better part of the regular season matchup.
The Flyers will be without Andrej Meszaros and, of course, captain Chris Pronger, but the additions of Grossmann and Pavel Kubina have gone a long way toward plugging those holes.
Pittsburgh boasts a deadly blue line of their own too.
Kris Letang having only played in 51 regular season games still managed to rack up 42 points. One can only ponder that had he played a full season he'd be a favorite for the Norris Trophy.
Pittsburgh's blue line is a formidable bunch for any team, but through the season series it was all too evident that the chippy style and antics of players like Scott Hartnell could get them off their game.
Advantage: Philadelphia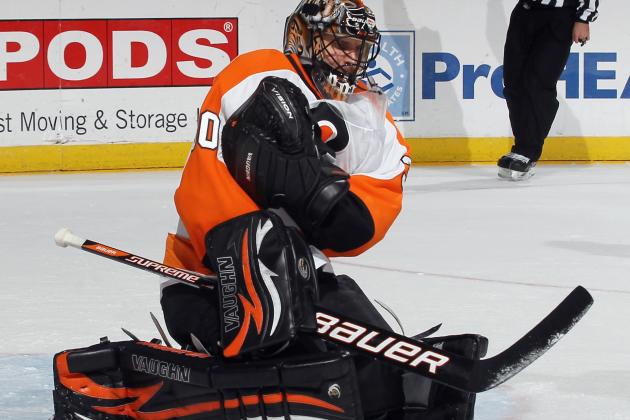 Bruce Bennett/Getty Images

The most crucial aspect of a playoff series, goaltending, will go a long way in determining which team advances.
Both goaltenders posted respectable numbers through the regular season.
Andre-Fleury: 2.36 GAA 42 wins 17 losses 4 OTL 3 SO .913 SV%
Bryzgalov: 2.48 GAA 33 wins 16 losses 7 OTL 6 SO .909 SV%
Their playoff totals in terms of goals against and save percentage are almost carbon copies.
Bryzgalov has a postseason career .917 SV% and a 2.55 GAA.
Andre-Fleury has a postseason career .910 SV% and a 2.52 GAA.
Andre-Fleury also backstopped his team to a Stanley Cup championship.
Bryzgalov stepped in for five games during a playoff run while his starter was injured and did an excellent job, which helped his team eventually win a Cup. Bryzgalov is nursing a foot injury, but at this point he can't afford to let that be a factor.
Based on the fact Fleury is marginally more proven in the playoffs than Bryzgalov, the edge goes to Pittsburgh.
I say he's marginally more proven because it is my opinion that if you switched these two out and put Andre-Fleury on Phoenix and Bryzgalov on Pittsburgh, the results would have been similar.
Advantage: Pittsburgh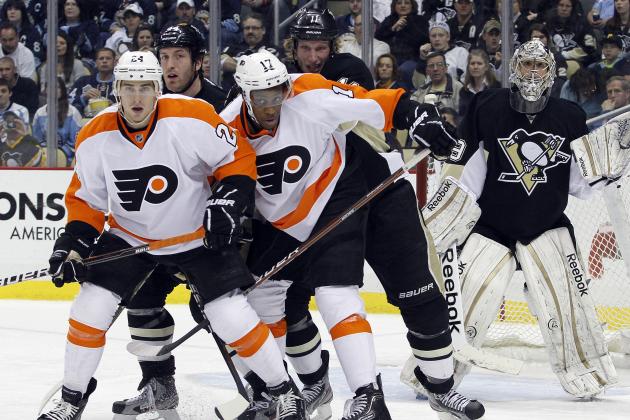 Justin K. Aller/Getty Images

On the power play Pittsburgh finished two hundredths of a decimal ahead of Philadelphia for fourth place in power play percentage at 19.72 percent. Philadelphia finished at fifth overall in power play percentage at 19.70 percent.
It's hard to determine which club has the advantage there.
On the penalty kill there is a definite contrast. The Penguins finished third in the league at 87.8 percent. The Flyers finished 17th at 81.8 percent.
Here's where things get interesting though. In the season series the Flyers outscored the Penguins on the power play six to three.
So regardless of how each club finished the season in special teams, the results from the head-to-head matchup are what matter most.
Advantage: Philadelphia
This area of comparison is open to opinion. Each coach has a Stanley Cup ring.
Bylsma, in his coaching debut, coached the Pittsburgh Penguins to their third Stanley Cup.
Laviolette won a Stanley Cup with the Carolina Hurricanes with a rookie goaltender.
He also coached the Flyers to a finals appearance on a run which included a comeback from three games down.
Neither coach is a slouch in terms of ability. Both are accomplished tacticians and motivators.
However Bylsma has had two of the best players in the world in his arsenal. Not that Laviolette has a collection of pee wee league players but having those two makes any coach's job easier.
Furthermore Laviolette has shown more so than his counterpart that he can get his team over the hump when they are the underdog.
Advantage: Philadelphia