Winnipeg Jets: End-of-the-Season Recap for the Team
April 9, 2012

Marianne Helm/Getty Images
The Winnipeg Jets finished the season with a record of 37-35-10, good enough for 84 points and fourth place in the Southeast Division.
Overall, the Jets finished in 11th place in the Eastern Conference, eight points out of a playoff spot.
The Jets put together a solid season and really built off previous seasons.
Although they didn't fare well enough to make the playoffs, they fared well enough to give hope for the future—maybe for the first time in a long time.
If the Jets can continue to progress and build off each season, they'll be golden. With just a few more tweaks, the Jets could find themselves in the postseason as early as next season.
Statistically, the Jets saw players elevate their game to a whole new level while setting career-highs in goals and points.
At times, the Jets couldn't buy a goal during the season. But as a team, the goalscoring improved over time.
The Jets finished with three 20-goal scorers, including Evander Kane, who reached 30 goals for the first time in his young career.
Kane led the Jets in goals with 30. Andrew Ladd finished second with 28 goals, one shy of his career high, which was set last season in Atlanta. Former 30-goal scorer, Bryan Little, finished third on the team with 24 goals.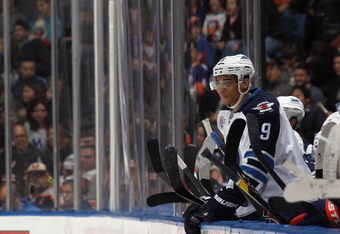 Bruce Bennett/Getty Images
Kane would have probably been a 20-goal scorer in each of his first two seasons if it weren't for injuries, but the budding superstar managed to take flight this season by netting 30 goals.
Kane's impressive season is just a small taste of what he holds in store for the Jets. With continued offseason improvements, Kane is likely to become a 40-goal scorer in this league.
The Jets also had four 50-point players, including a 60-point player in Blake Wheeler.
Wheeler led the Jets with an impressive 64 points. Kane came in second with 57 points, while defenseman Dustin Byfuglien came in third with 53 points.
Ladd rounds out the Jets 50-point players with his 50-point season. 
Probably the most unexpected yet impressive feat this season was Blake Wheeler's breakout year. Wheeler emerged into a solid playmaker and finally learned to use his size to his advantage.
Wheeler's made himself a keeper in Winnipeg and an extremely valuable asset. The scary thing is, Wheeler started off extremely slow in the beginning of the year.
If Wheeler picks up where he left off at the start of next season, he could possibly elevate his game even further.
Another impressive feat was Dustin Byfuglien's 53-point season. He matches his career-high from last season, but did it in 15 less games.
Yes, Byfuglien accumulated 53 points in 66 games. An untimely injury forced Byfuglien to miss 16 games, or else he would have been a sure shot 60-point defenseman.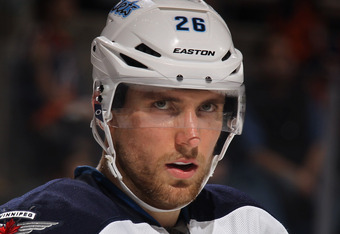 Bruce Bennett/Getty Images
On the defensive side, the Jets saw many improvements.
Although at times the defense struggled to keep the opponents from getting great chances, the defensive corps as a whole improved on many elements this season.
Mark Stuart, one of the unsung heroes of this team, finished among the top 10 in the league in blocked shots. Not only that, Stuart's physical game continues to improve each season as he finds himself among the league-leaders in hits.
Stuart's guidance really helped Zach Bogosian elevate his game.
Bogosian is a key piece to the Jets defense and is relied upon to live up to his third-overall potential.
The Jets are going to have to continue to improve as a whole on defense in order to become a solid playoff team.
Goaltending was rarely an issue for the Jets this season, because the man behind the mask played like never before.
Ondrej Pavelec—remember the name, because he's going to be one of the top goalies in this league for years to come.
Pavelec was probably the main reason why the Jets were competing for a playoff spot in March. Without Pavelec, the Jets certainly aren't anywhere near as good as they are with him.
Pavelec's growth has come a long way, and the Jets are going to need him to continue his development into one of the best goalies in the league.
Even with questionable defense in front of him, Pavelec comes to the rescue.