Jeff Gordon: Why the No. 24 Got Robbed at Martinsville
April 9, 2012

Tyler Barrick/Getty Images
There have been questions for the last few years whether Jeff Gordon was a serious contender for the NASCAR Sprint Cup Series title anymore.  
After a great 2011 season, Gordon looked poised to make a title run this season.  This season has not gone his way, and Martinsville was a real sign of that.
Martinsville looked to be Gordon's way to turn his slow start to the season around. Gordon dominated Martinsville and was the car to beat all race long.
Gordon led over 300 laps and battled Jimmie Johnson for the lead with a few laps left. Everything was looking great for Gordon when the caution came out for David Reutimann just stopping in the middle of the track.
Reutimann forced a green-white-checkered finish, and Gordon was spun out by Clint Bowyer on the restart, then ran out of fuel under that caution. It was a horrific way to end a day that looked perfect.
I've thought about his over and over again, and without a doubt, Gordon got robbed.  
The controversy doesn't surround Bowyer, the guy who spun Gordon out, but on Reutimann for bringing out the caution.
Reutimann was many laps down at this point of the race and was running slower and slower every lap. Both Reutimann and his team knew his car was on its last legs and refused to pull into pit road to either repair the car or get out of the way.
What made this situation really interesting was how the other drivers in the garage area were reacting. Many drivers, including Dale Earnhardt Jr. and Bowyer, were angry at Reutimann.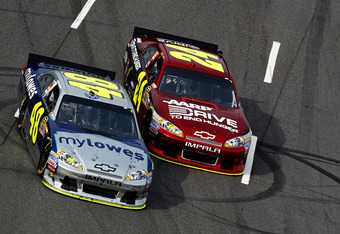 Jeff Zelevansky/Getty Images
When judging whether Reutimann was wrong for what he did, the fact that multiple drivers from multiple teams were upset about what happened should show that Reutimann was out of line being out there on the track.
The theory came up that Reutimann stayed on the track to keep the car in the Top 35 in points so that Danica Patrick would be guaranteed her next Sprint Cup Series race.
While Reuitmann and car owner Tommy Baldwin can deny it all they want, I don't believe them. There is big money on the line to make sure Patrick makes Sprint Cup races.
Reutimann ruined Gordon's day an maybe his entire season. This was the perfect opportunity for Gordon to turn things around and get a very important win for his championship run.
Now Gordon has to do whatever he can to make a good run at Texas and get a good finish.  
Gordon is outside the Top 20 in points, and his championship hopes are fading. I do believe that Gordon still has a chance to make the Chase, but he's got turn this year around this weekend.  
The way Gordon got robbed at Martinsville is going to make him real hungry to win and show the rest of the racing community that he is still a force to be reckon with.