WWE Rumors: Brock Lesnar, Undertaker and Monday's Top WWE News
April 9, 2012

Sam Greenwood/Getty Images
After one of the wildest weeks in not just WWE history, but the entire wrestling world, it's time to come back to earth and try to figure out how to deal with all of Monday's news and rumors.
Last week saw a wild WrestleMania 28, the return of Brock Lesnar, the Undertaker's streak continue and enough Indy wrestling to sink a ship.
What should we expect this week? More of the same, of course.
WWE is heading into one of its busiest times of the year in terms of days worked, so the rumor hot stove will be heating up. Keep it here for everything WWE and wrestling.
Will Brock Lesnar "Break"?
According to NoDQ and the good people at Pro Wrestling Torch, there is talk from veteran wrestlers that Lesnar will not be satisfied with his workload and will end up quitting.
Question on Everybody's Mind: Will Brock make it the year?
From the report:
One veteran wrestler who worked with Lesnar during his prior run with WWE doesn't think that he will able to handle working for the promotion for an entire year. The wrestler said to Pro Wrestling Torch editor Wade Keller on Monday night following Raw, "I give him four months before he cracks."
Hype Meter: 5 out of 5 worried wrestling fans
After one of the best returns in WWE history, the fans don't want the fun to end. What most people in the WWE Universe forget is that Lesnar quit on the WWE once already and there may be the feeling that he can come and go as he pleases. While his presence is great, it may be short-lived.
Deeper Dive
An Undertaker DVD
Just a few days after the 20-0 streak continued at Wrestlemania 28, talk of a DVD chronicling the Dead Man's journey to immortality was already being kicked around.
Question on Everybody's Mind: Will you buy it?
Our Take: Hell yes! As a fan of wrestling, anyone over the last 20 years that has seen the Undertaker has fallen in love with his gimmick and his character. With an allure like no other star in WWE history, this DVD will reach across all wrestling generations.
Hype Meter: 5 out of 5 tongues sticking out
While there is no question that the early matches on Undertaker's journey to WrestleMania infamy weren't great, the star had plenty of moments along the way that shaped his career. It will be interesting to see if this is just a WrestleMania DVD of 'Taker or a full-career DVD. The latter would be preferred.
Deeper Dive
The talk of the 'Taker DVD is rampant on the web, but NoDQ brought it to our attention first.
Stone Cold's Barn Blew Away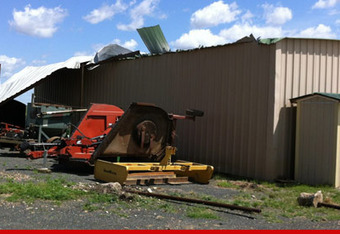 After the wild storms in Texas, TMZ is reporting that Stone Cold's property has been damaged, but more specifically a giant barn.
Question on Everybody's Mind: Why didn't he stun the storm?
Our Take: Mother Nature is a fickle beast, and to be perfectly honest, Steve Austin and his family are just lucky it was their barn and not their home. He should just crack a Steveweiser and count his lucky stars.
Hype Meter: 3 out of 5 angry rattlesnakes
As a Texas resident, Austin is used to the wild storms that show up unannounced at times. The former star is just thankful the damage wasn't worse and everything should be fine once that insurance guys cut ol' Steve Austin a check.
Deeper Dive
TMZ acts like a news organization and writes like a child.
Ring of Honor is Getting Fit
If you wanted to know where arguably one of the best wrestlers in WCW and WWE went, Fit Finlay will be on the card for Ring of Honor when they cross the border into Canada for their Border Wars PPV.
Question on Everybody's Mind: Will he be able to keep up?
Our Take: Before WWE fired him for a National Anthem gaffe, Finlay was starting his transition to a backstage role. The 52-year-old has been working the independent wrestling circuit ever since.
Hype Meter: 4 out of 5 veteran wrestlers
Ring of Honor has been desperate for the mainstream attention they need to get over huge with the casual wrestling fans. Bringing in stars like they did this week with Rhyno and in a few weeks with Finlay will bring more non-Indy fans to ROH.
Deeper Dive
Ring of Honor made the announcement on their website.
Ring Rust Radio's Tuesday, April 10th Edition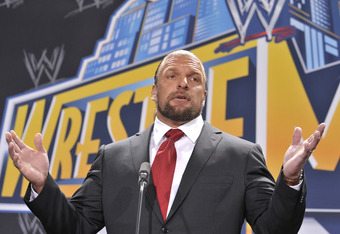 Michael N. Todaro/Getty Images
With WWE insider and Bleacher Report's finest Justin LaBar joining the crew along with WCW and ECW legend Scotty Riggs, this Tuesday's show has the inside lane to be the best in history.
Question on Everybody's Mind: Will RRR dominate again?
Our Take: Of course. After thoroughly covering WrestleMania from every angle, the boys of Ring Rust Radio are onto the next year's worth of wrestling news and rumors. It's going to be so good that you can't afford to miss it.
Hype Meter: 5 out of 5 new RRR fans
All it takes is one listen to the boys of Ring Rust Radio before you are hooked. For those too stubborn to try it, do it for The Rock.
Deeper Dive
WrestleMania 28, Brock Lesnar, John Cena & Latest WWE News from Ring Rust Radio
Check back for more on the World Wrestling Entertainment as it comes, and visit Bleacher Report's Wrestling Page to get your fill of WWE/TNA. For more Wrestling talk, listen to Ring Rust Radio for all of the hot topics you just can't miss (some language NSFW).