NHL Playoff Preview: Predictions Until June, Players to Watch and One Guarantee
April 9, 2012

Eastern Conference 1st Round

1. New York Rangers
8. Ottawa Senators
Prediction: Rangers in five. Ottawa is very skilled in their top six, but the Rangers are deeper and tougher. Henrik Lundqvist will negate Ottawa's offensive attack. Kyle Turris and Carl Hagelin are two top six speedsters to watch (on Ottawa and New York, respectively), but all eyes will be on how Ottawa plans to slow down the duo of Brad Richards and Marion Gaborik.
2. Boston Bruins
7. Washington Capitals
Prediction: Bruins in six. The biggest threat to Boston is not Alexander Ovechkin but rather Nicklas Backstrom. It looks like Braden Holtby will be in between the pipes for the Caps; it will be a monumental test for the rookie going up against the NHL's second best offense. Washington's lack of a shutdown tandem on defense will plague them.
3. Florida Panthers
6. New Jersey Devils
Prediction: Devils in six. The Panthers have the worst plus/minus of any playoff team and the same number of regulation and overtime wins as the Carolina Hurricanes (who finished 10 points out of the playoffs). The line of Parise-Zajac-Kovalchuk is too much for Brian Campbell and the Panthers blue line.
4. Pittsburgh Penguins
5. Philadelphia Flyers
Prediction: Penguins in seven. I don't think Philadelphia can win this series without James van Riemsdyk or Danny Briere, but they are good enough and tough enough to make it a long series. Jaromir Jagr is as good a playoff performer as the NHL has seen, and he'll need to be dynamic for the Flyers to win. That being said, Pittsburgh has the two best players in the series, a much better penalty kill and more experience between the pipes.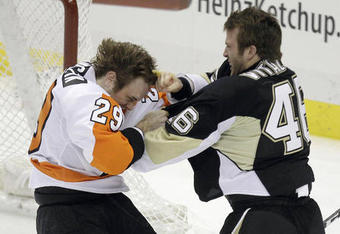 Semis

1. New York Rangers
6. New Jersey Devils
Prediction: Rangers in five. While New York had just seven more points than their Atlantic division counterpart, they had 11 more regulation and overtime wins. The Rangers are stronger than New Jersey all over the ice, though the best player in the series is New Jersey's Zach Parise.
2. Boston Bruins
4. Pittsburgh Penguins
Prediction: Penguins in seven. After a hard-fought, exhausting, physical series against Philadelphia, the Penguins will have to go toe-to-toe with another tough, hard-hitting team. Boston is stronger in net and on defense, but Zdeno Chara can't play against both Sidney Crosby and Evgeni Malkin at the same time.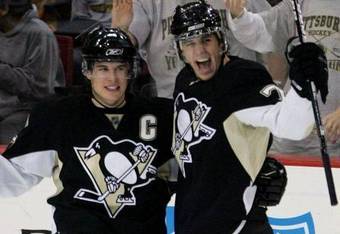 Finals

1. New York Rangers
4. Pittsburgh Penguins
Prediction: Penguins in six. Easy enough, right Pittsburgh? Just beat the three best teams in the conference. New York will grind and punish the Penguins for 60 minutes, but they simply aren't as talented as Pittsburgh at the end of the day. Henrik Lundqvist must be superhuman for the Rangers to beat Pittsburgh four times.

Western Conference 1st Round

1. Vancouver Canucks
8. Los Angeles Kings
Prediction: Canucks in six. LA is a very tough matchup for Vancouver. They play stingy defense and have excellent goaltending. It must also be mentioned that the Kings' offense has improved drastically since acquiring Jeff Carter. That being said, Carter might not be healthy for Game 1. Vancouver has its own injury concerns, however, with the status of Daniel Sedin up in the air. I think this series ends up tied 2-2, and Game 5 in Vancouver determines the winner.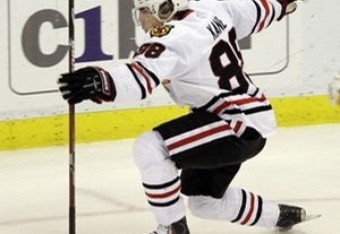 2. St. Louis Blues
7. San Jose Sharks
Prediction: Blues in six. If you haven't watched St. Louis much, they are the biggest, baddest team in the NHL. San Jose has more gifted skill players, but the Blues will hammer the Sharks and play more effective three-zone hockey. I have no idea who will be starting in net for St. Louis, but Jaroslav Halak's 2010 playoff brilliance might win him Game 1.
3. Phoenix Coyotes
6. Chicago Blackhawks
Prediction: Chicago in six. It's really hard to predict this series with the looming uncertainty of Jonathan Toews' health. Chicago is a stronger team, but Corey Crawford has been extremely underwhelming in net for Chicago this season. Despite exceeding expectations in the regular season each of the past two years, Phoenix has yet to impress in the playoffs.
4. Nashville Predators
5. Detroit Red Wings
Prediction: Nashville in seven. To quote Darren Pang, "Holy jumpin!" If Pittsburgh-Philadelphia is the crème de la crème of first round series, Nashville-Detroit isn't far behind. There is no shortage of story lines to break down in this series, but the biggest has to be Detroit's porous road play. There are five non-playoff teams that somehow have better road records than Detroit. I'll take the Predators at home in a grueling seven games.

Semis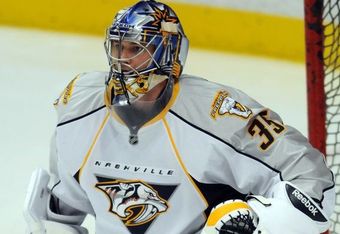 1. Vancouver Canucks
6. Chicago Blachawks
Prediction: Canucks in seven. They have met in the playoffs the last three seasons and have become bitter postseason rivals. By this point, Jonathan Toews should be back and hopefully at full strength. To add to the playoff drama, Daniel Sedin is currently recovering from a concussion suffered on a suspendable hit from Blackhawks defenseman Duncan Keith. Vancouver wins this series because of their edge in goaltending.
2. St. Louis Blues
4. Nashville Predators
Prediction: Predators in six. The Blues lost just six home games in regulation this season, but Nashville is finally ready to take the next stride in the playoffs. One goalie is better than two, especially when that one goalie is Pekka Rinne. Alexander Radulov is exactly the kind of difference maker Nashville needs to win a goal-starved series like this.

Finals
1. Vancouver Canucks
4. Nashville Predators
Prediction: Predators in seven. For me, this was the most difficult series to predict. Nashville gets the edge for having arguably the best defensive pairing and goaltender in the league. Last year in the six-game series between these two teams, every game was decided by one goal (with the exception of an empty net goal in one game).
Stanley Cup Finals 
4. Pittsburgh Penguins
4. Nashville Predators
Prediction: Penguins in six. I just don't know if there is a team that can stop a healthy Pittsburgh Penguins squad. Sidney Crosby and Evgeni Malkin are the two best hockey players in the world right now and they are both prime-time performers. Pekka Rinne is a quality enough netminder to turn in an all-world performance, but anything short of that would be insufficient. On top of Crosby and Malkin, James Neal is a 40 goal scorer, Pascal DuPois is the hottest man on the planet right now and Jordan Staal is the best third line center in the league.
Conn Smythe Award Winner

Evgeni Malkin, Pittsburgh Penguins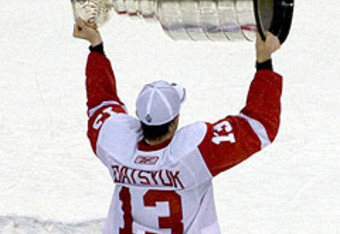 Top Five Injuries To Keep An Eye On 
1. Jonathan Toews, Chicago Blackhawks: Top five player in the NHL when healthy. Without him, Chicago could go down to Phoenix.
2. Daniel Sedin, Vancouver Canucks: Vancouver needs one of the league's most prolific goal scorers to make a deep run.
3. Jeff Carter, Los Angeles Kings: The Kings will badly need Jeff Carter's scoring prowess if they dream of beating Vancouver.
4. Danny Briere, Philadelphia Flyers: Philadelphia might be able to beat Pittsburgh without Briere, but getting the winger healthy is a huge step in solidifying their top nine.
5. Nathan Horton, Boston Bruins: The chances that Horton steps on the ice are slim to none, but Horton could be a rallying figure for the second straight year if he is able to make an improbable return.
Four Goalies You Don't Want To Run Into
1. Henrik Lundqvist, New York Rangers: He's the king of New York and when he's playing in his normal, deep position in net he looks nearly unbeatable.
2. Jonathan Quick, Los Angeles Kings: An outstanding year for the American netminder. He led the NHL in shutouts this season.
3. Tim Thomas, Boston Bruins: I mean, did you watch the playoffs last year? The only thing better than Thomas' numbers is his compete factor.
4. Pekka Rinne, Nashville Predators: Led the NHL in wins this year. He's an absolute workhorse and at 6'5" he leaves very few holes to aim at.
Three Names I Have Yet To Mention That You'll Want To Watch Every Time They Step on the Ice

1. Pavel Datsyuk, Detroit Red Wings: One of the best two-way players in hockey and one of the most talented and innovate players in the league.
2. Patrick Kane, Chicago Blackhawks: The only man who can possibly claim to have filthier mittens is the guy who is No. 1 on this list. When Kane plays, the puck appears glued to his stick.
3. Mike Smith, Phoenix Coyotes: Smith finished the year with the third best save percentage in the NHL. In related news, the Tampa Bay Lightning surrendered more goals than any NHL team.
Two Bold Predictions That Could Come True

1. Corey Schneider finishes the playoffs as Vancouver's starting goalie.
2. The Los Angeles Kings win the Western Conference
One Guarantee I would Take To The Bank

1. If the defending champions don't repeat as Cup Winners, a No. 1 seed or No. 4 seed will hoist Lord Stanley's hardware.