Colorado Rockies: Juan Nicasio Is More Than a Feel-Good Story
April 9, 2012

Doug Pensinger/Getty Images
Juan Nicasio took the mound for the first time this season on Easter Sunday, and I thought to myself, have we witnessed a miracle?
When Nicasio took Ian Desmond's line drive to the head, which caused a break in his C-1 vertebra, the score of the game became an afterthought. The progress of his slider was no longer a concern. We just wanted to see any sign that he was going to be OK.
The sight was the most disturbing injury I had ever seen witnessed on live TV. It was a scary scene; you could just see the look of concern on the faces of manager Jim Tracy and the players. Many stood by Nicasio's side the whole time the medical staff was engaged to his neck.
Before the injury, Nicasio had been one of the few bright spots on a Rockies team that was going through the most disappointing season in franchise history.
Nicasio was just a prospect pitching in Double-A one year ago. He was forced into the rotation last season due to injuries within the Rockies' pitching staff. Even though he had never pitched a game above Double-A, he was thrown into the fire of battling major league hitters. When you consider the fact that he went toe-to-toe with major league hitters with just two pitches, you could see that the future would be bright for Nicasio.
But in just one swing of the bat, the concern wasn't if he could become a regular in the rotation; it was if he'd even be able to live a normal life.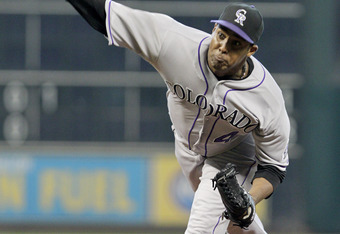 Thomas B. Shea/Getty Images
The story quickly became an inspiration when news was released that Nicasio was planning on meeting with the team just 10 days after surgery. Nicasio reportedly had also been walking from Coors field to his apartment. Not bad for a guy who could have been paralyzed, or even fatally wounded.
Many thought Nicasio's career to be over. Questions about his potential return were not even considered. Instead, teammates and fans were just relieved that Nicasio was alive and well.
Yet the young pitcher already had his sights set on the starting rotation.
Nicasio never stopped believing that he would pitch in the majors again. He entered spring training not just trying to see if he could still pitch at the level needed to compete, but also with the full intention of making the starting rotation.
Yesterday was a moment I will never forget. Juan Nicasio stepped onto the field with no fear and no hesitation. Sure, he pitched very well, but this was a moment where stats and the score of the game were of no concern. The important message that Nicasio's start conveyed was about one man's determination. It was about what a human being is capable of with a dream and strong support.
We could all take a page from Nicasio's book. He showed that no matter what the situation is, you never stop the pursuit of your dream.
The story of Juan Nicasio is more than an inspiration. In fact, we may have witnessed a miracle. His love for baseball and pursuit of a dream he has held dear to his heart for his entire life served as fuel for his journey back to the mound.