WWE: Ranking The Rock vs. John Cena Compared to Past WrestleMania Main Events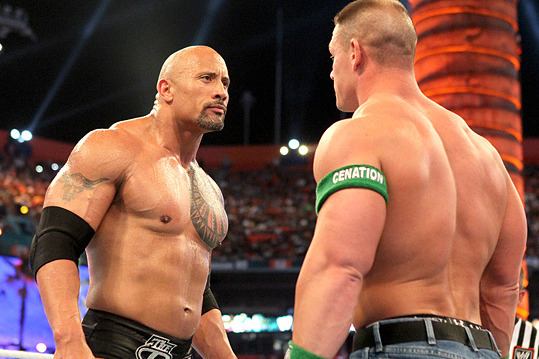 Photo Credit: WWE.com
The WrestleMania 28 match between John Cena and The Rock will be remembered for quite some time, but it won't go down in history as one of the best.
That's because there's a dozen WrestleMania main events that were better.
Fans have had two weeks to reflect on this year's marquee bout.
The adrenaline and excitement are over.
Both men have moved on to new storylines.
Now we can all look at this match objectively, stripped of any initial emotion.
I've watched every single WrestleMania main event, back to back to back to—you get the idea.
Now they're ranked.
The criteria: technicality in terms of wrestling and entertainment value are at the forefront. Only slightly was the magnitude that competitors' names carry and singular unforgettable events during the entire match considered.
Let the debate begin.
Begin Slideshow

»
WrestleMania II is a bit confusing to rank.
The reason being: three main events at three different venues.
For this list, I'm going with the most notable headline of Hulk Hogan versus King Kong Bundy. The others featured Mr. T versus Roddy Piper in a boxing match and a battle royal.
The premise was well played—Bundy injured Hogan's ribs earlier and now the two had to meet in a steel cage match.
The bout went back and forth with each competitor spending a considerable time with the upper hand.
It was certainly brutal.
In the end, the Hulkster fought threw two Avalanches to retain the title.
Unfortunately, two aspects hurt this match.
Elvira's voice is awful.
Second, the fact that Bundy was allowed to leave the cage through a door while Hogan had to climb over made no sense.
Hogan stopping Bundy at the door by his ankle five times felt like déjà vu.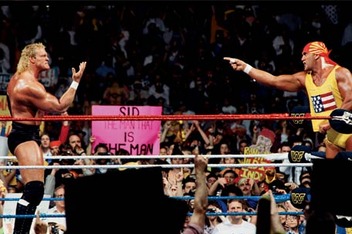 Photo Credit: WrestleHistory.com
Until Sid Justice, the big men Hulk Hogan faced were overweight and slow.
Honestly, the match still stunk.
The expectation was for Justice to do more damage with plenty of power moves.
It never happened.
In typical fashion, Justice hits a finisher only to have Hogan kick out.
For a WrestleMania main event to end in a disqualification like this one was a terrible waste.
Post-match was the best part.
With Papa Shango at hand to double-team Hogan, the Ultimate Warrior stormed out to clear the ring.
Cue the five-minute flex-off.
The first half of the WrestleMania 27 main event was only OK.
The Miz held his own—which was impressive—but it lacked entertainment.
I don't understand how John Cena got Triple H and Shawn Michaels to tap out from the STFU but couldn't get The Miz to do the same.
The Rock's interference provided plenty of drama (not to mention a year-long feud for WM28).
Interesting twist and a debatable finish to WrestleMania.
Let's be thankful it didn't end in a count-out.
I'll give him a pass because it was the mid-90s, but Lawrence Taylor's outfit was hideous.
To have any non-wrestler in the main event of WrestleMania might be considered a joke.
But this one delivered.
Taylor actually looked good, slamming Bam Bam Bigelow several times. The forearms Taylor delivered looked vicious.
Still, it's wondrous how L.T. kicked out of Bigelow's moonsault and headbutt, yet Bigelow was defeated by three diving forearms.
Then there was the announcers.
Jerry Lawler and Vince McMahon nearly ruined the match by themselves, constantly shoving football references down our throats.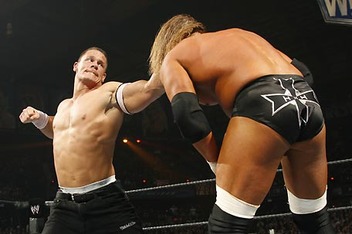 Photo Credit: Wrestling-match.com
WrestleMania 22 looked like a fight between a nephew and an uncle.
The younger generation—with the crown—fending off the older generation who wished to teach them a lesson and regain control.
Between the ridiculous entrances and fans cheering for the heel while booing the face, the plain-Jane match could easily be forgotten.
There were a few bright spots, but all in all, it lacked as a WrestleMania main event.
In case you forgot, John Cena won.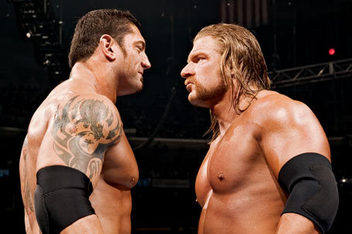 Photo Credit: Wwephotos.org
Batista's bulging veins were more impressive than this match.
It was just too bland.
Triple H worked on a weakness—Batista's back—to gain advantage.
Batista countered with power.
Triple H regained the momentum by cheating. Batista countered again and won.
The end.
The first-ever WrestleMania deserves some respect on namesake alone.
It was the big bang that started it all.
The names featured in the main event were phenomenal.
Hulk Hogan and Mr. T versus "Rowdy" Roddy Piper and "Mr. Wonderful" Paul Orndorff was a huge deal. Pat Patterson refereed and even Muhammad Ali was on hand as a special enforcer.
Hogan's team even had Jimmy "Superfly" Snuka on their side.
But names aren't enough.
Mr. T wrestled terribly. Ali distracted more than he helped. The whole thing was sloppy.
The pacing was bad, too.
At one point, Piper walked out and threatened to get counted out. For entertainment purposes, it's worth a shot to try a bold move such as this. For the main event at the first-ever WrestleMania, it wasn't the right move.
The end was the worst.
Instead of a clean finish, the match ended with Cowboy Bob Orton accidentally nailing Orndorff with a double ax-handle from the top rope.
Hogan pins and WrestleMania I ends.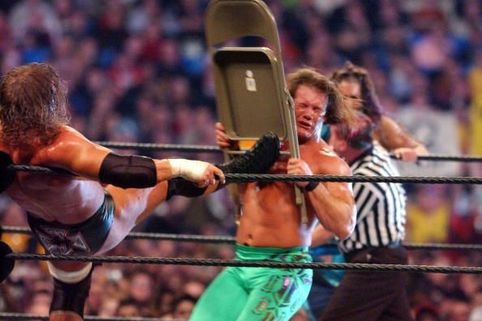 Photo Credit: Life.com
The beginning of this match was very slow.
Both guys went to work on each other's legs. Back and forth they went on for 25 minutes.
Uncharacteristically, neither one really sold well, either.
Someone explain to me how Triple H didn't tap out with a bum leg from a Liontamer, but Chris Jericho couldn't recover from one Pedigree after dominating the entire match.
It was all too predictable.
At least Stephanie McMahon was nice to look at.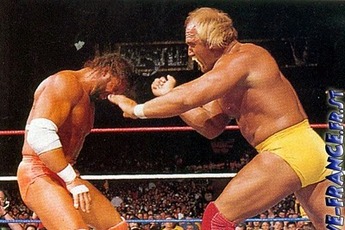 Photo Credit: Ringsidenews.com
A match between Randy Savage and Hulk Hogan is something all of us wanted to see until it happened.
Savage never looked right as a heel.
His constant running around was atrocious. It negated all the cool that was the "Macho Man."
WM5 did however pave the way for superstars to kick out of others' finishing moves.
But seriously, was there ever any doubt the Hulkster would win this bout?
The second WrestleMania main even match between Bret Hart and Yokozuna was similar to the first.
Yokozuna dominated Hart with his power.
Hart took to the air to slow the big man down.
Being too similar of a match reduces the value of part two.
Sure, Hart won the title back. But like the year prior, it ended cheaply.
Yokozuna simply fell.
Guest referee "Rowdy" Roddy Piper counted incredibly fast to seal the deal.
It rose many eyebrows when both men hit their respective finishers within the first five minutes.
Fortunately, nothing came of it.
The match was better for it. Fans were treated to yet another brutal battle in a long line of WrestleMania main events.
You would think with all of his experience, Triple H would know the Pedigree on the table never works.
It nearly ended in a cliche manner, though.
After the referee was knocked out (shocker), Randy Orton hit his finisher. Sadly, there was no one conscious to count.
Orton tried to beat Triple H at his own game. Instead, Triple H beat Orton using the Viper's tactics.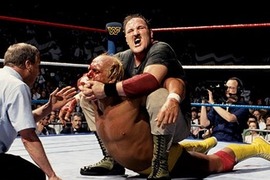 I'm still confused at this Sgt. Slaughter shtick, but that's for another time.
The pro was Slaughter bringing his hardcore style to the match. Chants of "USA!" from the crowd helped a lot, too.
Unfortunately, after seven WrestleMania main events in which Hulk Hogan was involved, it felt tired.
Hogan dominates. Slaughter cheats to get the upper hand. Hogan kicks out of a finisher, hulks up and delivers the leg drop to win it.
Decent matchup with a better back story.
It was almost as if the creative team said, "How can we get the haters to respect John Cena?"
"I know. We'll put him over the legend, Shawn Michaels. If he kicks out of all of HBK's moves, he'll have to be recognized as legitimate."
In typical Cena fashion, he countered all of the notable moves with forearms, punches and his specialty moves for the win.
Still, it was an exciting matchup.
Even if Michaels carried most of it.
Sequels are rarely better. This one was about equal in terms of the actual match.
Both wrestlers left the ring bloodied. Both showed tremendous heart, kicking out of each other's finishers.
It was the result that stunned most.
Steve Austin—for the first time ever—joined forces with Vince McMahon and turned heel.
It was something none of us ever wanted to see.
Easily one of the most hyped WrestleMania main events in history, it nearly lived up to it.
Two superstars. One winner.
There was no telling what would happen when "The People's Champion" met today's face of the WWE franchise.
This match provided quite the spectacle.
Power. Talent. Thrills.
Each aspect had a place in this one. The fight went all over the ring and outside, too.
Many speculated John Cena would turn heel. He showed signs early that the prediction might come true.
It was impossible to figure out the result.
In the end, The Rock kicked out of two Attitude Adjustments to best Cena.
What hurt this match was the Rock's clear fatigue. You can make the argument it was purposeful to insinuate a return to perfect form after an eight-year hiatus is difficult.
Either way, you couldn't mask the two wrestlers talking to each other the entire time.
The constant reversals of finishers and kick-outs didn't do this one any favors, either.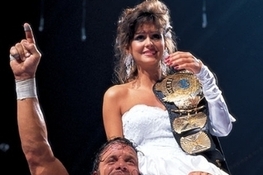 It was no Hulk Hogan and Andre the Giant, but the two were still ringside.
Where it lacked in star appeal, Randy Savage and Ted DiBiase made up for in the ring.
The WrestleMania IV main event was very technically impressive.
The two put on quite the performance.
They stuck to the basics while still entertaining the crowd.
Hogan and Andre the Giant's presence had lasting impact and provided to the story well.
It was Hogan's use of a chair to help Savage win that docks this match.
The match itself was actually decent.
Bret Hart took to the air to attack Yokozuna and it appeared to work.
The big man brought his strength and the Hitman provided the technical aspect.
It was the end that disappointed.
Yokozuna's manager throws salt in Hart's eyes and Yokozuna gets an easy pin.
Even with something in his eyes, Hart could have kicked out. Instead, fans were let down seeing Hart lose the title.
At least Hulk Hogan wasn't involved, right?
Not so fast.
After the match, Hogan came out to check on Hart. Mr. Fuji challenged Hogan to a title match right then and there.
Hogan won in 22 seconds.
This should have been deemed the "Vegas Screwjob."
It was incredibly fast-paced and dazzling for the first 10 minutes.
Then it slowed.
Both The Undertaker and Shawn Michaels showed they'd lost a step in terms of speed, but definitely not in ability.
Best of all, they both know how to perform.
This match featured two Sweet Chin Musics, a Last Ride, two chokeslams and three Tombstone Piledrivers—an uncharacteristic amount of finishers. Each kicked out until the final Tombstone was delivered.
This is the only match that can get away with that.
Both could have gotten away with retiring afterward. It was a terrific match to call it quits on.
Two-thirds of the match was your typical main event from two superstars.
Back and forth mixed with chairs, The Rock and Steve Austin both spent time on top.
Then it got real interesting.
One referee was knocked out. Then another. Vince McMahon interfered to pummel Austin.
Then Mankind, donning referee stripes, saved the day.
The match wasn't anything spectacular, really—it was the entirety of the story that earn this one high marks.
It also benefits from the two superstars involved.
How fitting was it to see a "Deadman" and a "Sycho" meet in the main event of WrestleMania XIII?
Oh, and it was a no disqualification.
For being two big men, both the Undertaker and Sycho Sid were outstandingly limber and quick. Of course, they mixed in plenty of power, too.
Even Shawn Michaels contributed as an announcer.
Bret Hart's three interruptions seemed unnecessary and I might not be alone in wishing the Undertaker won legitimately.
Either way, it was a great bout, and one that is heavily underrated.
Reminiscent of The Undertaker's match with Sycho Sid, WrestleMania 24 was even more impressive.
Why?
Because Edge isn't nearly as big as Sid, yet he still delivered some devastatingly powerful moves.
The match was very well-paced.
Both men traded back and forth with neither earning the upper hand for a long enough duration.
The reversals were awesome.
The Undertaker was able to counter one more time than Edge for a win.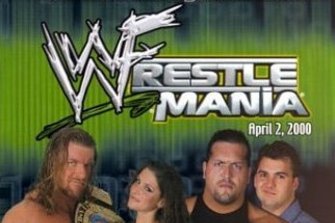 WrestleMania 2000 certainly was one of the more intriguing ones.
Not only was it the first four-way main event at the March PPV, it featured every single member of the McMahon family.
With this many people involved, it could have been a mess. Yet it wasn't.
The pace worked quite well, actually.
Unfortunately, it was a bit too predictable.
Fans knew Big Show would be the first to be eliminated. In fact, most of the fight was more of a three-way bout.
Likewise, most guessed Foley would be next.
They were right.
This main event was one of the more brutal ones in WrestleMania history. Frankly, I'm shocked there wasn't more blood between all the chair shots and broken tables.
Even the McMahons got in on the fun.
When Vince McMahon hit The Rock with a chair, it looked like it was over. When The Rock kicked out, most figured he would rebound and win.
The slug-fest during the fight was outdone by one of the most entertaining finishes ever.
Three McMahons got Rock Bottomed and Stephanie earned herself a People's Elbow.
WrestleMania III featured two of the biggest names in wrestling history.
Andre the Giant versus Hulk Hogan.
The background saw the two as friends until Andre the Giant became jealous of Hogan's accomplishments and challenged him to a title fight.
Never before had we seen Hogan dominated so easily.
A loss was more than plausible.
But then WrestleMania III gave fans one of the most iconic scenes of all time.
After hulking up, Hogan did the unthinkable: He bodyslammed Andre the Giant.
A leg-drop finished it.
Two of the biggest personalities in the WWE during the late '80s and early '90s, Hulk Hogan and the Ultimate Warrior complemented each other magically.
Neither was the heel.
Neither could be kept down.
Each time one would get the upper hand, the other would muster up the energy to rebound.
The two went toe to toe and put on one of the greatest matches of all time. Uniquely enough, the Intercontinental and World Heavyweight titles were on the line.
Either one could have won and no one would have been surprised.
In the end, Warrior came out on top.
Afterwards, Hogan handed over the belt and raised the Warrior's arm in victory.
Warrior standing over Hogan—fingers locked in—remains one of the most iconic scenes in WrestleMania history to this day.
One word describes the WrestleMania XIX match between Kurt Angle and Brock Lesnar.
Brilliant.
It felt more like a UFC competition than a scripted WWE bout.
Each participant flashed superior technical skills and impressive power.
Lesnar even attempted a Shooting Star Press. It was mind-blowing.
In the end, it took three F5s to take down Angle. If the third didn't get him, a lot of fans might have stopped watching.
It did reduce Lesnar's strength, though.
No one should kick out of two F5s.
Or even one.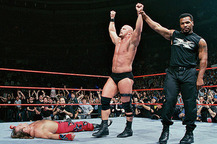 There couldn't be more big names involved in one match than WrestleMania XIV.
It had Shawn Michaels. It had Steve Austin. It had Degeneration-X in its heyday.
It even had Mike Tyson.
It wouldn't have been hard to stomach either participant winning—both were that fantastic.
WrestleMania XIV was rugged.
Back and forth it went until "Stone Cold" finally did one of the baddest reversals of all time—the leg-spinning Stunner.
Austin wins the title at WrestleMania. Michaels gets popped by Tyson. The "Attitude Era" is promptly ushered in.
Everyone wins.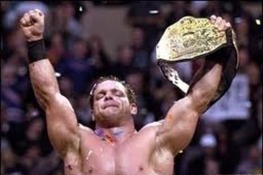 I'm not sure there were three harder workers in the mid-2000s than Chris Benoit, Triple H and Shawn Michaels.
Benoit was arguably one of the top technical wrestlers in the WWE.
Triple H was the perfect complement to Benoit's style.
Even an aging, beat-up HBK brought it at the 20th edition of WrestleMania.
The triple threat was extraordinary.
There was never any telling who had the advantage. Anyone's guess at a winner was as good as the next.
It might as well have been called a "Hell in an Arena" match.
It's an impressive feat to make Triple H tap out. This was the first WM main event to end in a tap out.
Benoit's due diligence was finally rewarded.
Shawn Michaels versus Bret Hart.
It was the WrestleMania XII main event and the title was on the line. Could you get more exciting than these two battling in the biggest showcase of the year for the most important title?
You sure can.
Make it an iron man match—the first one ever.
These two went at it for over one hour. Neither could pin or submit the other for 61 minutes.
The match was full of "did you see that" and "oh my God" moments.
It was phenomenal.
To produce that much energy for that amount of time is hardly ever seen.
Thrills, chills and spills—this one had everything.