The 25 Most Bone-Crushing NFL Hits of the Last 25 Years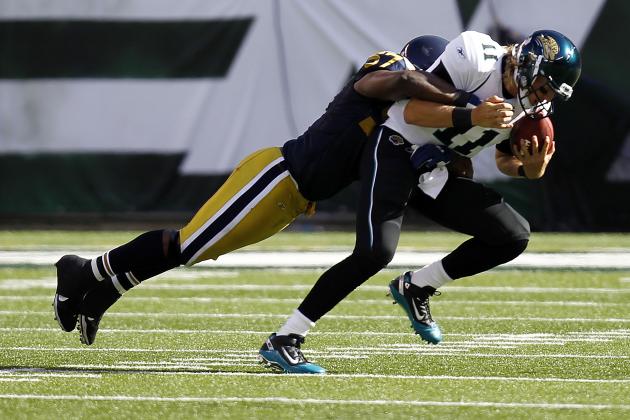 Jeff Zelevansky/Getty Images

The NFL is without a doubt a game of contact. If you're afraid to take a hit then it's quite simple: You want make it in the National Football League.
Over the years we have seen some brutal, bone-crushing hits from the likes of Sean Taylor, Lawrence Taylor and Bart Scott—and those are just naming a few.
With that being said, let's take a look at the 25 most bone-crushing NFL hits of the last 25 years.
Begin Slideshow

»
Ben Roethlisberger is a truck—a Mack truck for that matter—and Bart Scott certainly didn't believe so.
This is what happens when you let Scott go untouched into the backfield.
Drew Bledsoe may be one of the better quarterbacks in NFL history, but Tom Brady is simply so much better.
I love Bledsoe as a player and a person but if it weren't for Mo Lewis, then the New England Patriots dynasty would have never happened.
I said it: Hines Ward is the greatest blocking wide receiver in NFL history.
Ward put quite the licking on Cincinnati Bengals rookie linebacker Keith Rivers on this play.
Now this is being physical.
Pat White's NFL career didn't lost too long as the "Wildcat" quarterback for the Miami Dolphins—thanks to Ike Taylor.
Thankfully, White ended up being just fine following this devastating hit from Taylor.
Steve Jackson wanted to put a new dimension into his offensive game with the St. Louis Rams back in 2008, really? You really want to go out for passes now Steven?
I bet he thought twice about going out for a pass following this hit from Sheldon Brown.
How many times do you think that Ed Reed has tackled Hines Ward? Probably a lot, right?
Well, Ward got the last laugh on this hit—and it was a bone-crushing one.
How is Brad Smith's head still attached to his body?
I suppose you could label this as a dirty hit due to the helmet-to-helmet contract, but it was still quite the blow from Patrick Willis.
If I were Chris Henry, I would never, ever want to return kicks or punts ever again.
Why? Because of this monstrous hit put on by Darrell Reid.
This may be a dirty hit nowadays in the NFL, but Tanard Jackson still put quite the licking on Dallas Clark.
Clark certainly probably thought twice about running in the area of Jackson from that point forward.
This may be a preseason game but Danny Woodhead almost lost his head on this play.
It almost looked like Woodhead was a boxer on this play that just got knocked out.
Mike Harden probably never wanted to intercept a pass against the Seattle Seahawks ever again thanks to Steve Largent—he made him pay in a big way.
It still amazes me how Terrell Owens held onto this ball.
T.O. probably woke up the next morning with a ton of aches and sores but it was certainly well worth the catch.
Dear, Knowshon Moreno,
Welcome to the NFL!
Sincerely,
Ed Reed
Joe Montana may be the greatest quarterback in NFL history but on this play, he was just an average Joe that got rocked into next decade by Leonard Marshall.
There is no question that this was an extremely dirty hit—but James Harrison absolutely destroyed Mohamed Massaquoi on this one.
This may be a dirty hit but Brandon Meriweather lit up Baltimore Ravens tight end Todd Heap.
Meriweather may not be the greatest safety in the world but he can bring the lumber.
Brian Moorman is a punter? Who cares! He plays football, right?
This was just one of Sean Taylor's many beastly hits.
This may not be a "football hit" but all I have to say is "wow, this is great."
This is a dirty, dirty, dirty hit. Completely unnecessary.
However, Ryan Clark really destroyed Wes Welker on this play and it's certainly a bone-crushing hit.
Now with the whole "bountygate" scandal, all I have to say is that this is one of the dirtiest hits that I have ever seen. There is no need for it.
However it was still bone-crushing.
I remember seeing this hit live and I immediately thought that it was one of the greatest hits in NFL history...And it is.
Sorry for the video quality. Apparently the man who recorded this used a toaster.
Either way, I think you can still see how huge of a hit this was from Ray Lewis on Chad Ochocinco.
Thankfully Kevin Everett ended up being okay but he still suffered a fracture and dislocation of his cervical spine on this hit but ultimately did walk again—despite doctors doubting that he would.
Nevertheless, this is still a bone-crushing hit.
This is all that I have to say...BOOM!
This hit may have taken place in 1985, but it is one of the most bone-crushing hits that I have ever seen.
Lawrence Taylor actually destroyed Joe Theismann's leg on this play and ultimately ended his career.