Tennessee Volunteers Football: Grading Each Unit, Spring Edition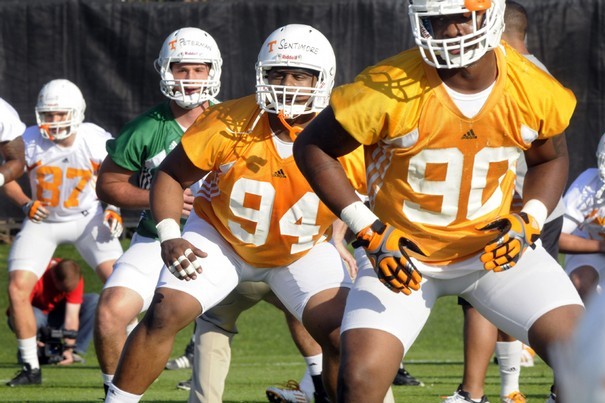 After the first scrimmage of the spring, it's time to do an early grading of the different units for the Tennessee Volunteers. Leading up to the Orange and White Game on April 21st, these grades are likely to change, hopefully for the better.
There are some players that aren't at spring practice whose contributions had to be left out of the spring edition of these grades. Cordarrelle Patterson and Daniel McCullers are two such players who come to mind.
And yes, I'm slightly optimistic with some of these grades. Come on, it's spring!
Begin Slideshow

»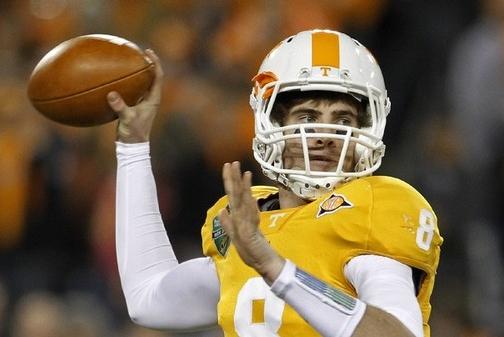 Already a strength entering the spring, the quarterbacks of the Tennessee Volunteers earn nearly a perfect grade as a unit.
Tyler Bray has admitted that he wasn't focused enough last year and is preparing himself more for this fall. Justin Worley and Nathan Peterman are too more than capable backups who, at the very least, will push Bray to be his best.
There's no more important player for the Vols this coming season than Bray, and the fact that his unit appears to be leading the team is a great sign.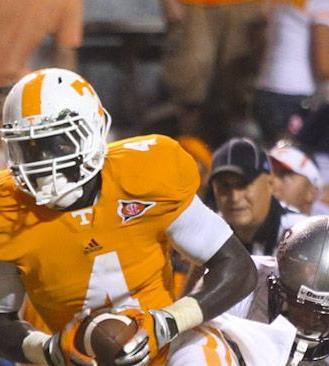 There are a lot of questions surrounding the Vols' running game this coming season. The 2011 unit failed miserably to provide the offense with any sort of balance, and if Tennessee hopes to make a bowl run at all, the running backs have to be there.
Presumed starting tailback Marlin Lane is entering his second spring practice since his knee surgery two years ago during his senior year in high school. Common belief is that it is the second year after such a surgery that you can expect to see significant strides in the player.
Raijon Neal, former tailback turned wide receiver, is back at his original position. In the first scrimmage on April 6th, Neal racked up 100 yards on 15 carries. It's just a scrimmage, yes, but that's a good performance no matter what.
After Channing Fugate's move to linebacker this spring, Ben Bartholomew is the unquestioned starter at fullback. He's a blocking specialist and should improve the running game.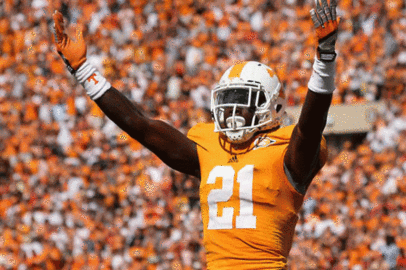 We're still in wait-and-see mode with the wide receivers of the Tennessee Vols.
Will Justin Hunter continue progressing through his knee rehab? Will the younger guys step up with the departure of DeAnthony Arnett? Will Da'Rick Rogers put the silliness behind and just play ball?
If all of the questions are answered this fall for the better, this unit could be the most talented on the field. Hunter didn't play in Friday's scrimmage.
Cordarrelle Patterson is one name that's obviously going to help this unit significantly. Of course, he's still in junior college and not at spring practice.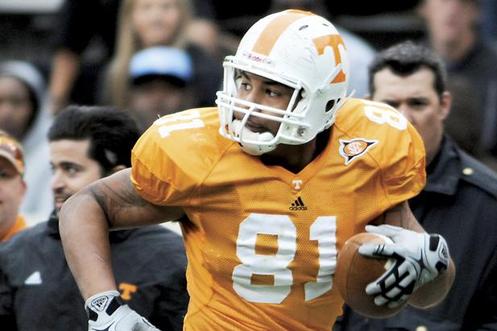 Tennessee has a handful of talented tight ends who need to be big contributors this fall.
The unit's leader, Mychal Rivera, didn't have the 2011 season that many were hoping for, but he's looking good this spring, snagging four balls and catching the only touchdown thrown in the most recent scrimmage.
Cameron Clear and Brendan Downs both saw time as true freshmen last year. The tight ends feature three quality targets that need to continue to develop this spring.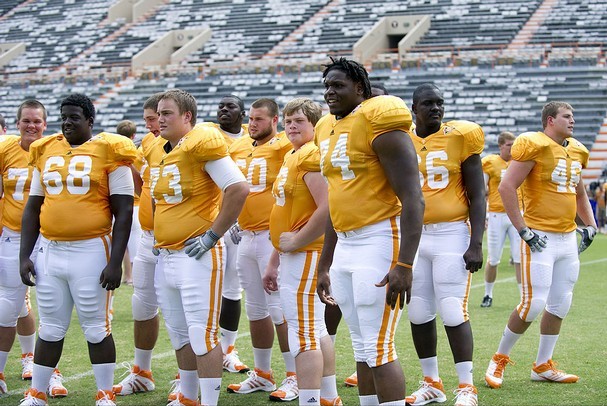 There's no question that Tennessee has the right players in Knoxville for the offensive line. The only question is whether they can get it done.
Already this spring, there's been some position shuffling. Right guard Zach Fulton has an injured foot and has promptly been replaced by James Stone. Alex Bullard and JuWuan James remain at center and right tackle, respectively, but Dallas Thomas has slid from left tackle to left guard, while big Antonio Richardson is the left tackle.
In reality, an offensive line as deep as the Vols' should be rotating fairly frequently to keep every one fresh, so being the starter isn't a huge deal. But I can't help but question Derek Dooley's decision to move the senior Thomas from his left tackle position which he has manned for three years.
(I would also advocate for Bullard and Stone switching positions, but most already know my obsession with Stone at center.)
The defensive line has a lot of guys, but I'm not sure of how many players it has yet. With the switch to the 3-4 defense, former defensive tackle Marlon Walls has to learn a new position.
The line "lost" Jacques Smith and Willie Bohannon to the linebackers but added junior college transfers Darrington Sentimore and Daniel McCullers. Last year's junior college addition, Maurice Couch, needs to really improve this spring.
There's also Stephen Fowlkes, Daniel Hood and Jordan Williams fighting for a spot the spring.
Like I said, a lot of guys, but not quite yet a lot of players.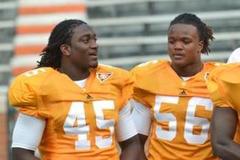 For the first time in several years, the Volunteers are going to field a top-of-the-line linebacking corp.
All-SEC Freshmen A.J. Johnson and Curt Maggitt are going to man the middle, while Jacques Smith and Brent Brewer (once his knee is healthy) are most like to play the outside positions. For the record, I think it's ridiculous that the speedster Maggitt is being limited in the middle. Let Brewer or Herman Lathers play the inside instead.
Tennessee is blessed with great depth at linebacker. They should lead the defense, as they have this spring.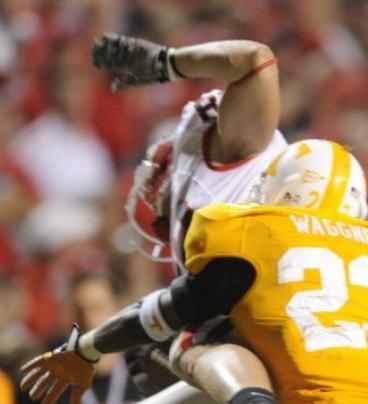 As it stands, Prentiss Waggner is penciled in as the No. 1 cornerback in the spring. That's a huge reason this unit gets such a solid grade.
Opposite Waggner is Izauea Lanier, but Justin Coleman and Marsalis Teague are seeing plenty of reps this spring. There's also two extremely talented freshmen coming in for next year—Deion Bonner and LaDarrell McNeil.
But if Waggner has to waffle back-and-forth between cornerback and safety, it could hurt continuity in both units.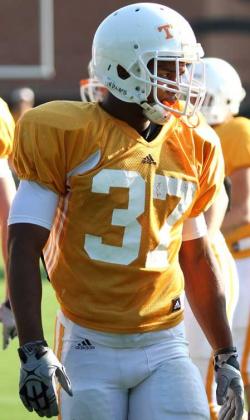 Like I said, I really want Prentiss Waggner to play cornerback this fall—his last season. He has shown time and time again that he's most valuable to Tennessee there.
Of course, that assumes that there are enough quality safeties to allow him to do that. That question is still being answered during the Volunteers' spring practice.
Alongside All-SEC Freshman Brian Randolph, Byron Moore, Rod Wilks, Geraldo Orta, and probably even Brent Brewer, could make a run at the safety position. If they aren't able to step up to the challenge, I expect Waggner to see significant time there, hurting the cornerbacks unit.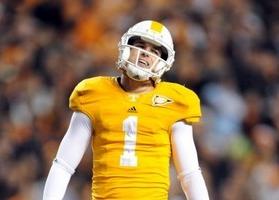 Yeah, I said it. The kicking and punting units still suck. You can blame most of this on Michael Palardy missing an extra point during Friday's scrimmage. It never ends!
Except for Derrick Brodus at kicker, Tennessee is pretty much stuck with Palardy and Matt Darr as the kicker and punter for the spring and the fall. George Bullock, Knoxville native, isn't at spring practice since he's wrapping up his senior year at West High School, but he's probably the only option other than our two current booters.
An overreaction? Maybe. But these guys have to win me back.