NHL Free Agency: 10 Players Due for a Raise This Offseason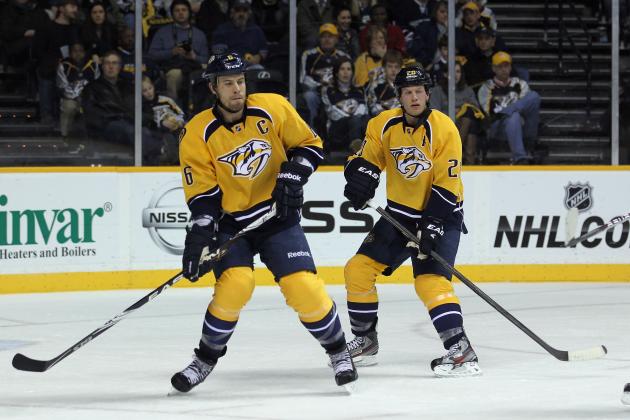 Bruce Bennett/Getty Images

The NHL regular season came to a close last week and the top eight remaining teams in each conference will battle it out for the right to hoist Lord Stanley's Cup.
These 16 teams have had success by putting together the best lineups by way of free agency, the draft and through trades.
However, as powerful as these lineups may be now, the rosters could lose some talent come July and the start of free agency if teams fail to re-sign their key players.
Whether a top-scoring forward, a shut-down defenseman or a future franchise-goaltender, each team has some tough decisions to make this offseason.
Each team will have to figure out whether or not its players are worth being re-signed or if they could be replaced by other options.
These ten players have shown with their play that they not only deserve to be re-signed by their respective teams, but they deserve an increase in pay.
If their current teams cannot meet their demands, you can guarantee there is another team out there that is willing to make these talented players happy.
Begin Slideshow

»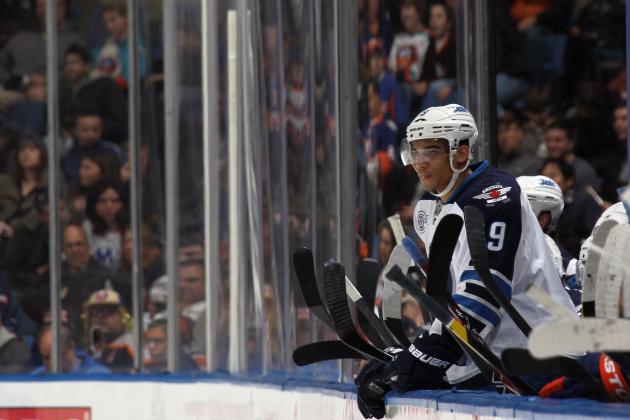 Bruce Bennett/Getty Images

Winnipeg Jets winger Evander Kane is quickly becoming one of the best young players the NHL has to offer.
In his three years in the league, his point total has increased each season.
This season, the 20-year-old put together a career year, tallying 30 goals and 27 assists as he was one of the key components to Winnipeg's playoff hopes.
Although the Jets missed out on the playoffs in their first year back in the league, they have shown that a change of scenery can do a lot for a hockey team and that they will be a force to be reckoned with in the future.
As well as Kane played this season, it has not come without some drama as rumors began to swirl early on in the season that the youngster was looking to be traded.
However, Kane was quick to deny the rumors and has stated that he hopes to re-sign with the Jets and stick in Winnipeg for the foreseeable future.
Kane is currently signed to a three-year contract worth $2.7 million.
The 2009 fourth-overall pick has shown what kind of impact he can make at such a young age and will only get better moving forward.
Which means the Jets will have to give him a decent increase if they want to hold onto him long-term.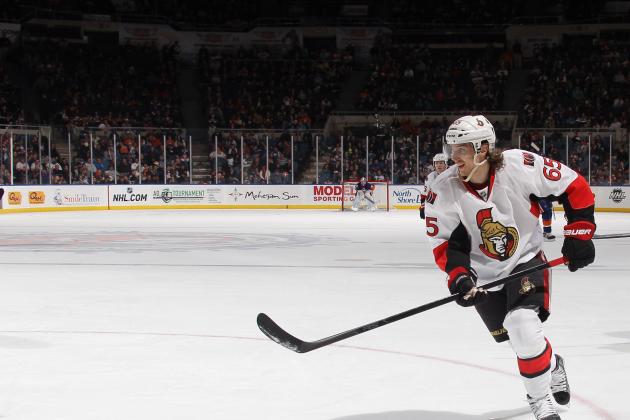 Bruce Bennett/Getty Images

Erik Karlsson has quickly become one of the best defensive weapons in the NHL.
Last season, the Swedish d-man almost doubled his rookie point total and showed a lot of promise at such a young age.
This year, he has taken his game to another level, and his career-best numbers reflect that.
Karlsson finished the regular season tied for first in goals (19) and leading in assists (59) among defensmen.
The 21-year-old was also the leading vote-getter for the All-Star Game in Ottawa last February and is a leading candidate for the coveted Norris Trophy.
Karlsson is one of the main reasons the Senators are into the postseason and will be one of the key players in Ottawa's Stanley Cup push.
Karlsson is set to become a restricted free agent in the offseason and will be getting a huge pay raise from his current three-year, $2.6 million contract.
Ottawa will need to lock up their young defenseman fast, as he's quickly becoming one of the best d-men in the NHL.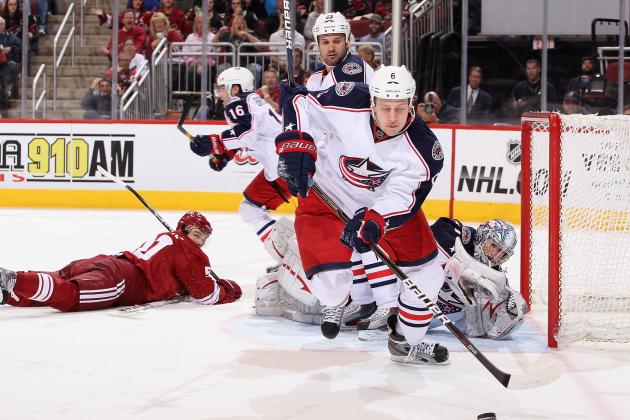 Christian Petersen/Getty Images

Early on in the season, the Columbus Blue Jackets were looking to create a spark in their lineup after struggling out of the gate and slipping in the central division standings.
In November, the Jackets and St. Louis Blues swapped defensemen, sending Kris Russell to the Blues for Nikita Nikitin.
In Nikitin's rookie season last year, the 2004 fifth-round pick struggled, recording only nine points in 41 games.
Since coming to Columbus, Nikitin has been one of the team's top defensemen. The 25-year-old has exceeded expectations, recording seven goals and 25 assists in 54 games.
Paired alongside Fedor Tyutin, Nikitin has found a permanent home on the Jackets' second defensive pairing and has been one of the main reasons for the team's late-season success.
Blue Jackets general manager Scott Howson has already expressed interest in re-signing Nikitin before the Russian hits the free agent market in July.
Nikitin is only making $600,000 a year and has earned an increase in pay with his play this season.
Look for the Jackets to lock up Nikitin to a long-term deal to solidify their top-two defensive pairings heading into 2012-2013.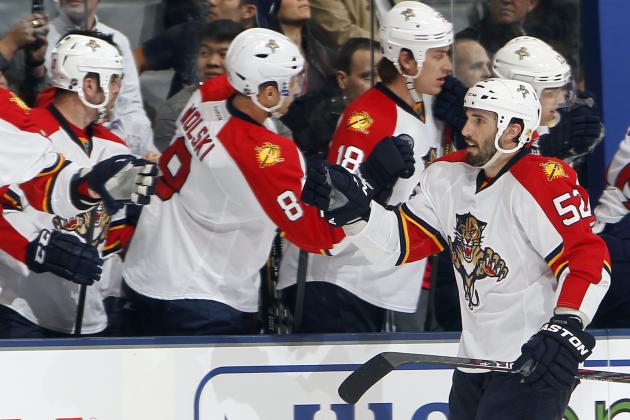 Abelimages/Getty Images

In 2011, the Florida Panthers went through one of the most aggressive offseasons in franchise history, signing several key free agents and trading for top defenseman Brian Campbell in order to reach the salary cap floor.
The Panthers were expected to improve in 2011-2012, but no one seemed to believe that they could make the playoffs for the first time since 2000.
Not only have the Cats made the playoffs this season, but they finished first in the Southeast division.
One of the main reasons has been the play of Brian Campbell, and that of his linemate Jason Garrison.
Garrison is having a career-year in his fourth season in the NHL, ranking third among defensemen in goals with 16 and finishing the regular season with 17 assists.
Before this year, the 27-year-old had never scored more than five goals, but has shown much improvement since being paired with Campbell.
The two will have to keep up the pace in the postseason, as they will face off against the tough New Jersey Devils in round one.
If Garrison can continue his impressive play in the playoffs, he should be in store for a hefty pay raise when he becomes a free agent at the end of the year.
Currently, the British Columbia native is only making $675,000 a year, and he could easily surpass the million dollar mark this offseason.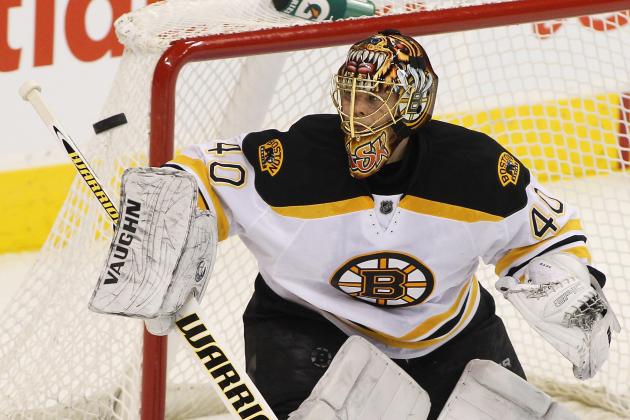 Marianne Helm/Getty Images

A few months before the February trade deadline, one player that was gaining some interest was Boston Bruins' goalie Tuukka Rask.
Rask currently serves as the backup behind last year's Conn Smythe- and Vezina-recipient Tim Thomas.
Thomas has proved that he can still hang with the big boys at the age of 37 and has received the bulk of the starts this season.
This was a main reason many believed that Rask was expendable, as Thomas would be the team's starter for two-to-three more years.
However, Bruins' President Cam Neely denied the rumors, stating that Rask was never available as being traded.
As well as Thomas has played, Rask is the long-term future for the Bruins in net and Neely has no plans of trading him anytime soon,
"I'm confident we'll re-sign him. I have no doubts about being able to re-sign Tuukka," Neely said
Rask has proven in past seasons that he has the skills to be a No. 1 goaltender and if the Bruins plan on holding on to him, they will have to prove it with a higher salary.
The 25-year-old is currently making $1.25 million a year and is set to become a restricted free agent this summer.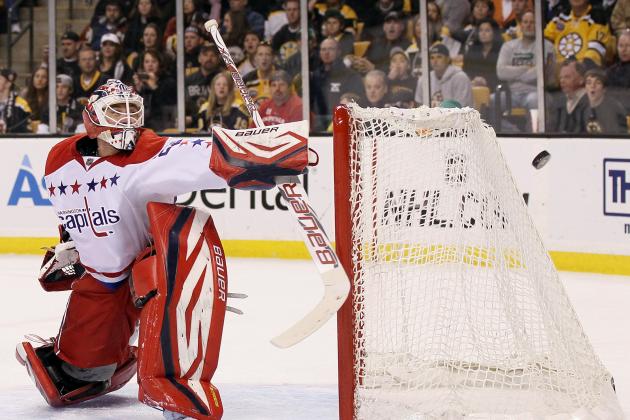 Elsa/Getty Images

Tomas Vokoun was one of the top goaltending free agents available last offseason, and it was unknown who would pick up the Czech netminder.
In the end, the Washington Capitals signed the 35-year-old to a one-year deal worth $1.5 million.
Vokoun got off to a hot start, winning his first six starts and finishing with a 25-17-2 record while helping the Capitals make the playoffs for the fifth-straight season.
Vokoun is currently injured after re-aggravating a groin injury last Thursday, and it is unknown whether or not he will be able to go when the Caps square off with the Boston Bruins in the first round.
Goaltending has been one of the Caps' biggest issues when it comes to the playoffs, and having a skilled veteran like Vokoun in net gives Washington a good chance to finally make it to the Eastern Conference and Stanley Cup Finals.
If the 13-year veteran is able to play and has an impressive postseason, the Capitals may be interested in re-signing him for a couple more years.
There is a good chance he could earn a multi-year deal worth much more money.
Frederick Breedon/Getty Images

The Nashville Predators have quite a predicament on their hands heading into the offseason.
At the beginning of the season, three of the team's key players—defensemen Shea Weber and Ryan Suter and goalie Pekka Rinne—were all set to become free agents at the end of the season.
The Preds are quickly becoming one of the top teams in the Western Conference, almost making the Western Conference finals last season and earning the No. 4 spot in this year's playoffs.
If Nashville wants to continue its success, it will have to sign its key players to long-term deals.
Rinne was the first to receive a contract extension, signing a seven-year, $49-million extension back in early November.
The team tried to sign Weber last offseason, but were unable to, and he was eventually awarded a one-year deal worth $7.5 million via arbitration.
So now, the team's two best defensemen will become free agents at the same time and the Predators may not have enough money to sign both of them.
Suter is currently signed to a four-year deal worth $14 million.
The 27-year-old had an impressive season this year, recording career-highs in assists (39) and points (46).
The Madison, Wisconsin native has earned himself a pay-raise in the offseason, but it will be interesting to see how Nashville attempts to hang on to both he and Shea Weber.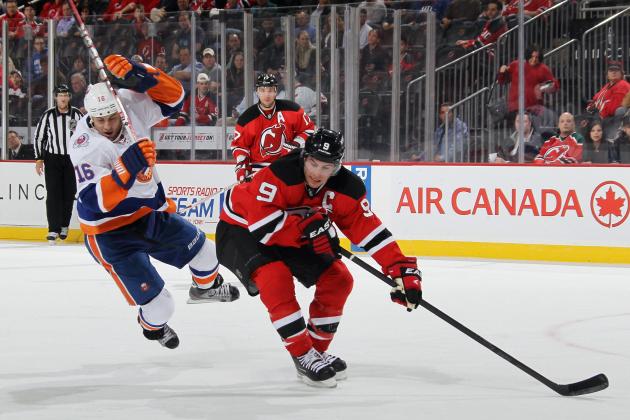 Bruce Bennett/Getty Images

Zach Parise is one of the best left wingers in the NHL today.
In five of his seven years in the league, Parise has registered at least 30 goals, with his best year coming in 2008-2009, when he scored 45.
Parise, like Shea Weber, became a free agent at the end of last season, and the New Jersey Devils were looking to re-sign one of their best players to a long-term deal.
After a long period of negotiations, the Devils and Parise agreed to a one-year deal worth $6 million before going to arbitration.
Parise will once again become a free agent this offseason and the Devils will have trouble trying to re-sign him as they may not have the financial means to keep him around.
Parise has accomplished a lot at only 27 years old and will most likely be one of the most sought-after free agents on the market this summer.
The Minnesota-native brings not only his talent, but also his leadership ability (serving as the Devils' captain this year) and his Olympic experience, leading Team USA to a Silver metal in the 2010 Winter Olympics.
Because of so many teams having interest in Parise, a bidding war will most likely take place, meaning he will be receiving a substantially-higher salary than he did this season.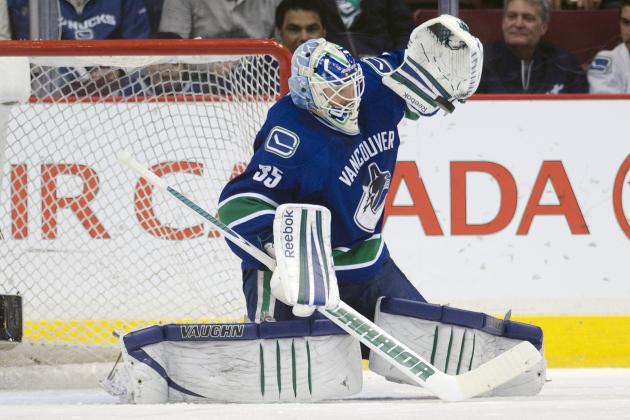 Rich Lam/Getty Images

If Parise is the most sought after forward this summer, then Vancouver's Cory Schneider will undoubtedly be the most sought after goaltender.
The 26-year-old has proven to be one of, if not the best backup goaltender in the NHL today, currently serving behind Roberto Luongo.
In his four years with the Canucks, Schneider has received an increasingly-important workload and has proven that he has what it takes to be a No. 1 goaltender.
During the playoffs last season, Schneider made his postseason debut after Luongo was pulled in several games due to his unimpressive play.
This season, Schneider's numbers were impressive: In 28 starts, the youngster compiled a 20-8-1 record with a goals-against average of 1.96 and a save percentage of .937.
Unfortunately for the Canucks, they will most likely not be able to afford to keep both Luongo and Schneider in the offseason.
Luongo is currently signed to a long-term deal and Schneider will be looking for an earned pay-raise from his current annual salary of $900,000.
There are several teams in the league that are in desperate need of a No. 1 goaltender and Schneider has what it takes to fill the position.
Look for Schneider to receive a long-term deal worth substantially more than what he is currently making.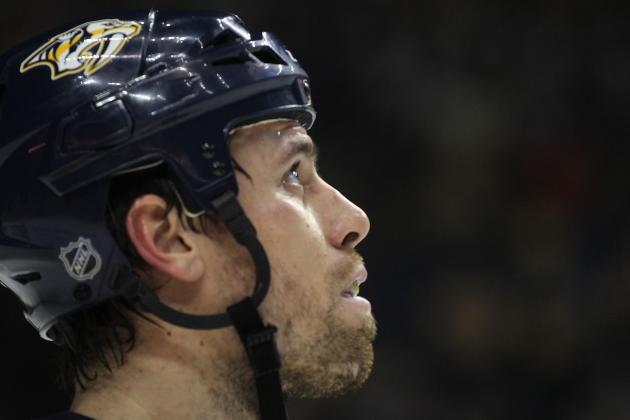 Bruce Bennett/Getty Images

Like mentioned earlier, the Nashville Predators have some difficult decisions to make in the offseason.
With goaltender Pekka Rinne already signed to a long-term deal, the team must figure out what they will do with defenseman Ryan Suter and Shea Weber.
Weber, the team's captain, has been one of the main reasons for the Predators success in recent years and the team cannot afford to let him go to free agency.
The reason Nashville and Weber went to arbitration last offseason was so that they could prevent other teams from signing Weber to an offer sheet and taking him away from Nashville.
Because of this, Weber became one of the highest paid defenseman in the NHL with his $7.5 million annual salary.
This season, Weber showed the Predators and the league that he was worth the money as he put together his best season, points-wise, since 2008-2009.
In 78 games, the 26-year-old registered 19 goals and 30 assists, as well as a career high plus/minus rating of +21.
The Canadian defenseman will be getting a bump in pay during the offseason, but the question remains of who will be giving it to him.
Weber has expressed his desire to stay in Nashville, but like mentioned before, the Predators may not have enough money to sign both him and Ryan Suter.
In able to re-sign their captain, Nashville may have to part ways with Suter.