2012 Frozen Four: 4 Frozen Takeaways from the NCAA Men's Hockey Final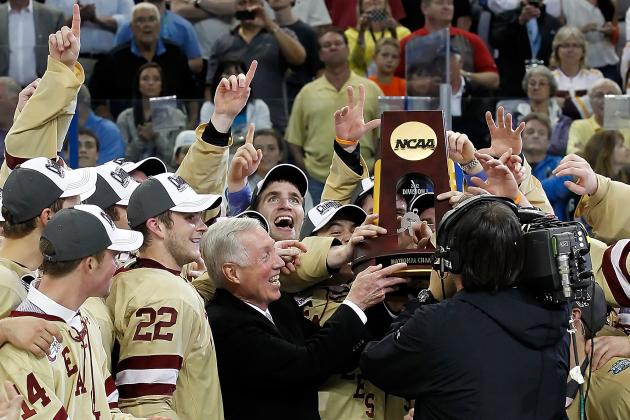 J. Meric/Getty Images

An old and likely suspect emerged victorious in a new and ostensibly unlikely site this weekend as Boston College triumphed at the NCAA Frozen Four for the third time in five years at Tampa Bay Times Forum.
Now that everyone has dispersed from the Channelside block and commenced the college hockey offseason, this is the time for a little Joe Scarborough/Chris Hayes-type wrap-up moment.
What have we learned? Or, in some cases, what have we re-learned from the championship weekend.
The almighty Eagles, the runner-up Ferris State Bulldogs and the host city all jut out with at least one key takeaway apiece.
Begin Slideshow

»
Jim Rogash/Getty Images

Now with five career championships―four with BC and one with Bowling Green―York has tied the late former Denver coach Murray Armstrong for second on the all-time titles list. The two men trail only pioneer Michigan skipper Vic Heyliger, who presided over six titles in the tournament's first nine years of existence between 1948 and 1956.
More tellingly, since York's first national postseason behind his alma mater's bench, the Eagles have gone 32-9 in tournament games. They have appeared in 10 of the last 15 Frozen Fours and eight of the last 15 championship rounds, including five of the last seven.
Before this year's Eagles, the last program to win three Division I titles in five years or fewer was Murray's Denver squad of 1960-61.
Over 40 seasons of coaching at three different institutions, York has fostered a winning reputation that only feeds itself with some help from his perpetually positive demeanor. Both qualities make him an ideal destination for touted recruits.
In turn, those recruits have made him the sport's winningest active coach with 913 victories (he needs 12 more to surpass Ron Mason for the winningest coach of all-time.). They have also joined and advanced his cause in making BC the model program of Hockey East and now the nation.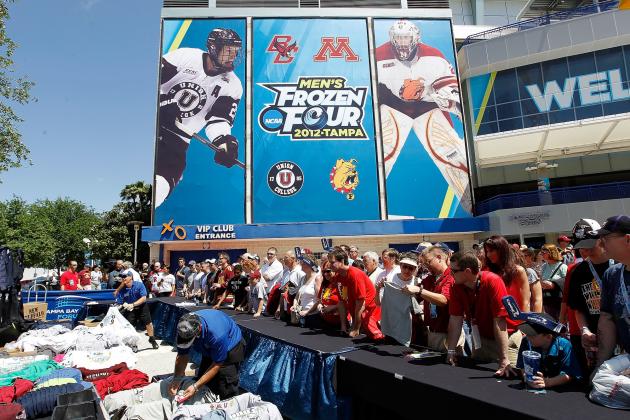 J. Meric/Getty Images

Throughout the second and much of the third period Saturday night, Ferris State was constantly one fortunate bounce or one power-play conversion away from drawing a 2-2 knot. It took a display of classic athletic gifts by BC freshman Johnny Gaudreau to give the heavily-favored Eagles their first multi-goal edge of the night with only 3:02 to spare in regulation.
There were stretches in the heart of the championship contest when the Bulldogs ran up a lead in the shooting gallery and lured BC into penalty trouble. The eventual 4-1 upshot was simply as deceptive as final scores come.
With their respective Frozen Four icebreakers, Ferris State and Union alike have come out of hiding after a recent string of solid regular seasons and lack of playoff follow-through. They now have one or two more steps to take before their program's tradition reaches a summit and there is no retraction in sight for either party.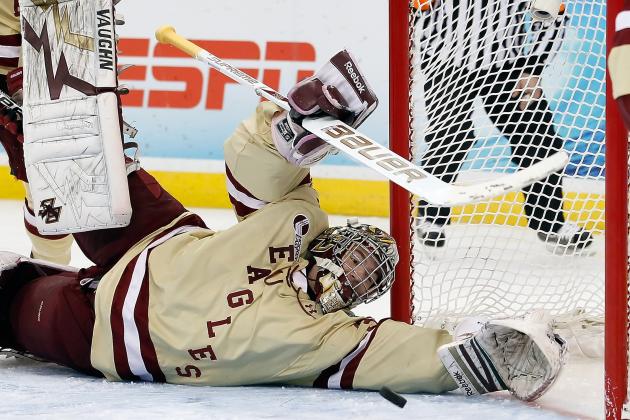 J. Meric/Getty Images

The BC hockey team did what another Boston-area team couldn't quite do circa 2007-08, which was close out a season on a 19-game winning streak with that 19th triumph coming in the championship.
The Eagles' most recent loss was the second installment of a two-game sweep via the host Maine Black Bears Jan. 21st. The following Monday, they "bottomed out" in the polls with a No. 8 national ranking to go with their iffy record of 14-10-1.
But after recovering for a 4-3 victory over New Hampshire, junior goaltender Parker Milner gradually began to win the vacant starting job and his mates lent him abundant support. Following the UNH game, Milner never allowed more than two goals in a single night while the offense never scored fewer than two.
In the process, BC steadily ascended the weekly rankings and ultimately scored its hat trick of a Beanpot, Hockey East and NCAA championship.
The last team in that span to so much as hold a lead over the Eagles in a game was Providence College. The Friars enjoyed a 2-1 edge for all of four minutes and two seconds in the Hockey East semifinal, an eventual 4-2 BC victory.
Ferris State was the only team in the NCAA dance to delete a deficit against York's pupils, having a 1-1 tie that lived to be 5:14.
As important as it may be to respect the equal value of every game on one's schedule, being in certifiable control in February and March gives one a perilous opponent in the competition.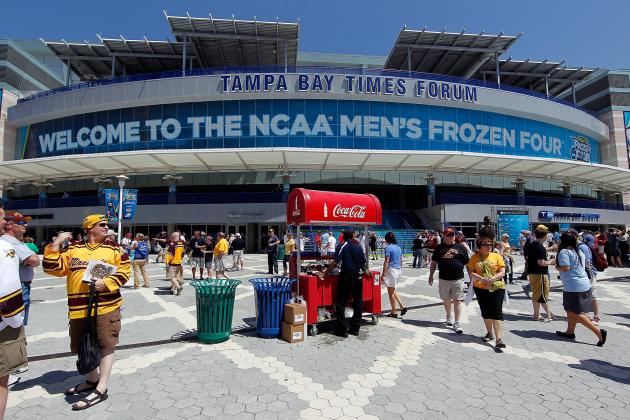 J. Meric/Getty Images

In his final remarks after Saturday's title game, FSU head coach Bob Daniels offered a stick salute to those providing the tournament hospitality in Tampa.
"This is our first Frozen Four," he said. "I'm not sure they're all like this, but I'd be hard pressed to believe they are. This has been terrific."
Milner, the tournament's Most Outstanding Player who also experienced the 2010 championship in Detroit, offered similar sentiments in his opening remarks.
"I think Detroit was great, but I think the city of Tampa really…it was amazing coming here and seeing how much support there was around this event. I think they did a great job with it."
Tampa became the second city based in the southern United State to host an NCAA men's hockey championship, following Anaheim in 1999. The final game was played before 18,818 spectators at the Tampa Bay Times Forum, the largest-ever audience at a Frozen Four contest being played in a first-time host venue.
With grassroots hockey now in place and looking for growth in every corner of the continental U.S., Tampa is living proof that all of the country's NHL arenas should have a fair shot at bidding for the Frozen Four.
Two more "traditional" hockey markets in Pittsburgh and Philadelphia are already on deck, but there are still 12 others who have yet to host. But tradition and geography need to take a permanent backseat to the present, wherein hockey is a thoroughly national sport.
Location should only matter in terms of the arena, its size and what surrounds it, especially hotels and other entertainment facilities. The Forum and its neighborhood did the job with participants, spectators, officials and media all creating and savoring a widespread festive atmosphere.
Quotes for this story were obtained firsthand at the postgame press conference