Top 10 Plays of the World Football Weekend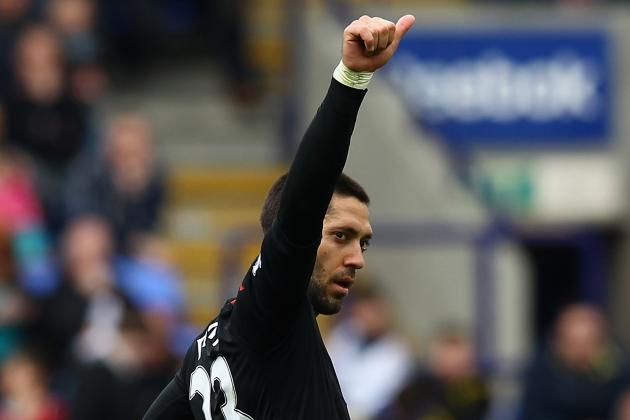 Clive Brunskill/Getty Images

No matter where you watch football in the world, there's always something impressive happening somewhere.
It might be some trickery, a goal or a result. All are classed as great plays in my book.
So without further ado, here are some of the more memorable plays of the weekend, as seen across the world.
Begin Slideshow

»
Clive Mason/Getty Images

Juan Mata pays no attention to the clock as he slots home Chelsea's winning goal against Wigan in the 93rd minute to keep their Champions League dream alive for next season.
The goal gave Chelsea a 2-1 home victory and means that the Stamford Bridge outfit are now just three points behind London rivals Tottenham Hotspur.
There were mumblings of offside, but the goal stood.
Who'd play with Real Madrid's Pepe?
As his teammate Alvaro Arbeloa goes to assist his colleague in getting to his feet, Pepe thinks that he the olive branch is that of his Valencia opposition and lashes out, kicking Arbeloa in the knee.
Is it a foul when you do it to your own player?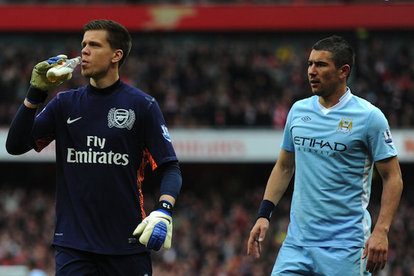 Fresh after seeing Mikel Arteta score the winner against Manchester City for Arsenal, someone threw a beer bottle in the direction of Gunners goalkeeper Wojciech Szczesny, who alerted the referee before picking it up and pretending to drink from it.
Well played Szczesny, well played.
P.S. Be aware that fans occasionally urinate into said bottles before throwing them.
Barcelona are slowly clawing back points on Jose Mourinho's Real Madrid and Victor Valdes' penalty save was a testament to why the club are managing to do so.
With the score at 0-0 against Real Zaragoza at the weekend, this penalty save for Barcelona was crucial to them going on to win the match 1-4.
Of course, Lionel Messi had to feature.
Perhaps even more crucial than Valdes' penalty save is Messi's penalty goal, which gave them a two-goal cushion and effectively calmed the Catalan nerves.
The goal was Messi's 60th in all competitions this season.
Fiorentina gave Juventus a timely Championship boost, as they came from behind to beat AC Milan at the San Siro.
The Serie A title race is very much a two-team competition now, with third-place Lazio 11 points behind.
Fulham's Clint Dempsey is arguably in the best club form of his life and showed it at the weekend by notching two goals.
Dempsey's most impressive was this free kick, which is the first time he has ever scored such a goal.
It makes you wonder why he was taking it in the first place, doesn't it?!
Apologies for the ropey footage.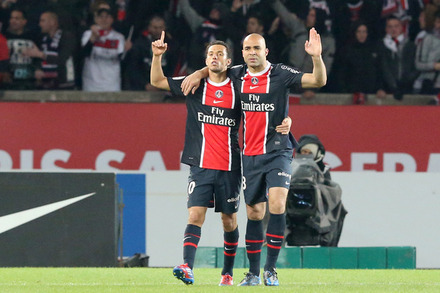 Former Chelsea defender Alex struck for Paris Saint-Germaine in the 61st minute against Marseille to give his team a hard-fought victory and keep their title dreams alive.
To see the match highlights, click here.
Xherdan Shaqiri shows all the qualities that made Bayern Munich sign him this weekend with a superbly executed scissor-kick goal.
Take a bow, Xherdan.
Arsenal vs Manchester City was the weekend's standout fixture in the Premier League and with Manchester United winning earlier on in the day, Manchester City knew that only three points would be good enough.
Arsenal didn't read the script, though, and have Champions League aspirations of their own. Manchester City's title hopes were effectively dashed in the 87th minute as Mikel Arteta lashed home a 25-yard strike to give the Gunners a deserved 1-0 victory.
Arsenal's win takes them above Tottenham Hotspur in the Premier League and into the automatic qualification spots for next season's Champions League.
Thanks for reading and be sure to check out 40 Greatest U.S. Men's Soccer Players Of All Time, as well as Manchester United's 10 Most Viable Summer Rumours So Far.
On Twitter? Follow me @petercwebster where I post all my B/R content.