Brock Lesnar: Ranking His 6 Most Realistic Dream Opponents in WWE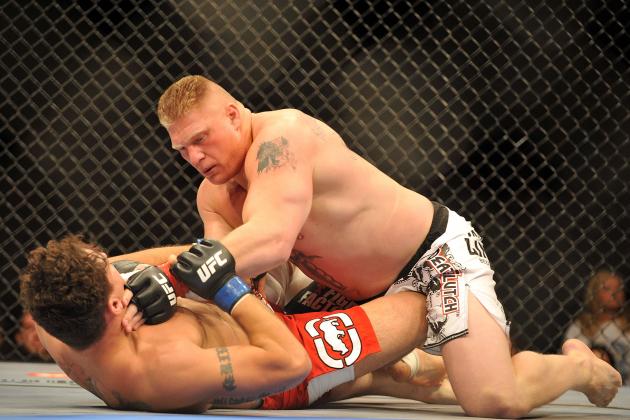 Jon Kopaloff/Getty Images

Remember back in the day when the Undertaker's UFC appearance sparked a social media storm? UFC officials had to let us know that none of their fighters would be running off to join the circus (my words, of course).
Back then, the potential for Brock Lesnar-WWE dream matches seemed to be just that—a dream.
Fast forward: One WWE Monday Night RAW and an F5 later, those dreams have quickly turned to reality.
Here are six matches I'd like to see Brock Lesnar engage in while under WWE contract. The match at the top, the final one, is the one I would book for WrestleMania 29.
Begin Slideshow

»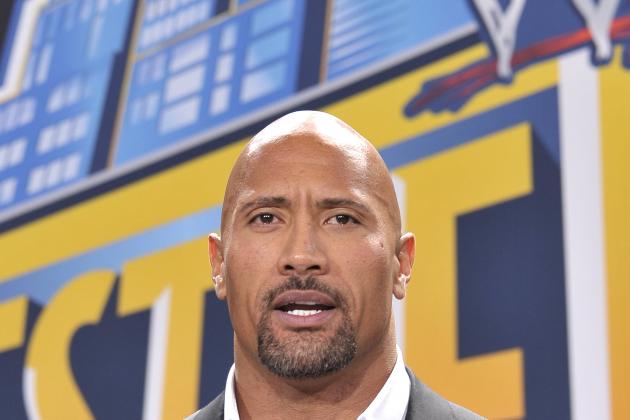 Michael N. Todaro/Getty Images

Brock Lesnar and the Rock have a back story that begs another match, right?
In his book, Death Clutch, Brock Lesnar says of his SummerSlam victory over Dwayne Johnson: "He was going to have his character, the Rock, do a clean job for me because he wanted to grease the wheels for himself to come back when the time was right."
One can easily make the argument that those wheels remained greased for a high-profile match between Brock Lesnar and the Rock.
I do not have a problem with this match. Problem is too strong of a word. I do have reservations.

One concerns the Rock's victory over John Cena. I don't believe it should have happened, and I've yet to see any evidence that it was anything more than a poor, random twist of fate.
Let's say the Rock was to face Brock Lesnar at WrestleMania 29. Would the Rock win two WrestleMania matches in a row? Is that the best way to utilize him? Would the WWE put their two potential part-time wrestlers in a match together?
These are questions that should be considered.
For now, let's take a step back from potential WrestleMania matches and look at a match I'd like to see more immediately.
Gallo Images/Getty Images

Of the feats men have demonstrated against giants, specifically against The Giant/Big Show, there are two that stand out in my mind.
One was WCW, when Lex Luger racked the Giant. It was well built, and Lex Luger had to put him on his shoulders, reverse (side and back) and had to at least pretend to shake the giant about.
The other feat: Brock Lesnar's F5 on Big Show.
Initially, Brock Lensar had an advantage in that he could pile Big Show on belly first, but the great feat came when Brock Lesnar had to do the spin-and-drop.
He did it—way back when.
I would like to see Brock Lesnar challenged today, mocked even. He left WWE and the red carpet should not be rolled out too easily.
An early program with Big Show could do just that. The two men have history, and Big Show is on a roll. The Giant could remind Brock Lesnar that, though he once F5'ed him, Brock Lesnar was much younger and in the prime of his short-fated career.
Could Brock Lesnar F5 Big Show again? How high could he get him? How fast could he spin him? This could be a match to fill the time until Brock Lesnar faces some inevitable opponents.
But while we are handing out favors, here is one more I'd like to sneak in.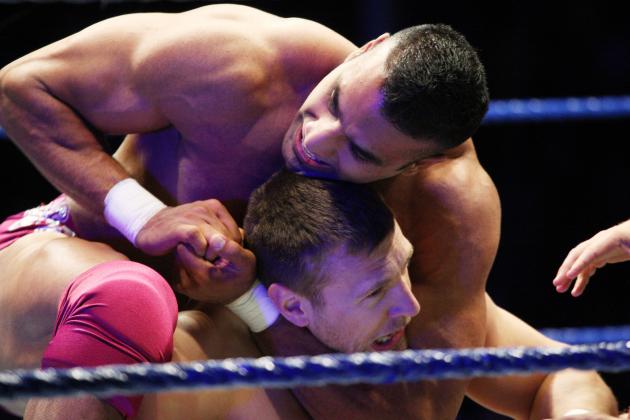 Gallo Images/Getty Images

Aside from the fact that I believe everyone is better for being in a program with Daniel Bryan, there is another reason I'd like to see this match.
February 15, 2004.
That is when Brock Lesnar faced Eddie Guerrero. Unfortunately, these are unrealistic dream matches and none of us can have what we'd really want, for reasons far beyond a Brock Lesnar match, which is to bring back Latino Heat Eddie Guerrero.
The closest match we could have, I believe, is Brock Lesnar against Daniel Bryan.
It would challenge Brock Lesnar, too. He seems to prefer matches against bigger men.
It would also benefit WWE by boosting a current star like Daniel Bryan into a bigger conversation.
But the biggest conversation is still to come as we move into the top three.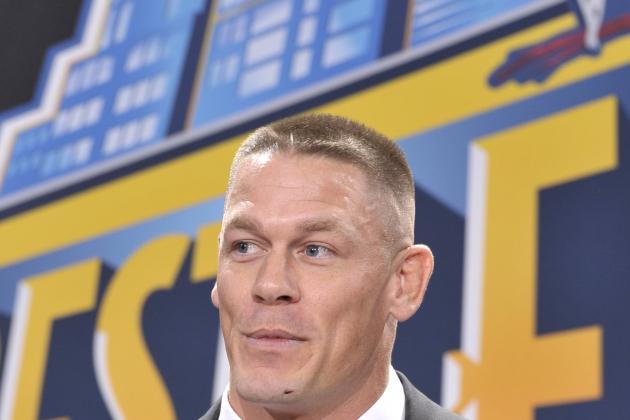 Michael N. Todaro/Getty Images

It kind of has to happen, right?
Seems the table is set after WWE Monday Night RAW.
And these men do have history. Well, Brock Lesnar has history with the former John Cena.
Today's John Cena is a bit more of a gentleman. Sure, in the heat of the moment, he might still make a mother reference to the tattoo on Brock Lesnar's back, but he'd surely come back the next week with a new "Respect Your Elders" T-shirt and speech.
Brock Lesnar has arrived in WWE to find a disgraced John Cena, who lost the match he said he couldn't lose, only to come out and give a speech nobody wanted to hear the night after. I have no idea what WWE is doing in booking John Cena like this, but it's where we are now.
Brock Lesnar should express no desire to wrestle this John Cena.
He should make John Cena earn the match and hopefully help him man up a little along the way.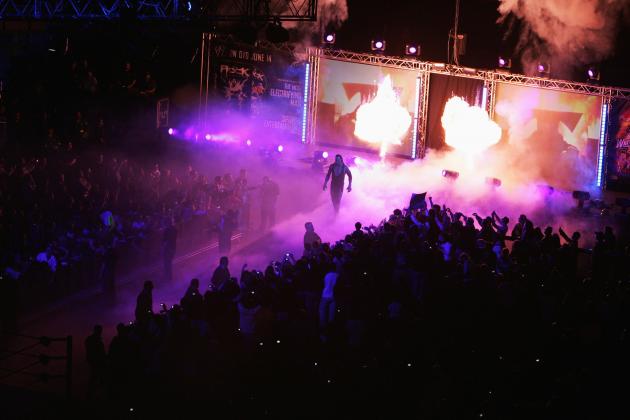 Gaye Gerard/Getty Images

There are two things I learned from browsing Brock Lesnar's book: He was in WWE for the money, and his favorite opponent was the Undertaker.
Put those two things together and this may be the match that best benefits WWE. I mean, we know Brock Lesnar is going to get his money, so it's best to distinguish how to make that money work for WWE, too.
I cringe even thinking about what Brock Lesnar might do to a beaten-down, older Undertaker. With the streak on the line, the Undertaker would be challenged in a way that he has not been challenged in the last four years.
He'd be facing a younger man.
He'd be facing someone with a lot of new energy.
But while the Undertaker may be Brock Lesnar's favorite opponent, he is not my favorite opponent for Brock Lesnar.
That guy is up next.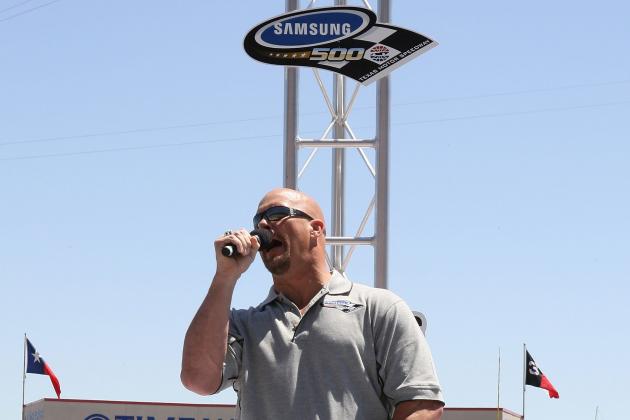 Chris Graythen/Getty Images

If I could book WrestleMania 29, I would shuffle the deck.
The Rock would wrestle CM Punk; John Cena would challenge the Undertaker's streak; Brock Lesnar would go one-on-one with the man who "took his ball and went home" so many years ago.
That's right: Brock Lesnar versus Stone Cold Steve Austin.
The phrase itself ("took his ball and went home") is enough to book the match. It was one of the most loaded phrases used in wrestling history, and the Brock Lesnar-Steve Austin fallout led to a rift with WWE and Steve Austin and even with Steve Austin and Jim Ross.
You might think those feelings are buried.
They might be.
But let it be WrestleMania season and let it be Steve Austin's return and start floating that phrase—"took his ball and went home"—on live TV (added by the obnoxious confidence of Brock Lesnar) and I don't think it would be long until the emotions become as raw and uncovered as we like them around WrestleMania.
Add to that the fact that Brock Lesnar has a great respect for Steve Austin, and I could see these two men putting on a hell of a show.
An Austin victory, if it happened, would set him up to put someone over at the grand WrestleMania 30.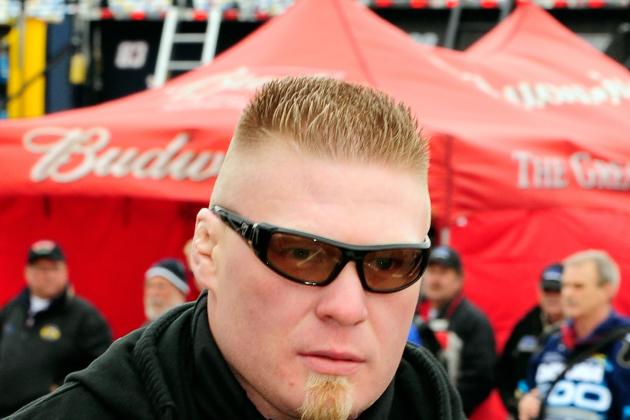 Sam Greenwood/Getty Images

Those are my choices for Brock Lesnar.
What are yours?
Do you have a top five or one specific match you'd like to see?
One thing is for sure: Brock Lesnar is back, and if WWE wants to make this worth the price they paid, they'd better make good choices in bringing realistic dream matches to life.
Will they do this?
What will those matches be?
While I'm not banking on a Brock Lesnar-Steve Austin match, it's still my personal No.1 pick.