NHL Playoff Predictions: 5 Reasons the Detroit Red Wings Need Miracle in Round 1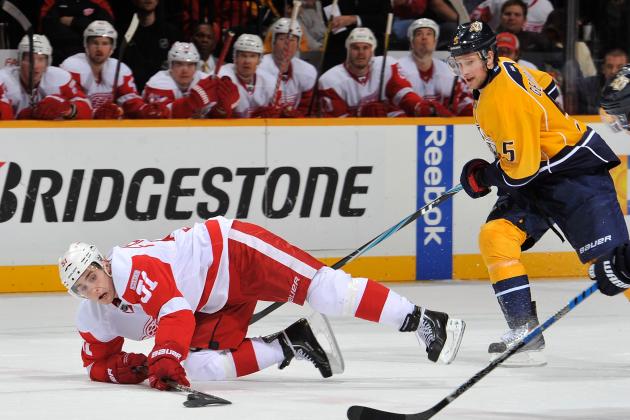 Frederick Breedon/Getty Images

It's something I thought I'd never say, and certainly something I thought I'd never believe.
However, as the 2012 Stanley Cup Playoffs are just days away, I am positive that what I believe and what I will say is as close to the truth as one could get, when handicapping the match-up between the Detroit Red Wings and the Nashville Predators.
The Red Wings will need a miracle if they're to win the series.
This is a position I thought I'd never take, and one I thought the Wings would never be in.
Yet, nevertheless, the Red Wings are facing a nearly insurmountable challenge as they prepare to go up against a team I believe is destined to come out of the West this year.
It's not that the Predators are the "better" team—I don't think they are.
And it's not that the Red Wings are coming into the playoffs on a decidedly flat note (they finished their last 10 games 4-4-2), though they are.
And, yes, I'm well aware that what happens in the regular season has very little to do with what happens in the post-season.
However, I submit to you that season-long trends, lingering injuries and the realities of a team roster don't suddenly disappear come game one of round one.
It's not a singular thing that I can point to that makes me so certain that the Red Wings will need some form of divine intervention to play any time past the end of April.
Don't get me wrong, I do believe in miracles.
But I always figured hockey miracles were reserved for the most under of under dogs and the least likely of unlikely heroes.
The mighty Detroit Red Wings have no need for miracles, for they've got their own pantheon of hockey gods with which to lay waste to the competition. Or so I always thought.
That the Red Wings do have some of the best players on the planet is not in dispute, but, as we will see, that alone is no longer enough to ensure victory this post-season.
Fate has placed five enormous obstacles in front of the Red Wings' path to success.
Obstacles that only an omnipotent hockey deity will be able to lift out of their way.
Begin Slideshow

»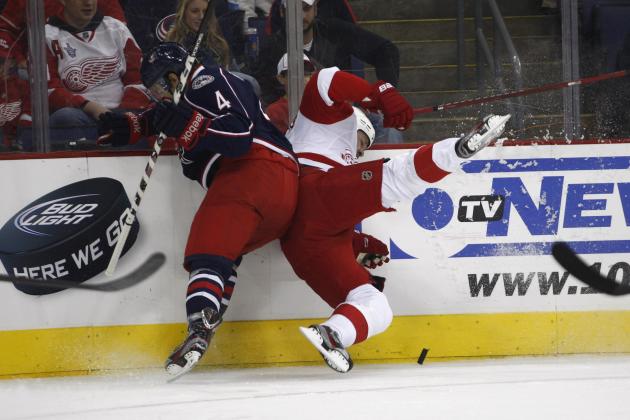 John Grieshop/Getty Images

Notice, I'm not saying they "can't," I'm simply saying they "don't."
For the entire season and no matter who the opponent, winning on the road has been a losing proposition for the Red Wings.
It's one of those things everyone has an opinion on, but no one really knows for sure.
Could it be they're too passive outside of Joe Louis Arena?
Is the last change really that much an advantage to the home coach?
Has the travel schedule been a factor?
Is the team simply unfocused in another club's barn?
Sure, maybe some of the above or maybe all of the above.
The point is: if the Red Wings knew what to change to make them more successful on the road, they'd have done it a long time ago.
As it stands, the Red Wings are entering the playoffs starting the first two games on the road and not quite sure how to win them.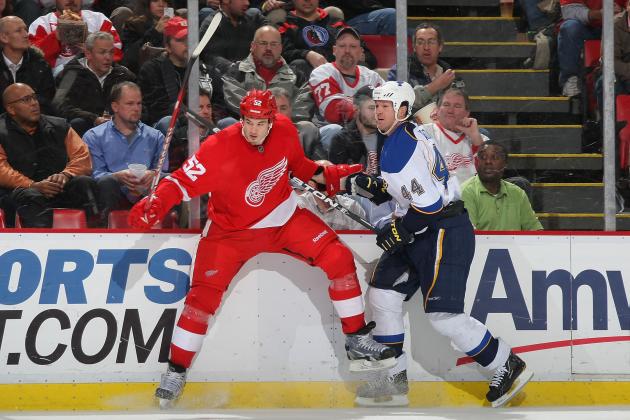 Dave Sandford/Getty Images

Sure, the return of Jonathan Ericsson from a broken wrist a few games back has added a bit of a boost to the penalty kill unit of late. (Jeez, who knew?)
But the Wings are still going to ice a penalty-kill squad that finished 18th in the league this season.
Added to that there were seven teams with better penalty-killing that never even made it to the post-season.
Now, that says something about the team's ability to win despite their special teams play, but it also indicates they're heading into the playoffs at a severe disadvantage when down a man.
Can they suddenly turn their penalty-kill around despite an 82-game run of mediocrity?
I guess so.
But if that happens, each guy on that unit better drop to their knees and thank the Man Upstairs because He's the only one that will make that happen.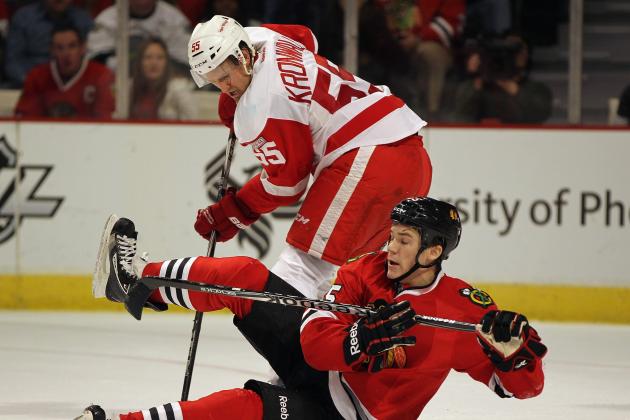 Jonathan Daniel/Getty Images

This one is truly mind-boggling.
How in the world a team boasting such offensive weapons as Pavel Datsyuk, Henrik Zetterberg, Johan Franzen, Nicklas Lidstrom and Niklas Kronwall can be 22nd in power-play efficiency I'll never know.
Like the penalty-kill and winning on the road, the Wings don't have any answers forthcoming on how to remedy a largely impotent power-play.
Perhaps they can steal a page or two from the league's top team when up a man.
Maybe look at some video and analyze what works so well for them.
No need.
The Red Wings will be seeing it first-hand every time they have a man in the box in this series.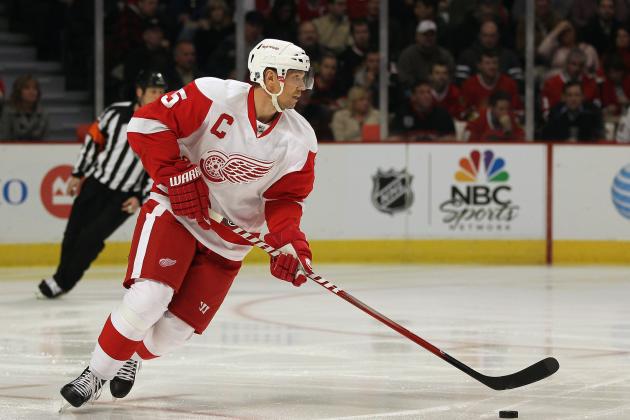 Jonathan Daniel/Getty Images

Believe me, I'm the first to acknowledge that Nicklas Lidstrom is better at 41 years old than most are at 21.
And Henrik Zetterberg, 31, and Pavel Datsyuk, 32, are still world-class, two-way forwards—the kinds on which championships are built.
The Red Wings best players are still among the best in the league.
But they're closer to the end of their careers than the beginning.
Beyond Detroit's core players, they have a collection of older, wily veterans like Todd Bertuzzi and younger, still developing guys like Justin Abdelkader to round out their roster.
Still, all of Detroit's best players are over 30, while all of Nashville's best players are below that mark.
Veteran experience trumping youthful enthusiasm not withstanding, the Red Wings will be facing an incredibly tough competitor made up of players at their peak.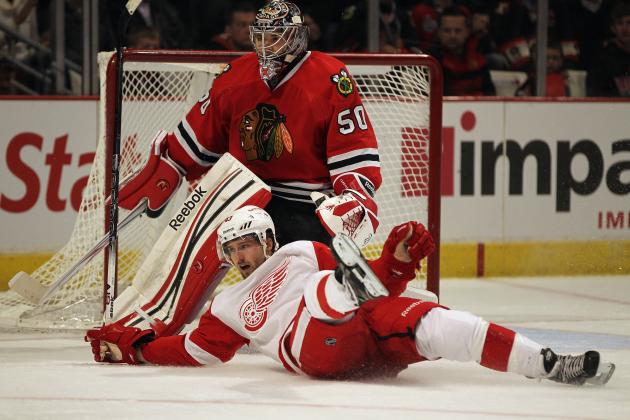 Jonathan Daniel/Getty Images

For the third straight season, the Red Wings suffered an infectious rash of injuries that reeked havoc on their playoff positioning.
Though Darren Helm remains the last man left on IR, his potential return in the second game of the first round will be much quicker than it would if this were October.
Such is also the case with recently injured players such as Jimmy Howard, Nicklas Lidstrom, Johan Franzen and Jonathan Ericsson.
While no one is 100 percent in the NHL come playoff time—the brutal and grueling 82-game schedule ensures this—there are those that are collectively closer to those standard than others.
The Red Wings are going into the playoffs banged-up and a little rusty at key positions.
This, perhaps more than any of the previous issues, is going to be the toughest to overcome.
As they'll be starting the playoffs in the South, they may do well to visit a few snake-handlers or faith healers to put that whole "laying on of hands" thing to the test.
That's about the only thing that will get them healthy in time to start Round 1 with a fighting chance of winning the series.
Follow Matt on Twitter: http://twitter.com/MAhutter12
Tune in to the Knee Jerks Radio Show on the Sports Geeks Radio Network (http://www.blogtalkradio.com/mkesportsgeeks) Monday April 9th at 7:00pm EST to hear me talk more about the Red Wings' playoffs chances with Greg Eno and Big Al Beaton!