12 Reflections on Arsenal's 1-0 Victory over Manchester City
April 8, 2012

Michael Regan/Getty Images

Arsenal won an important victory against Manchester City, avenging, in the process, their first leg one-nil defeat at the Etihad stadium back in December. Arteta hit a low long ball in the 87th minute that beat Joe Hart in the Manchester City goal to give Arsenal the breakthrough.
In defeating Manchester City, Arsenal may practically have ended City's title bid for this year. The victory also ensured that Arsenal kept alive their hope of finishing third in the league this season.  
They regained the coveted third spot on the league table from Tottenham Hotspurs, who had momentarily displaced them following their goal-less draw at Sunderland on Saturday.
I reflect on events in the City match in the following.
A Game of Three Segments
It was all Arsenal in the first 25 minutes of the match.
Then, Manchester City gradually worked themselves into the match by opting to push a little higher up the pitch and by being more direct with the ball. But mainly and most of the time—recall the scrappy first 10 minutes of the second half—they refused to play the ball on the ground since they knew that was Arsenal's comfort zone.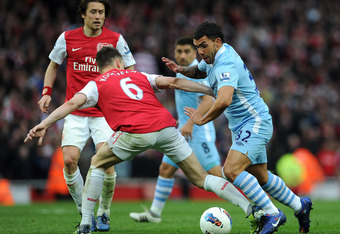 Michael Regan/Getty Images
The third segment was the final 30 minutes of the match, during which Arsenal practically camped in City's half. By pressing very high and by pinning City in their own penalty area through the use of what I call the structural V, where the back line is staggered and the middle is clogged, Arsenal ensured that City were reduced to evasive actions. It also ensured that Arsenal won the lose balls from City's hasty clearances.
The match looked set to end in frustration—and possibly in a sucker punch—as the ball just would not enter Manchester City's net.
Thankfully, this wasn't to be, as Mikel Arteta got Arsenal the lone but match-winning goal in the 87th minute.
Massive victory.
It Wasn't a Contest
It wasn't a contest not because City weren't there on the pitch kicking the same ball Arsenal were kicking, it was because City didn't even attempt to play their own game. Instead, they were more obsessed with the effort of neutralizing Arsenal's own game. This allowed them little time to put together enough successful attacks of their own.
Please search for my preview articles on the first leg of this encounter, where I stated my lack of belief in Mancini's ability as a tactician—too negative, too unimaginative.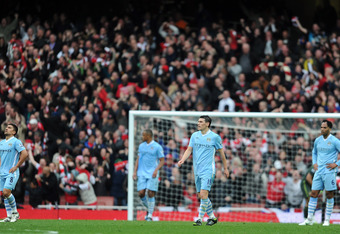 Michael Regan/Getty Images
Yes, they beat Manchester United, 6-1, but that was early in the season before the real test of character had begun.
Today, I looked for character in City, but didn't find any. They still would not have earned my respect had they won the match themselves.
They didn't do enough to deserve a victory.
Did Yaya Toure Just Change the Game?
I am big on fate, you may recall from my past articles. Did fate just strike City an early blow by eliminating one of their strongest pieces from the contest?
Did Yaya Toure's injury tip the scale to Arsenal's favor?
A good question, I believe.
A Tale of Two Cities
Two cities faced off in this match.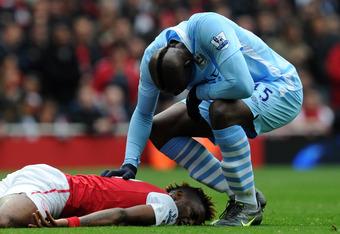 Michael Regan/Getty Images
One was rich; the other was less so.
One was considered wise in the ways of the world; the other not.
One had all the stars; the other—according to the testimony of some—dung.
One apparently was on course to win trophies; the other had no chance.
One had a manager that can afford to marginalize important players; the other didn't.
One had fans whose only trouble this season has been what feel-good song to sing; the other had a chunk of fans bringing hounds to the ground just in case they  got a chance to have a go at their manager.
One sparkled and glittered, certified gold by many, the other...the important people shake their head.
One team won, and it wasn't the rich boy.
Thank God.
Two Measly Points are Huge
Two puny points ahead of Spurs, with 18 left for the taking, equals third place isn't yet secured. Tottenham Hotspur can still clinch it. For now, though, Arsenal are holding tightly to this spot, and they accomplished this this week by defeating one of the toughest teams in the league.
Well done, Arsenal.
Now, I respect Spurs, but I can't help but smile contently at the thought that they must be quaking in their boots, what with both Newcastle and Chelsea knocking quite loudly and closely.
But before we get carried away ourselves, we should remember that we are not home and dry either.
It can only be so if Arsenal take the remaining matches by the scruff of the neck while hoping we won't have to play the 12th man in any of these remaining matches either, as was QPR's lot at Manchester United.
Robin van Persie Thwarted
What on earth did Thomas Vermaelen think he was doing getting between Robin van Persie and an apparent goal?
He, of course, wanted to score as well. 
Van Persie had a good game, but his mini-goal drought will continue for one more week; the goalpost made sure of that after the Dutchman's header had beaten Joe Hart.
The good sign for all this is that it helps silence those stragglers who still spout the nonsensical one-man-team cliche.
See, Arsenal can get goals through other avenues.
Ramsey Learned His Lesson
When Aaron Ramsey came on for Yossi Benayoun in the 78th  minute, he made sure he kept to the left most of the time—lesson learnt from last week. 
Ramsey proceeded to work hard to help Arsenal get their goal and to emerge unscathed. His only error was a glorious chance he spurned to put Arsenal up by two goals and increase the team's goal difference, a missed chance that left Robin van Persie frustrated. 
Ramsey does not deserve the derision he's been receiving of late. One thing is sure, though, he needs to remember where he has hidden his shooting boots.
But again, since his goals allegedly kill important people, it probably is a good thing he isn't scoring.
Benayoun Worked His Socks Off
Yossi Benayoun returned to the starting lineup to day. He wasn't a "beast;" he was a pest that irritated City's defenders to no end. As far as City were concerned, he always showed up in the wrong places. There, he was breaking up attacks, and this was part of the reason why Arsenal controlled possession.
He did well the job Ramsey failed to do last weekend, keeping to the left, but moving strategically infield to break up attacks. It allowed neat positional rotation between him, Arteta and Song.
In this game, Wenger opted to adopt the more subtle approach that the false-11 allows rather than go direct with either Gervinho or Alex Oxlade-Chamberlain. This option allows the formation to collapse the space inward, reducing the playing space for the opposition.
One can understand the need for this in this match in respect of City's very strong XI. The tactics helped stop City from playing their own game. The permanent high press of this position practically pins back the opposition's right flank players.
I like Benayoun, and I have heard a few others, whose opinion I respect, say so as well.
Song Grew in Status
Alex Song's game isn't perfect; that's not the point. But what a development this has been. He seems to be the only deep-lying playmaker in world football right now. 
He dominated the midfield today, even if a few hard-to-please fans could argue that the absence of Yaya Toure from the midfield couldn't have hurt Song's course. But again, Gareth Barry was still in the match, as was Toure's replacement.
Alex Song is definitely Arsenal's new Cesc Fabregas; this is moreso as Wenger seems to allow him to roam the the pitch, mostly in front of the defense and occasionally through the heart of the midfield.
Mikel Arteta's understanding of Song's game allows the latter to make these forward runs since Arteta always falls back to cover the hole that results from these runs. The resultant protean nature of Arsenal's midfield, owing to these movements, adds another layer to Arsenal formation and tactics.
Balotelli Should Have Gone Earlier
Mario Balotelli isn't just shortchanging City; he slowly is derailing his own career. I cannot imagine many clubs clamoring for his signature at this point.
One had this perplexing feeling that Balotelli deliberately was looking to be sent off. How else can one explain that senseless and dangerous challenge on Alex Song or the niggling tackles he felt bent on making?
I like Balotelli, but he wasn't bought for his naive cuteness; he was bought to play and help his club win matches and titles, not help lose them.
The challenge on Song was a straight red.
Mancini needs to show Balotelli a red card of his own.
A Hand in the Title
The consensus is that this loss was the final nail in Manchester City's title ambition, and Arsenal got the chance to do the honors.
This has special significance because of the bad blood, which has developed between the two clubs latetly, where City suddenly are the club with ambition—so welcome every silverware-coveting Arsenal player.
How is that working out now?
As far as the Premiership title goes—add also top-four finish—why do match officials feel the need to help Manchester United out?
Just count the number of penalties they have been awarded lately; the preposterous one against QPR, and even the one at Chelsea, comes to mind.
If they are so high and mighty, why do referees need to help them win the title? It is a pathetic situation because it isn't just the title that matters in the Premiership campaign, there are clubs out there fighting for their lives.
Two were practically shoved toward the brink this weekend. It is very sad and unfortunate.
One-Nil to Arsenal
Mikel Arteta scored the goal that sealed Manchester City's fate and won Arsenal the victory. He has been a constant presence in Arsenal's midfield this season, striking a good partnership with Alex Song.
He was out when Arsenal lost the games to Swansea City and Manchester United.
In these two matches, it was quite evident that Arteta's presence was sorely missed in the midfield. Is there anyone out there still thinking he was a bad signing?
This goal was reminiscent of his long-range screamer late in the Aston Villa match. Today's couldn't have come at a better time. It didn't allow Manchester City enough time to react. The only nail-biting moment was when City won that final minute freekick. 
One knew Aleksandar Kolarov can hit them, but Arsenal survived.
Three massive points. All hail Arteta.