2012 Stanley Cup Playoffs: 5 NHL Rivalries We'd Love to See in the Postseason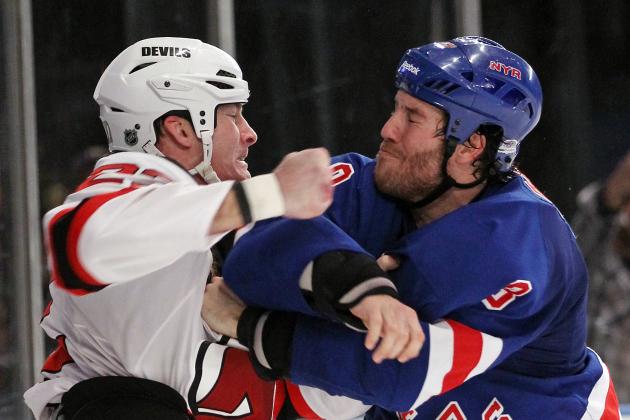 Bruce Bennett/Getty Images

The science of a rivalry is an intricate thing.
Location. History. Talent. Attitude. Luck.
For most sports, each and every rivalry is a different and complex web of those factors—a delicate blend duplicated by no other two teams anywhere.
But for the the National Hockey League, each rivalry can almost always be traced back to one single root.
The playoffs.
This time around, the 2012 Stanley Cup Playoffs shouldn't be any different.
Quite a few intriguing series await in a sure-to-be exciting first round, and a multitude of potential matchups will soon follow as the postseason progresses.
We won't know which longstanding enemies will indeed square off this year until the playoffs fully run their course, but it's impossible not to look forward to a few potential rivalry series this spring.
Which legendary hatreds could be revived in these 2012 NHL postseason? Here's a look at five rivalries we'd just love to see come to life sometime in the next two months.
Begin Slideshow

»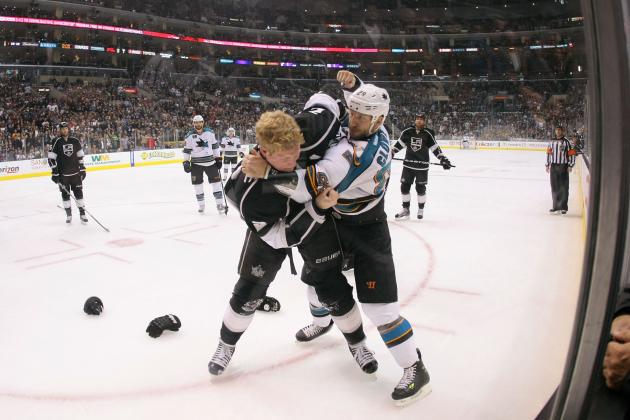 Victor Decolongon/Getty Images

Last Playoff Meeting: 2011 (Conference Quarterfinals)
It's almost impossible that these two California rivals could meet in this year's playoffs—the Sharks and Kings are the respective seventh and eighth seeds in the Western Conference—but their dramatic home-and-home series to finish the regular season gave us a glimpse of how fun this matchup could be.
Ryan Clowe's undetected stick interference set the stage for two frustrating nights for the Kings, who were defeated by the Sharks on Thursday in a shootout and then Saturday in overtime.
The two in-state foes battled hard against each other, though, and would love to rematch their rollercoaster playoff series from last year as well.
When They Could Meet: Western Conference Finals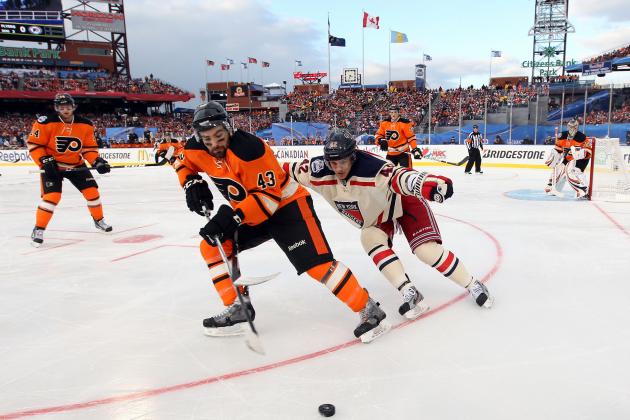 Bruce Bennett/Getty Images

Last Playoff Meeting: 1997 (Conference Finals)
These two bitter opponents haven't met in the postseason in 14 years, but a showdown in 2012 would cap off perhaps the most hyped year of the Rangers-Flyers rivalry ever.
After all, New York and Philadelphia met in the Winter Classic back on January 1st, with the Blueshirts skating away victorious after denying Daniel Briere's penalty shot to tie the game with 19 seconds to play.
Seeing the Flyers' dynamic offense continue to square off against impeccable goalie Henrik Lundqvist, however, is something we'll never get tired of. A playoff series between these two high-powered rivals would be absolutely unforgettable.
When They Could Meet: Eastern Conference Semi-Finals or Finals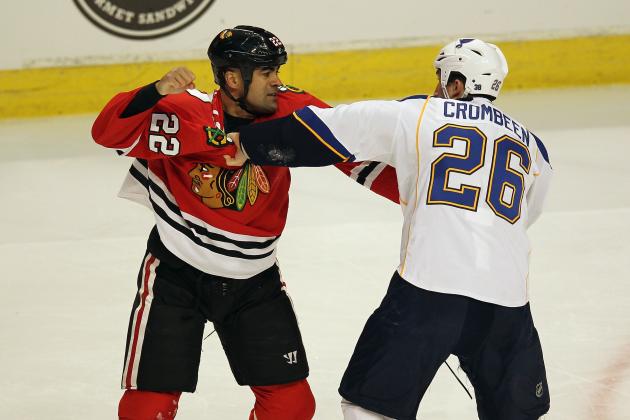 Jonathan Daniel/Getty Images

Last Playoff Meeting: 2002 (Conference Quarterfinals)
The Blues' surprising run to the West's No. 2 seed has already delighted long-suffering fans in the Gateway to the West, but St. Louis could make hockey fans across the globe happy if they can get into a series with the Blackhawks this spring.
St. Louis and Chicago's declining rivalry could see a renewal with a high-stakes playoff showdown, given their history of hatred and polar-opposite styles of play. Both sides have ample numbers of experienced fighters, too, setting the stage for a series of turbulent tempers and flying fisticuffs.
When They Could Meet: Western Conference Semi-Finals or Finals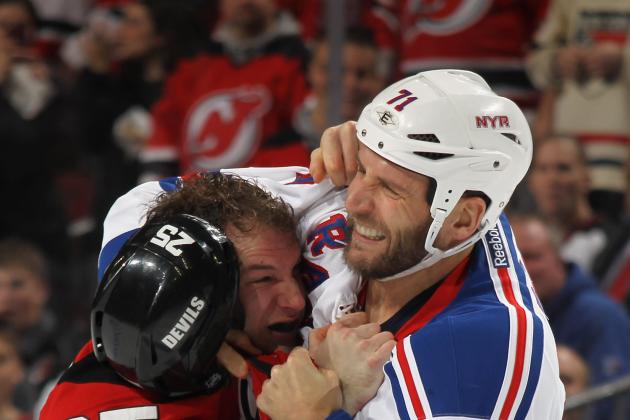 Bruce Bennett/Getty Images

Last Playoff Meeting: 2008 (Conference Quarterfinals)
After an opening-faceoff brawl like the Devils and Rangers had back in March, who wouldn't love to see these two opponents duel it out up to seven more times?
For starters, the list of enforcers on these rosters is insanely long—names like Brandon Prust, Eric Boulton, Stu Bickel and David Clarkson barely even scratch the surface. The number of talented scorers and first-class defensemen, though, is almost as long and just as interesting.
Neither team would rack up too many frequent flier miles, unfortunately, but seeing this short-range rivalry—and a juicy netminding battle between all-time greats Henrik Lundqvist and Martin Brodeur—in the playoffs is an opportunity we would die for.
When They Could Meet: Eastern Conference Semi-Finals or Finals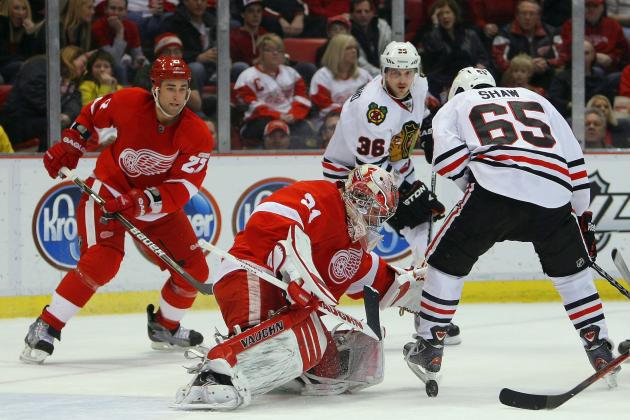 Dave Sandford/Getty Images

Last Playoff Meeting: 2009 (Western Conference Finals)
The re-emergence of the Blackhawks as an elite team in 2009 has set the stage for many intense regular season battles between the Hawks and Wings, but so far only produced one rather uneventful playoff series.
After arguably the most interesting chapter of the Chicago-Detroit regular season rivalry in recent history—in which all six meetings were decided by a single goal—a climatic series between the two Original Six foes would be quite fitting.
When They Could Meet: Western Conference Semi-Finals or Finals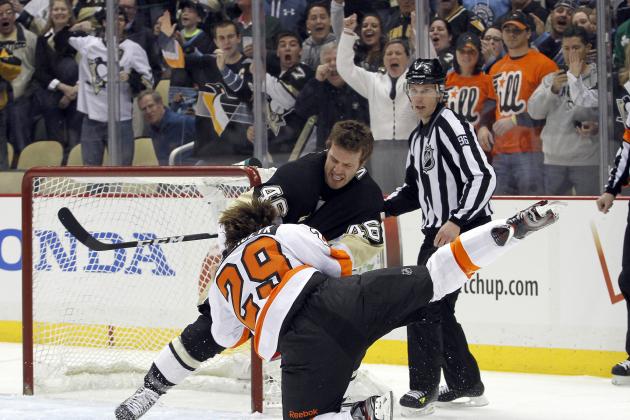 Justin K. Aller/Getty Images

Last Meeting: 2009 (Conference Quarterfinals)
Just as it was three years ago, the Philadelphia Flyers and Pittsburgh Penguins are slated to meet in the most anticipated matchup of the first round.
The pair of in-state rivals concluded their always-exciting regular season series just Saturday, but the highlight will surely be their now-famous player vs. player, coach vs. coach showdown from a little over a week ago.
While Sidney Crosby and a variety of others look to stay healthy (for once) on the Pens' side, many of the Flyers players will probably try to prevent that from happening. And they'll have as many as seven different games in which to do so.
We'll predict one thing, at least: This one's going to get violent.
When They Will Meet: Eastern Conference Quarterfinals