Masters 2012 Leaderboard: Names That Surprised Us at This Year's Event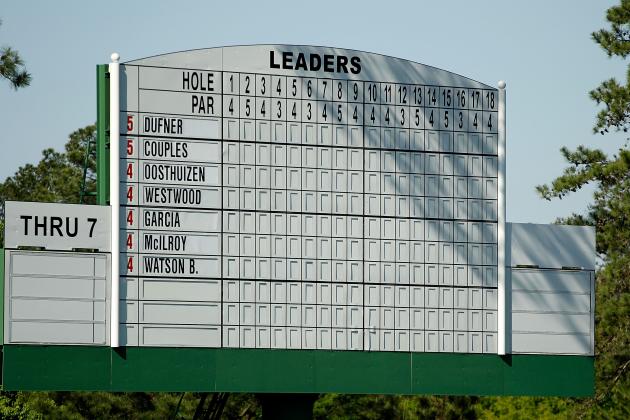 Streeter Lecka/Getty Images

The Masters is a beautiful event because most of the field has a legitimate chance of actually winning the tournament. This is because the field of the Masters is limited by the tournament committee. The exceptions to this rule are past champions, who get invited to the event for the rest of their lives and often play well into their sixties, and amateurs. But let's face it, no amateur is likely to win one of golf's major championships ever again.
That leaves about 70-80 guys who have a real chance of winning the Masters.
Every year, however, there are surprises—players who are at the top of the leader board that we would not expect to be, as well as players we expect to be at the top but aren't.
Let's look at some of this year's surprises as we head into one of the greatest days in golf: Sunday at the Masters.
Begin Slideshow

»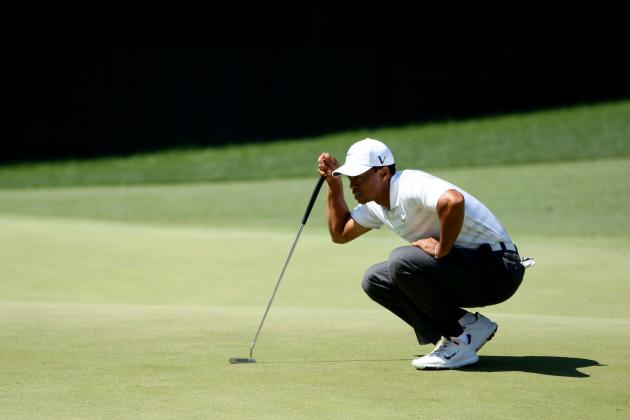 Jamie Squire/Getty Images

Coming into this week, everyone thought this would be the reemergence of Tiger Woods. He had very nice win at Arnold's tournament a couple weeks ago. He seemed to be striking the ball well and holing some putts.
An opening-round 72 put him five off the lead held by Lee Westwood. Even shooting nine pars on the back nine on Thursday, the side that most players will score on, wasn't enough to take him out of the tournament.
What cost Tiger a chance at his fifth green jacket was the 75 he posted on Friday, combined with the two bogeys he made on 17 and 18 on Saturday to shoot even par. Even if he had parred those two holes, he still wouldn't be in contention, but he wouldn't be a non-factor either.
For a player who has made his living destroying par-five holes, the fact that Woods is a mere one-under on the par-fives this week so far is very, very telling. Tournament leader Peter Hanson is six-under on the par fives. Phil Mickelson is eight-under on the longest holes.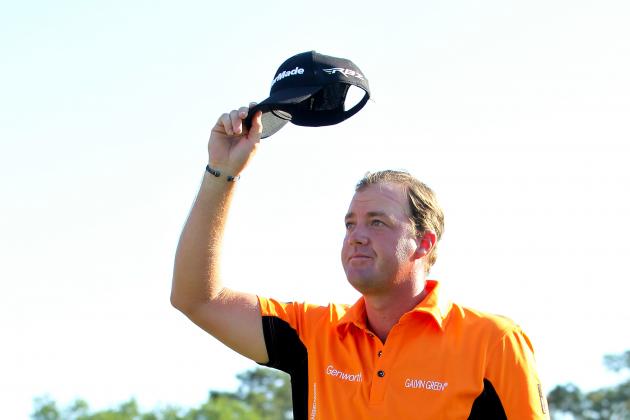 Jamie Squire/Getty Images

Peter Hanson is from Sweden and has been a professional golf player since 1998. He has four wins on the European Tour and missed the cut the only other time he has played the Masters (2011).
To say that it is surprising to see him leading the tournament heading into Sunday is a gross understatement.
He has finished the top 10 at any major only once (T7, 2011 U.S. Open).
It's not that he doesn't have the game to win. Clearly he does after firing a spectacular 65 on Saturday, the best score of the day. It's that he doesn't have the experience at Augusta.
Players will tell you that knowing where not to hit the ball is just as important as knowing where to hit it at Augusta. That kind of knowledge only comes from experience.
The question now is: Can Hanson hold off the three-time champion, who also happens to be one of the most beloved players in history, who will play in Sunday's final group with him?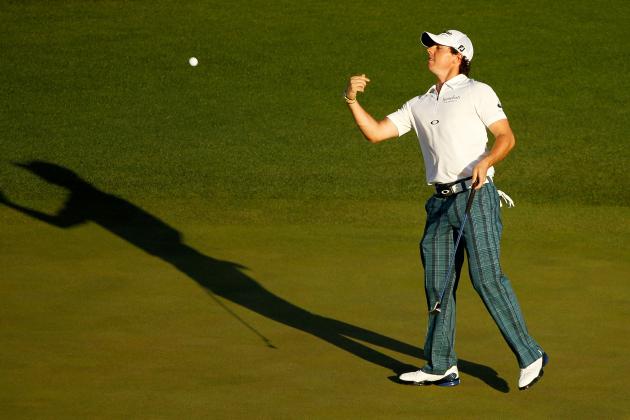 Streeter Lecka/Getty Images

Let's go back a year. McIlroy made the turn on Sunday with the lead at the Masters. He looked to be cruising to his first major victory. Unfortunately for him, he had to play the 10th hole. McIlroy's game imploded there, and the subsequent meltdown left him battered and bloodied, but not beaten.
He would win the very next major (U.S. Open) by a mere eight strokes.
After that win at Congressional, everyone thought McIlroy was set to take over the world. He even held the No. 1 ranking for a brief time.
For some reason, however, McIlroy can't seem to get out of his own way at Augusta. He played well the first two days, shooting 71 and 69, but made three sixes during his round on Saturday (including a bogey at the par-five eighth hole) en route to an abysmal 77.
McIlroy is an excellent player, but something about Augusta seems to be in his head.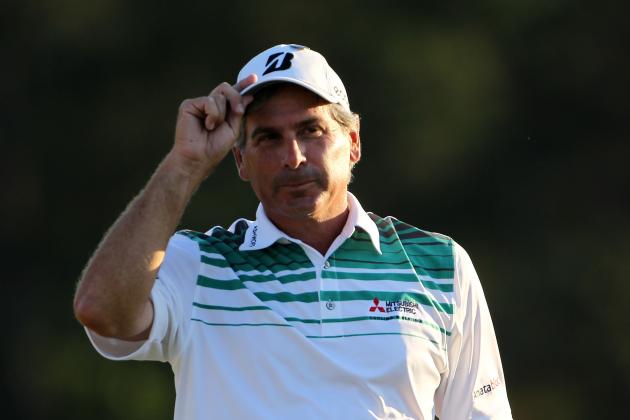 Jamie Squire/Getty Images

Like Phil Mickelson, Fred Couples is absolutely adored by fans of the game. He has a laid back attitude and a rhythmic, powerful swing that launches the ball prodigious distances.
Couples' problem has always been his back, which is cranky at best. The 51-year-old has battled back pain for most of his career and has limited his playing schedule as he has gotten older.
Having won this tournament in 1992, he knows how to play well here. He has the length and the touch to score here. It's just that you never know when that back is going to seize up on him.
If he could somehow pull off a miracle on Sunday, he would become the oldest man to ever win a major championship, beating the record held by Julius Boros by more than three years.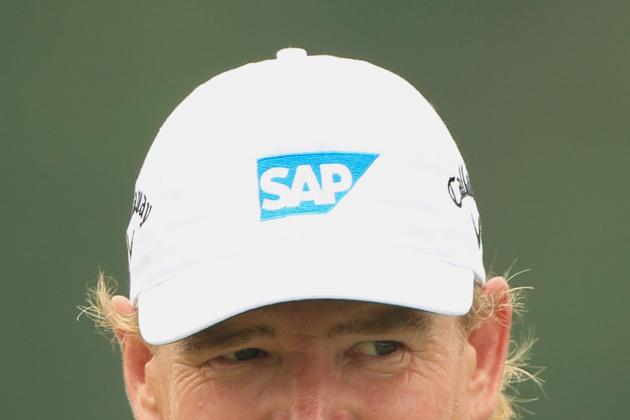 Scott Halleran/Getty Images

Big Ernie is not near the top of the leader board this week because he did not qualify for this year's Masters.
That in and of itself is a huge surprise.
Ernie has been a fixture at Augusta since the first time he played it in 1994. He has been in the top 10 six times, including two second-place finishes.
From 2000 to 2004, you could hardly find a more consistent player, especially in the majors. During those five years, Els finished in the top 10 at a major 14 times out of 20 events, including a win at the Open Championship. He didn't miss a cut at a major during that span.
Things just haven't been the same for Els since he injured his knee in 2005, however. In the seven-year stretch from 2005 until 2011, Els only finished in the top 10 at a major seven times out of 28 events, and he missed the cut eight times.
One has to think we have seen the last of Ernie Els as a factor in major professional golf, and if that is the case, we all lose.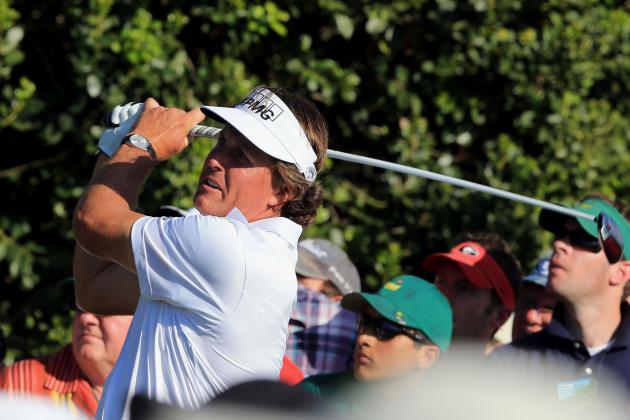 David Cannon/Getty Images

Phil can still play, and he can still take it deep, both on the course and on the scorecard. He won this year's Pebble Beach event by storming back from six strokes down on Sunday.
Because he has won this tournament three times, we know he knows how to get around Augusta.
The problems are his age and his inconsistency off the tee.
Men over 40 generally do not win major championships. Phil is 41.
Men who hit errant tee-shots generally do not win major championships. Phil has only hit 59.5 percent of the fairways at Augusta this week. That is a horrible number when you consider that Augusta has some of the most generous fairways the pros will see all year.
Phil has the game to win on any course, but he has to keep his ball on grass on Sunday if he is going to have a chance to win his fourth green jacket.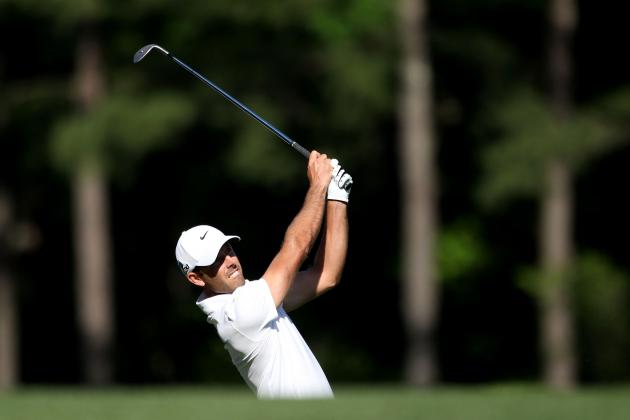 Andrew Redington/Getty Images

The defending champion barely got a chance to defend.
Schwartzel stood on the fifth tee on Friday at two-under-par having just birdied the fourth hole. He would not make another birdie until the 13th hole on Saturday. During that 26-hole span, he would make nine bogeys. That includes two bogeys on par-fives.
This is the man who birdied the last four holes of the tournament last year to win.
Bogeying the par-fives at Augusta is a huge no-no. Even if you make par, you feel like you have lost half a stroke to the field.
It is probably too early to call Schwartzel a flash in the pan, but history does not bode well for the South African. He has played in 20 major championships, but he has finished in the top 10 only twice. He has missed the cut, however, seven times.
Maybe this is not such a surprise after all.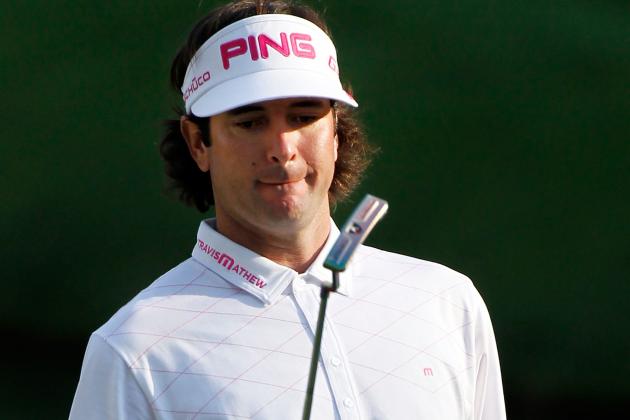 Streeter Lecka/Getty Images

Watson can hit the ball miles, so seeing him near the top of any leaderboard isn't that big of a surprise. The reason he makes this list is because of his volatile temper and his past performance in majors.
Since 2004, Watson has missed the cut in six out of 16 majors that he played in, placing in the top 10 only twice.
Watson is known to get down on himself when bad things happen on the course. Let me just say, bad things are going to happen in a major championship. It is extremely hard to win a major if you let every little tricky bounce or lipped-out putt get to you.
Patience is the key, and Watson never seemed to have much of it.
Lately, Watson is on record as trying to control his emotions more on the course, and it seems to be paying off this week.
Playing the second to last group on Sunday, he will be able to watch the three men between him and his first major win. The problem isn't those guys so much as the guy he will never be able to get away from: Himself.