Atlanta Braves: 5 Reasons to Worry About the Offense After 2 Games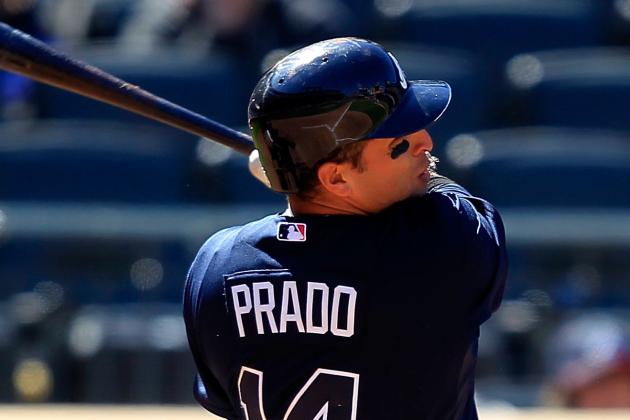 Chris Trotman/Getty Images
Martin Prado hitting a home run against the Mets.
It's only been two games, but for Atlanta Braves fans it may already be time to worry about the offense. Through the first two games as a team the Braves have just two runs and 11 hits, and though pitchers are usually ahead of hitters at this time of the year, it is still a reason to worry about the team's biggest potential weakness heading into the year.
This article examines five reasons why it may be time to worry about the offense currently on the field.
Begin Slideshow

»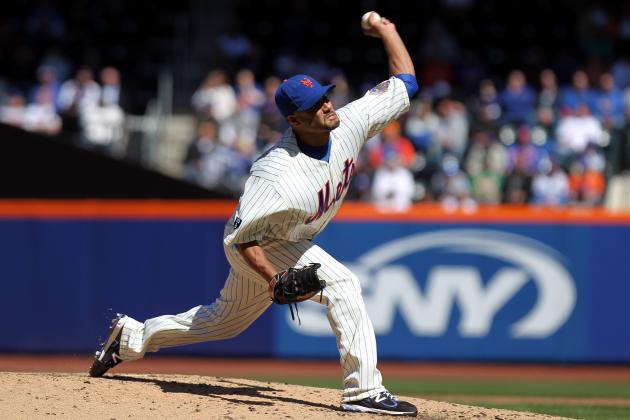 Nick Laham/Getty Images
In his first game back from surgery Johan Santana had his way with the Braves.
The New York Mets don't really have an impressive group of pitchers, and on top of that they aren't particularly strong at the front of the rotation. Their ace is Johan Santana, a pitcher who hasn't pitched in a regular-season game in a year and a half due to a shoulder injury. They followed Santana with R.A. Dickey, a knuckleball pitcher.
In the first game against Santana, the Braves only put up two hits in five innings and didn't score a run. Considering his long layoff it is a bit of a surprise that he was able to handle the Braves with ease before reaching his pitch count. Plus it's not like this is the same Santana we saw with the Twins, as his fastball has lost something and his numbers with the Mets prior to the injury were a bit down from what he did in Minnesota.
Dickey went six innings, giving up five hits and allowing a pair of runs on a Martin Prado home run, while walking four. The walks aren't unexpected for a knuckleball pitcher, so it's tough to say that plate discipline led to the walks. He's not exactly an ace even though he has pitched well for the last two years, which is why this game alone would not be alarming if not included with the first game.
The Braves struggles would be understandable if they opened with the Phillies and had to go up against Roy Halladay and Cliff Lee to start the year, but the Mets duo isn't near that level. If the Braves want to compete for the NL East title they need to take better advantage of a team with a rotation like the Mets.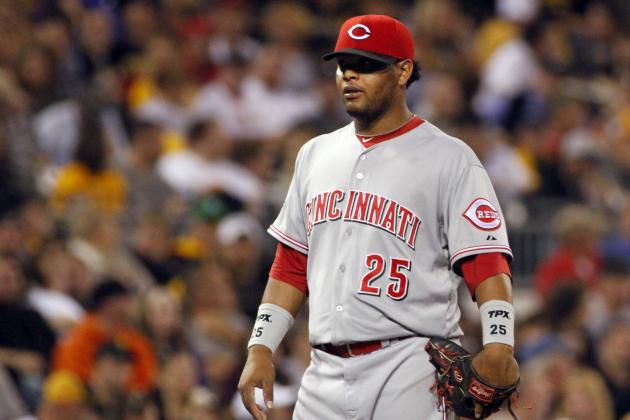 Justin K. Aller/Getty Images
Juan Francisco stranded five runners in his Braves debut.
Another thing to worry about is the fact that the Braves have not been able to do anything with the runners that they have gotten on base, especially the runners that they have put in scoring position. The inability to bring these runners in is something troubling when they lost both games by a combined three runs.
In the first game the Braves left seven runners on base, and if even one of those guys was to score there would have been a different outcome in the game whether the Braves won or sent it into extra innings. That's not even the most troubling part of the game.
As a team the Braves went 0-for-6 with runners in scoring position, as the Mets pitching staff really handled the Braves offense in these key situations. This is clearly the reason the Braves ended their Opening Day winning streak and got shut out.
Things continued again in the second game as the Braves again left seven runners on, and went 0-for-4 with runners in scoring position. In order to win these close games and take advantage of a very strong pitching staff, the Braves need to be more efficient with the baserunners that they do have.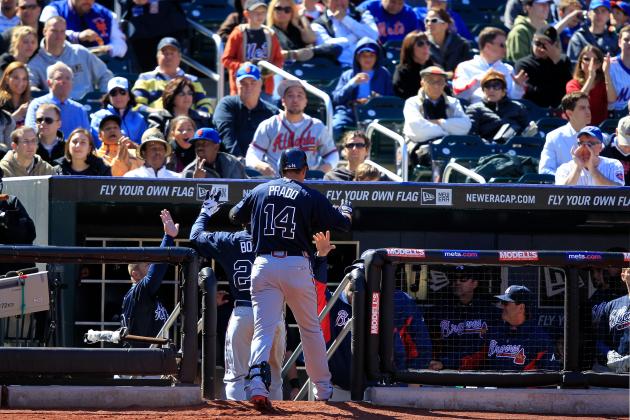 Chris Trotman/Getty Images
Martin Prado's home run is the only scoring the Braves have done.
Another worrisome fact is that the only runs the Braves have scored in the first two games came on a two-run homer by Martin Prado. If not for this home run, the Braves could have very well been shut out in back-to-back games.
The homer came in the fifth inning in the second game off of R.A. Dickey, and it was with two outs already in the inning. Had Prado failed to hit it out the odds are they the Braves would not have scored a run that inning, and would have been shut out in back-to-back games.
This just isn't acceptable for an offense, even for a last-place team.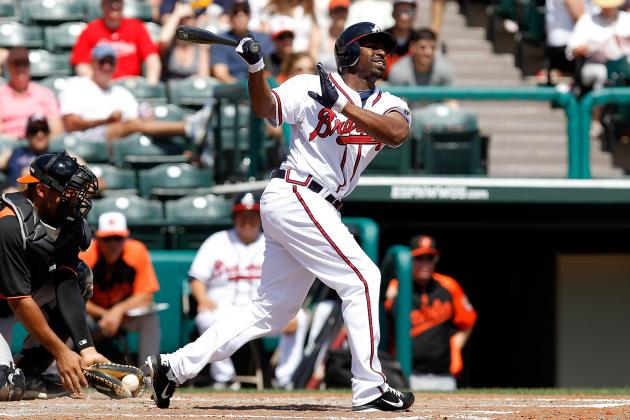 J. Meric/Getty Images
Michael Bourn has had the best start to the year out of all of the starters.
Another reason that it's time to worry is because heading into the year, the offense was the biggest concern. The fact that the Braves have struggled to score in the first two games was not something that was unexpected, and now it has become a reality instead of just a concern.
It's easy to see why the Braves are struggling, and it's also easy to see them potentially continuing to struggle. Chipper Jones is on the disabled list, and when he returns he may or may not be fully healthy. Jason Heyward had a down year last year and spent the winter trying to figure things out again. Dan Uggla and Martin Prado each had disappointing seasons last year. Rookie shortstop Tyler Pastornicky may profile best as a utility man long term.
This leaves the offense with just Michael Bourn, Brian McCann and Freddie Freeman as guys that don't have a reason to be concerned. Bourn is a great leadoff man, but can't do much without other guys behind him bringing him in to score while McCann and Freeman will need runners on to bring them in.
It's entirely possible that the five starters with some reason for concern could all struggle throughout the rest of the season, but it's also possible that they get it right and have very good seasons. However, through two games the only one of the five with some level of concern to be hitting even .200 is Martin Prado.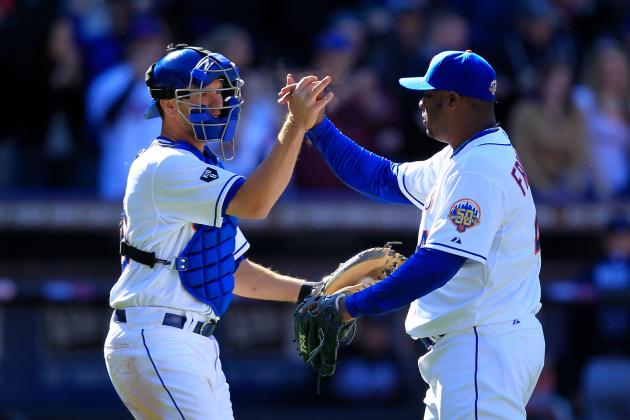 Chris Trotman/Getty Images
Frank Francisco has saved two games against the Braves and is part of a Mets bullpen that has pitched seven scoreless innings.
The Mets have Frank Francisco as their closer and Jon Rauch as their setup man. Both pitchers are considered to be below average, but both pitchers have appeared in both of the first two games and have shut down the Braves in each game.
Frank Francisco is a third-tier closer, one that is better off in the setup role he has spent most of his career in. Other than 25 saves in 2009 and 17 last year, Francisco hasn't been a closer. That is because only two times in his six full seasons has he posted an ERA below 3.50. He's a solid pitcher, and one that does belong in the late innings, but not as a closer. The way he has picked up two saves without too much trouble shouldn't happen.
Rauch had an ERA of 4.85 last year with the Blue Jays in a setup role and had a 4.14 ERA in his last stint in the National League, in 2009 with Arizona. He may have some closing experience, but that doesn't make him a great late-inning option. He's a pretty hittable pitcher, the type that shouldn't go two innings without giving up a baserunner in these tight games.
When the Braves get late into a game with the score close and the opponent has guys like Rauch and Francisco in key roles, they need to take advantage of that situation. However, in four innings they have only notched two baserunners and no runs. To be successful this is an opportunity the Braves need to take advantage of.