Boston Drubbing Led by Miguel Cabrera and Prince Fielder, Tigers Win 10-0
November 28, 2016
Leon Halip/Getty Images
This afternoon Boston Red Sox starting pitcher Josh Beckett got to pay witness to what is likely to become the best show in baseball—Miguel Cabrera followed by Prince Fielder. 
It wasn't his finest hour, Beckett's that is. For Cabrera and Fielder it was the beginning of what is sure to be a fantastic array of towering home runs and line-drive rockets taking exit from the playing fields coming to an American League ball park near you. 
Beckett seemed to battle Tigers hitters that fell after Fielder's place in the lineup, having stretches of eight and five hitters in a row retired, but nearly each time Cabrera or Fielder's number came due at the plate, Beckett's ERA paid a price. 
Cabrera and Fielder along with fellow teammate Alex Avila took Beckett deep five times and knocked him out of the game after just a 4 2/3 innings effort. Becket gave up seven runs before exiting following back-to-back home runs to Cabrera and Fielder in the bottom half of the fourth. 
Both Cabrera and Fielder hit differing home run shots, Cabrera's first, a two-run shot that brought home Austin Jackson left the park with ease. Fielder showed his strength pushing a towering home run to the opposite left field fence and the onslaught was on.
Cabrera smashed a floater that was first ruled a ground-rule double after it was questioned whether the ball snuck under fencing on the fly and not over the fence. Replay clearly showed that the ball cleared the outfield wall and then bounced back into the fence where it became lodged.
Cabrera's second homer of the season was followed by a laser off of Fielder's bat and the Tigers had the first of what is sure to be many back to back displays this summer.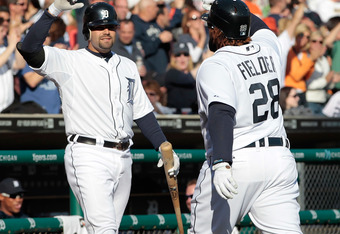 Leon Halip/Getty Images
Mixed in there was a two-run shot off the bat of Avila, also an opposite field bomb, bringing home Delmon Young who had singled earlier in the fourth inning. Young and Avila both finished the day with two hits for the Tigers. 
Avila chipped in two RBI to go with Cabrera's three and Fielder's two as the three sluggers combined to knock in seven of the Tigers' 10 runs on the day. 
The only thing that didn't go well for the Tigers on Saturday afternoon was starting pitcher Doug Fister's left side injury. Fister was cruising along in the fourth inning having scattered three hits when he pulled himself from the game due to the injury. 
The injury to Fister has placed him on the 15-day disabled list and has now been reported as a left costochondral strain, according to MLB.com beat writer Jason Beck. Reliever Brayan Villarreal has been recalled from Triple-A Toledo.
Instead, the Tigers would have to rely on their bullpen to carry the day. The pen was as good as anyone could ask, and then some.
Duane Below who a week ago lost out on the Tigers' No. 5 rotation spot to Drew Smyly provided a solid effort in relief and earned his first Major League win as a result of his 2 1/3 scoreless innings. 
The rest of Detroit's bullpen staff held serve and kept the Red Sox in check for the most part, scattering four hits over 5 1/3 innings of work. Octavio Dotel, Phil Coke and Joaquin Benoit each chipped in to assist Below's efforts and left Boston shutout on the day. 
It was, however, a day of what Tigers fans will expect to see with great regularity as the weather warms up and their biggest sluggers get comfortable in their northern digs—Miguel Cabrera and Prince Fielder hitting the ball to the farthest reaches of Comerica Park's deep alleys and tight lines.