Juventus Take First Place in Serie A after 2-0 Victory in Palermo
April 7, 2012

Tullio M. Puglia/Getty Images
It's been a wild day of calcio so far. For starters, then league leaders A.C. Milan lost 2-1 at home to relegation candidates Fiorentina. The final goal came in the last few minutes, and it was scored by Amauri himself. The failed Juventus player has finally done his old club some good by taking all three points for his Fiorentina side.
With Milan collecting no points today, that left their lead at two points. Juventus played after Milan, so they knew that a win would put them in first place by one point. It was the situation Juve had been practicing for over the past few weeks. Milan had at last slipped up, and now Juve had to convert on their chances and beat Palermo.
The match started off with Juventus in total control. Fabio Quagliarella, starting striker, had a chance to open up Juve's scoring thanks to an accurate longball from Leonardo Bonucci. Unfortunately, Quags slipped, and by the time he had regained his footing he was being swarmed by defenders. His shot was then blocked.
The first half continued in the same vein. Juventus retained most of the possession, and they spent most of their time in Palermo's own half. In truth, Juve could have scored two or three times in the first half, but they were entirely profligate when it came to finishing.
Of course, as he is sometimes prone to doing, Mirko Vucinic became an offensive vacuum. He had six shots (alongside six dispossessions), of which only two were on target. His bad play tonight left a fair amount of slack for his teammates to pick up, and that slack wasn't picked up until the second half.
To be specific, Bonucci picked up the slack. Fifty-six minutes into the match, Bonucci sent a header past Emiliano Viviano to score Juve's first goal. All of a sudden, Juventus were in first place.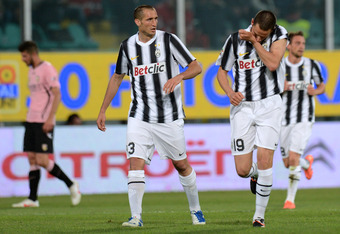 Tullio M. Puglia/Getty Images
For Bonucci, the goal was the highlight of maybe his best match in black and white. In addition to picking up Vucinic's goal-scoring slack, he also picked up Arturo Vidal's tackling slack. Vidal only had one tackle, while Bonucci had five.
Complementing those stats, he also won four aerial duels, had four effective clearances and won two offsides. But most importantly, Bonucci made two last man tackles. These were critical stoppages by the youngster and proof that he's blooming into a great defender.
Bonucci made a pretty strong effort for man of the match. His only competition in that area was Andrea Pirlo. Pirlo assisted Bonucci's goal and completed 124 passes, 19 accurate long balls, and four 'key passes.'
Of course, this is pretty standard for Pirlo.
Some time after the goal, Conte took out the vacuum, Vucinic, and put in Alessandro Matri.
Then, moments after Matri came on, Fabio Quagliarella iced the game. Matri touched the ball into Quags' path, and Fabio pounced on the ball, sending it past Viviano for Juve's second and final goal.
Towards the end of the match, both Alessandro Del Piero and Simone Pepe came on for Quags and Vidal, respectively. Pepe played well for the few minutes he was in, even though he slotted in as a midfielder.
Del Piero, as he always does, had a few moments of brilliance. He attempted a bicycle kick assist to Claudio Marchisio in the box, and although his pass failed, his trio of kicks to keep the ball in the air were impressive.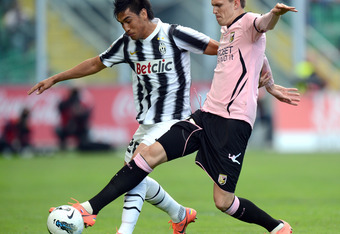 Tullio M. Puglia/Getty Images
He also had one fierce attempt on goal, which he of course created by dribbling around several defenders. Sadly, his attempt was blocked away by Viviano.
Once the 90 minutes were up, Juventus were officially in first place. After weeks of hard work (after they gave up first place) Antonio Conte and his men are top of the table.
In addition to their return to first place, Juve can also be satisfied with several other happenings from the match. First off, Bonucci has had several consecutive strong performances, and he may have had his best match yet.
Then, there's the recent goal-scoring of Quags. Conte has finally been giving him the solid playing time he deserves, and he's rewarding Conte with goals.
They host Lazio midweek, and they will try to retain their position on top of Serie A. Praise Conte, and Forza Juve!