2012 Stanley Cup Playoffs: 5 Secret Weapons Who Could Emerge in the NHL Playoffs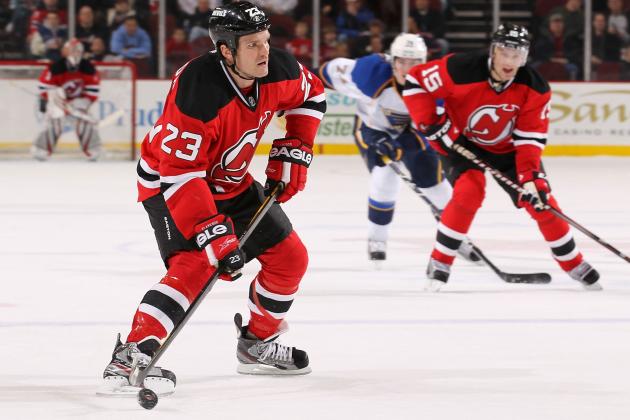 Nick Laham/Getty Images

The 2012 NHL Playoffs are almost upon us, and two months of uncharted drama now lie ahead for the 16 teams in this year's postseason field.
For each and every one of those squads, their plan for the upcoming weeks of playoff action will be fairly similar to the strategy that got them here—steadfast goaltending, high-octane scoring and veteran leadership.
But for those few squads that do end up making a glorious run into the late stages of May, they'll do so by receiving contributions from every single member of their team—from the flashiest superstars to the most underrated grinders.
In truth, the X-factors that really separate a Stanley Cup contender from just another one-and-done playoff qualifier are not the best players on a team; rather, they're those who emerge out of the shadows only when the calendar turns to April.
Which unheralded players will step up to the plate and deliver when crunch time arrives? That's a question that will take some time to fully answer, but make sure to keep at least one eye on these five guys as the postseason moves along.
Begin Slideshow

»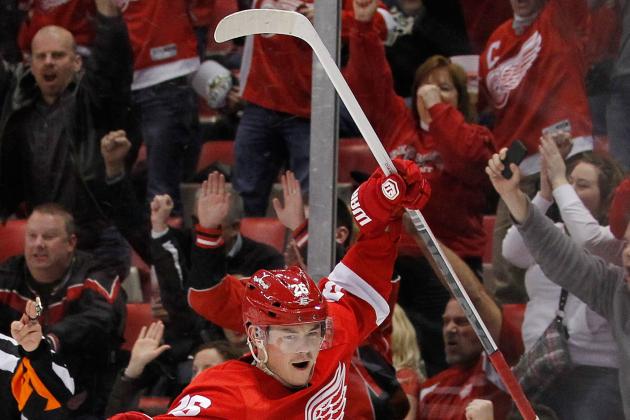 Gregory Shamus/Getty Images

Team: Detroit Red Wings (West No. 5)
How Secret?
It's a tough task for any player to stay under the radar in Hockey Town, but 28-year-old Jiri Hudler has still tried valiantly to do so.
A member of the '08 Cup-winning team, Hudler was already a part of the Wings in 2003 but didn't become a full-time NHL-er until three years later. Moreover, despite registering 61 goals and 161 points from '06 to '11, it wasn't until this season that Hudler received ice time among the team's upper lines of forwards.
How Much of a Weapon?
Hudler finished up a career season on Saturday, recording 25 goals and 25 assists in 81 games for Detroit's seventh-ranked offense. His jaw-dropping 19.7 shooting percentage helped Hudler really stand out, though, as he finished the regular season ranked second in the league in that category.
The Czech center has a history of quality postseason performances, too—including 14 and 12 points, respectively, in the Wings' playoff runs of '08 and '09—so there's every reason to believe he could be magical again this spring.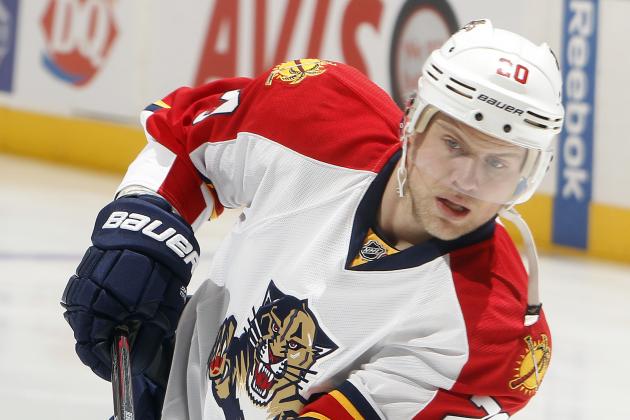 Abelimages/Getty Images

Team: Florida Panthers (East No. 3)
How Secret?
Sean Bergenheim came to Florida last summer as one of the smaller additions in a frenzied spending spree by Panthers GM Dale Tallon. The Finnish winger had just finished his fourth consecutive season of 20-plus points in Tampa Bay, where he served as a reliable third-liner for the Bolts.
Bergenheim hasn't gotten much more media recognition this year, either, as the Cats' dynamic, new-found top line has easily overshadowed the rest of their offensive corps.
How Much of a Weapon?
Bergenheim's 23 points on the regular season won't knock anyone's socks off, but it is worth noting that 17 of those were goals (actually the fourth-highest total on the team). Nevertheless, the 28-year-old's performance at this time a year ago is what really gets him noticed as a potential secret weapon.
Bergenheim exploded for nine goals in 16 games in the 2011 playoffs while helping the Lightning make a surprising run to the Eastern Conference Finals. By the time mid-May arrived, Bergenheim was getting more ice time than Bruins and Bolts stars Milan Lucic, Nathan Horton and Steven Stamkos.
With Bergenheim's regular season performance this year just as pedestrian as always, one has to wonder if the prime-aged winger could sneak up on opponents yet again this spring.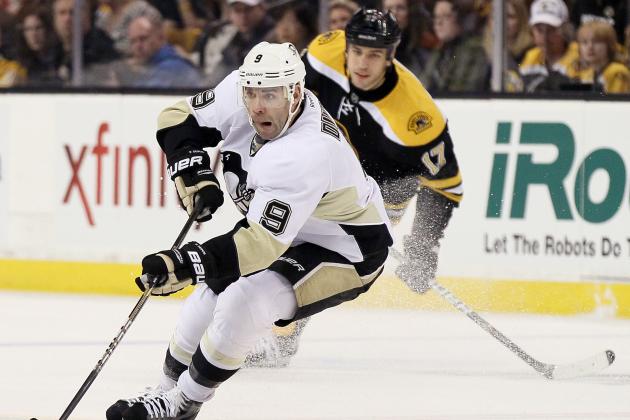 Elsa/Getty Images

Team: Pittsburgh Penguins (East No. 4)
How Secret?
Penguins' vet Pascal Dupuis has been in the NHL a long time.
He's just finished up his 11th career regular season and is entering his seventh career playoff appearance, carrying 825 games of experience and three Conference Finals appearances (with one Cup ring) in tow.
Conversely, Dupuis' best ever campaign was a measly 20-goal, 38-point performance with the Minnesota Wild in '02-'03, and the 33-year-old undrafted winger hadn't even topped 38 points since then until this season.
How Much of a Weapon?
Dupuis' '11-'12 season turned into an unlikely breakout campaign when he came out of the gate with four points in his first four games, and the injury issues faced by Sidney Crosby (and several others, as well) has opened up the door for Dupuis to capitalize on his sudden scoring potency.
Dupuis eventually tallied noteworthy totals of 25 goals (including three shorthanded), 34 helpers and a plus-18 rating over the course of the season, but his eight game-winners—the seventh-highest mark in the NHL—were even more surprising.
Although not historically a major playoff performer, Dupuis' Midas touch over the past six months leads us to believe that just about anything could happen this spring.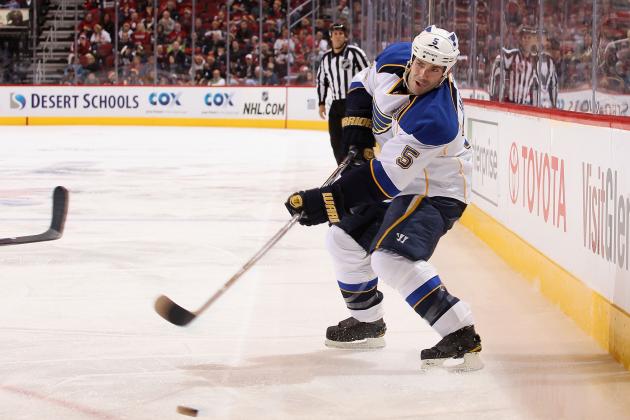 Christian Petersen/Getty Images

Team: St. Louis Blues (West No. 2)
How Secret?
Not too many people outside of St. Louis have heard of grinding defenseman Barret Jackman, and for several good reasons.
For one, Jackman isn't exactly the league leader in frequent flier miles—all 10 of his NHL seasons have been spent with the Blues. And secondly, Jackman isn't exactly "flying" up the stat sheet, either—the 31-year-old rearguard's one-goal, 12-assist campaign this season was really a rather decent performance by his standards.
How Much of a Weapon?
But Barret Jackman, despite his shortcomings, is one of the league's most unheralded players off the scoresheet.
Jackman has been one of the Blues' top three shot-blockers in every season since the lockout—including ranking first this past regular season—and was a big part of why upstart St. Louis allowed both the fewest goals against and the fewest shots against in the entire NHL.
Finding the back of the net is probably not part of Jackman's fate this spring, but he could very well be a tremendous role-player in the Blues' push for their first deep postseason run since 2001.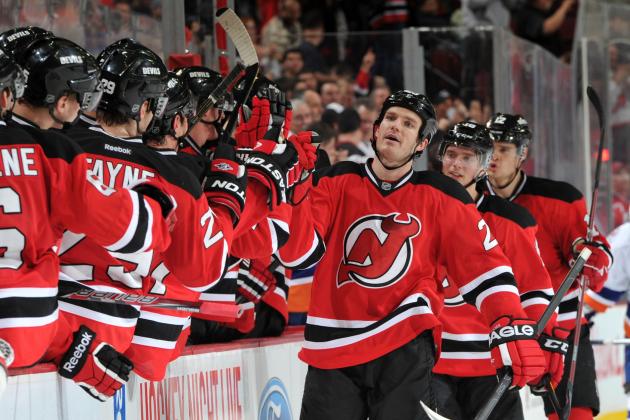 Christopher Pasatieri/Getty Images

Team: New Jersey Devils (East No. 6)
How Secret?
Amid the troubles of a bankrupt ownership and rapidly declining attendance, it's really a wonder that star scorers Ilya Kovalchuk, Patrick Elias and Zach Parise have even managed to remain relevant and well-known in New Jersey.
When it comes to David Clarkson, though, the 28-year-old winger has about as much of a household name as Aixinjueluo Puyi—or, for that matter, your aunt Sally's new three-month-old puppy.
In terms of secrecy, Clarkson takes the cake.
How Much of a Weapon?
Despite his extreme unheard-of status, Clarkson packs a rare combination of grit and finesse that few other NHL-ers can rival.
The originally undrafted forward shattered his career highs this year with 46 points and a whopping 30 goals (including eight power-play strikes and seven game-winners), a total good enough for 25th in the league and third on the Devils.
Not to be left of the physical play either, though, Clarkson also led the team in penalty minutes and was first among New Jersey forwards in hits.
Simply put, Toronto native David Clarkson is the most unheralded Jack of all trades in the NHL by a mile.
But entering his fifth postseason appearance fresh off of this breakout campaign, we think he might start receiving a little more attention soon.