Bobby Petrino: Jessica Dorrell Fiasco is Last Straw for Coaching Career
April 7, 2012

Bobby Petrino's latest fiasco with Jessica Dorrell is a clear sign that the coach is completely out of his mind.
There is no doubt in my mind that Petrino is going to be dismissed as the head coach of the Arkansas Razorbacks football program.
He should be. The man is unfit to coach, especially at the college level.
Young men and women entering into college—especially the kind of high-profile student athletes that Petrino led—need someone with high character and impeccable morals to help guide them through one of the most important phases of their precious lives.
Petrino is the antithesis of this profile. He has continually proven over a long period of time that he's a man of loose morals, to say the least.
In 2003, his first year as a head coach at the University of Louisville, Petrino went behind the back of his employer and his onetime boss, Tuberville, to negotiate a deal replacing him at Auburn...Petrino lied about having any contact with Auburn officials -- until two reporters for The (Louisville) Courier-Journal confronted him with documentation of the private plane that brought the university president and athletic director into Petrino's backyard...Boxed into a corner, Petrino asked forgiveness and chalked it up to the inexperience of a "young coach."
Okay, maybe I could buy that. Except that was just the first example of Petrino's lack of judgement shining through the facade.
Forde continued chronicling the pattern: 
In 2004, Petrino interviewed for the Notre Dame job and had discussions with Florida and Mississippi about their jobs. Then, on Dec. 7, he pledged his loyalty to Louisville.

On Dec. 21, Petrino signed an enhanced contract to stay with the Cardinals.

On Dec. 26 -- well before the Petrino children had graduated from high school -- he interviewed with LSU to replace Saban. On Jan. 1, 2005, when it became obvious that he'd lost out to Les Miles, Petrino pulled out of consideration.

On the inside, several Louisville administrators were disappointed they had to keep him. They were sick of the game -- but there was no firing a guy who just went 12-1.
So he's good at coaching. He gets results. I can see how people in need of a good coach would be willing to overlook these character defects. 
But there's more, per Forde:
In 2005, Petrino interviewed with the Oakland Raiders. That's after telling people for years that he had no interest in coaching the pros -- college was where he wanted to be. He ultimately turned down the job and professed his commitment to the Cardinals again.
Then, on July 13, 2006, Petrino signed a 10-year contract worth up to $25 million with Louisville, even going so far as to putting a $1 million buyout in his contract, saying:
We did want to make a statement… I wanted to make sure everyone understood -- I know I've said it -- that this is where I want to be, where my family wants to be. But I want everyone to really believe it.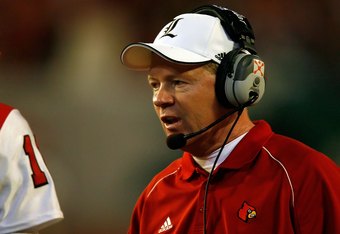 Eliot J. Schechter/Getty Images
Of course, it was only five months later that he signed a five-year $24 million contract with Arthur Blank and the Atlanta Falcons. We all know how that one turned out.
Petrino was gone within a year, headed off to Arkansas.
And now, here we are again talking about Petrino and his incredible lack of character and judgment.
Not only was he cheating on his family, but he hired his lover to become the university's student athlete coordinator just days before getting into the motorcycle accident that exposed his latest lies (H/T ABC News).
After the accident, Petrino then lied to the police about Dorrell's involvement in the crash, saying that she had somehow rescued him from the crash instead of the truth that she was riding on the bike when the crash happened. 
Granted, Petrino panicked. Still, he should have never been doing what he was doing in the first place. Hiring his mistress by itself is a demonstration of a lapse in moral character.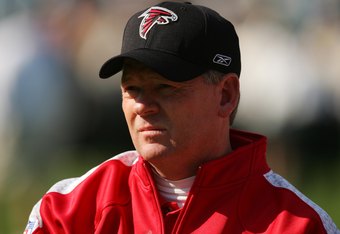 Streeter Lecka/Getty Images
As a father, there is no way in hell I want a man like this leading my son. 
The University of Arkansas has an obligation to rid themselves of Petrino. He is a chronicled liar and as such, is unqualified to lead young men.
This latest fiasco proves once and for all that Petrino's career as a head coach needs to be over.