Masters 2012 Leaderboard: Contenders Who Will End the Day as Pretenders
April 7, 2012

Jamie Squire/Getty Images
As we enter the third day of the Masters, an amazing 10 players, at the top of the leaderboard, are within two strokes of each other. There are more than enough contenders to keep everyone happy.
It's certainly possible, and would make for a good tournament, but it's hard to imagine going into Sunday with 20 golfers battling it out for the green jacket.
At least some people will drop off today.
Below is a look at the most likely candidates to drop out of contention on Saturday. 
Miguel A. Jimenez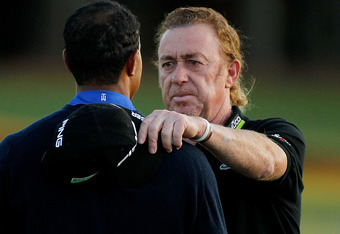 Streeter Lecka/Getty Images
The 48-year-old Jimenez certainly has the experience that shows he can keep this up. He has finished in the Top 10 of every major, but has yet to actually win one.
Still though, it's hard to imagine the 52nd-ranked golfer in the world keeping up his current pace, which has him in a tie for eighth place. 
Jimenez has been consistent through the first two days, as he has only bogeyed four times. Nonetheless, don't be surprised if Jimenez's age catches up with him.
Paul Lawrie
Lawrie's best ever finish at Augusta is a tie for 15th. He's currently only two shots off the lead, but don't be surprised if he doesn't beat his career best this weekend.
The 42-year-old has only played in two tournaments this year. His first wasn't bad, but he finished tied for 60th in the Cadillac Championship.
While he has been playing well at the Masters, his recent struggles and lack of playing time suggest Lawrie won't be contending for much longer.
Bubba Watson
Watson already has four top 10 finishes this season, including a top five in his last three tournaments. He's playing incredibly well, and it appears that success has translated to Augusta because Watson sits a four-under in a tie for third place.
As you probably guessed, however, there's a "but" coming.
But, Watson has historically struggled at the Masters.
His best finished came in 2008 when he finished 20th, in his last three Masters tournaments Watson has gone 42nd, DNP and 38th.
It would be surprising to see him all of a sudden finish in the top five, or even top 10.