Tim Tebow: New York Jets Shouldn't Limit QB's Endorsements off the Field
April 7, 2012

Mike Stobe/Getty Images
Tim Tebow knows a thing or two about being the center of attention. He's been under the microscope since his high school days and nothing seems to be changing.
Florida and Denver are the areas where Tebow has been the man. But now he is taking on two different monsters—New York and Hollywood.
According to Fox Sports, Tebow is one of the hottest celebrities in sports and he's now beginning to take over Hollywood.
So what?
The New York Jets organization shouldn't do anything about this, but apparently, they are thinking about it.
"The Jets are trying to limit his endorsements and off the field commitments to ensure his focus remains on the field. If it becomes distracting, it could affect the team," an insider told FOXNews.com.
What else did they expect to happen when they brought sports' most polarizing figure to the Big Apple?
If any player in any sport can survive the whirlwind of attention, it is Tebow. We are talking about a backup quarterback who just had a press conference larger than most starting quarterbacks, remember?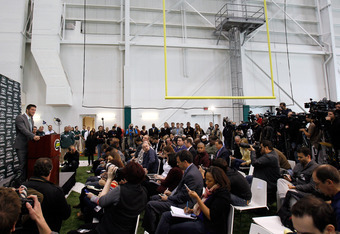 Mike Stobe/Getty Images
His face is on TV every day, people are consistently searching his name on the Internet and people are buying his jerseys like food at the grocery store when a hurricane is coming through. 
Tebow is already a star and the New York Jets organization is going to have to deal with it.
Sportswriter Angie Meyer said Tebow's image could be tainted in Hollywood.
"Athletes who mingle in Hollywood tend to lose both reliability and credibility from teammates, coaches and often times, fans," she said.
She went on to bring up his Christian role model mentality.
"If Tim Tebow wishes to remain a Christian role model, he must keep a far distance from Hollywood and celebrity ... he should stay out of the tabloids completely," she added.
I have great belief in Tebow doing the right thing over there. It seems that maybe he likes attention, but it's not my business to say what he should and shouldn't do. If I lived that lifestyle I'm pretty sure I'd work Hollywood as well.
It's almost laughable to think that they would even consider limiting his endorsements off the field unless they truly had an impact on his offseason workouts, training sessions or other factors pertaining to missing time with the game.
Does this really impact anything? No. If it did, I'm sure Tebow wouldn't be taking part in Hollywood or anywhere for that fact.
Let Tebow do his thing.