Manchester United: Which of the Six Manchester City Strikers Would Sir Alex Buy?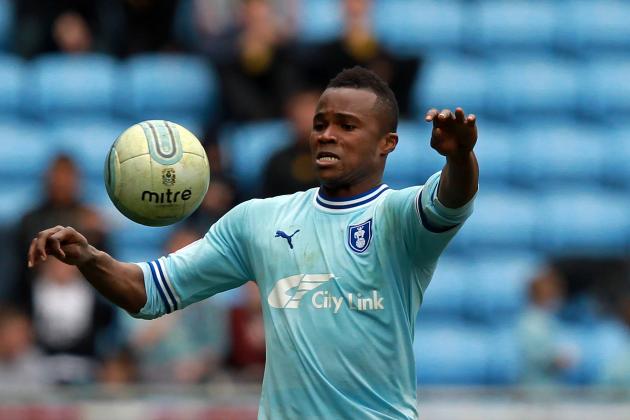 Jan Kruger/Getty Images

Manchester City list seven strikers in their first-team squad. By the start of next season, six of them could be gone. Which of these would Sir Alex Ferguson buy for Manchester United?
Ironically, Alex Nimely (pictured above) is currently playing on loan at Coventry City alongside Oliver Norwood. Nimely is being used as a winger. Both are getting good reviews.
The other on-loan strikers are, of course, Emmanuel Adebayor at Tottenham Hotspur and Roque Santa Cruz.
For various reasons, all six of the proper strikers could leave City, who have to unload players to sign fresh faces. Given their desperation to recoup transfer fees and lighten the wage bill, they may have to be realistic about who buys the players.
That could open the way for Sir Alex Ferguson and Manchester United, but who, if any, of these strikers would he consider buying?
Begin Slideshow

»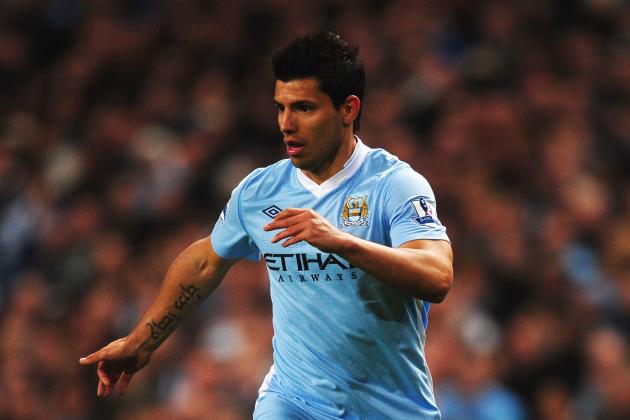 Laurence Griffiths/Getty Images

Being realistic, there is no way Aguero would leave City for United.
However, there is equally no doubt that Sir Alex coveted Kun while he played for Atletico Madrid. On his day, he can be the greatest striker in the world.
In my opinion, he has been overworked at City, mainly because of the idiotic antics of his colleagues, Tevez and Balotelli. Also, Dzeko has been disappointing and a growing burden has fallen on Kun and David Silva.
If he had gone to United instead, he would arguably have been rotated more, to the benefit of both his club and international prospects.
Lacking only in height, he is a fine instinctive striker with an excellent shots-on-target ratio. He can be lethal but is also a good team player, creating opportunities for colleagues.
Of all City's strikers, Aguero is probably the only one they want to keep. The trouble is, Jose Mourinho and Pep Guardiola both seem to want him. The greater likelihood is that he would go to Real Madrid, but Mancini would want Gonzalo Higuain in return.
At the end of the day, as with his move to City, his future will largely be decided by his father-in-law, Diego Maradona. City will struggle to keep him.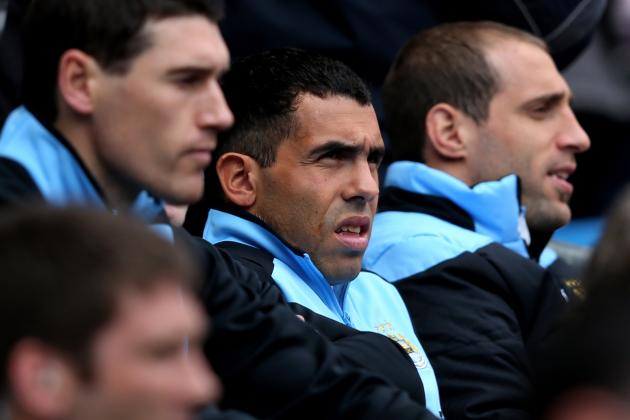 Alex Livesey/Getty Images

Manchester United could have Carlos Tevez if they wanted him...
Whether or not he contributes to City's success before the end of the season, he is on his way, for reasons that don't need explaining.
There is no way on earth Sir Alex would have him back.
Even if he hadn't refused to play for City and disappeared to South America, the United manager had plenty of reasons to let him go in the first place.
Despite playing in England for five years, he has made no real attempt to learn English. That in itself is a warning signal. He appears to be too self-serving.
He apparently left United because he wanted to play more often. Fair enough; all strikers want to play more often. Wayne Rooney wants to play every minute of every game.
The thing is, Tevez's petulance showed that HE wants to decide when he does or doesn't play.
Worse still, he's gone on record criticising Manchester, England and his manager Mancini.
It's clear that City have been desperate to unload Carlos, but they need a fee for him. He can't understand why they apparently won't let him go, but City cannot go on loaning players out and subsidising their wages, while players' contracts run down along with their potential resale value.
For example, it is believed that City may have been subsidising Craig Bellamy's wages to the tune of £100,000 a week while he was at Cardiff City.
Tevez is believed to have cost as much as £47 million when City signed him on wages reputed to be £230,000 a week. This explains, in part, Ferguson's reluctance to buy him when he left for City.
With all the unpleasantness and the poster campaign in Manchester two years ago, nobody at United would want the sulky Argentinian back.
Despite his behaviour last autumn, he remained in Manchester after the January transfer window. This was almost certainly a combination of buying clubs' inability or unwillingness to pay City's asking price and/or Carlos's wages.
It's a gamble, because his value is certainly not rising. City could have let him go on loan, but again would have had to pay part of his wages. The buying club would also have had an armlock, which could have led to a reduced transfer fee.
So in summary, Sir Alex could probably have him, but none of the three parties would want him to return to Old Trafford.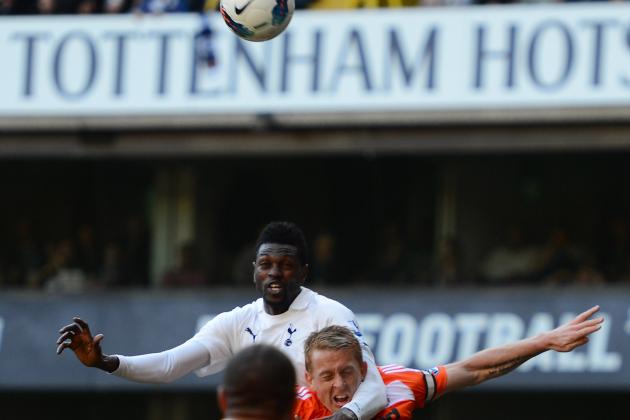 Mike Hewitt/Getty Images

City find themselves in a similar dilemma over Emmanuel Adebayor, who has at least been far better behaved, despite the previous acrimony around his departure from Arsenal.
Once again, City are subsidising his wages to the tune of £100,000 a week, which is extraordinary, because Spurs have been serious rivals for the Premier League title until their challenge fell away.
Of his wage of £170,000 a week, Spurs are only paying £70,000. No doubt if the transfer fee was right, they would be prepared to up his wages, but Adebayor has already indicated he won't take a pay cut.
Sir Alex wouldn't pay £170,000 either, probably more like £130,000, but this is at least a player he has admired and he would be a good replacement for Berbatov. At 28, he may be too old, but he has an excellent strike rate—especially at Arsenal (62 in 142 appearances) and Spurs (12 in 27).
Ferguson claims that Adebayor wanted to come to United and he could probably nick the Togolese striker off Tottenham if he wanted, but is unlikely to do so.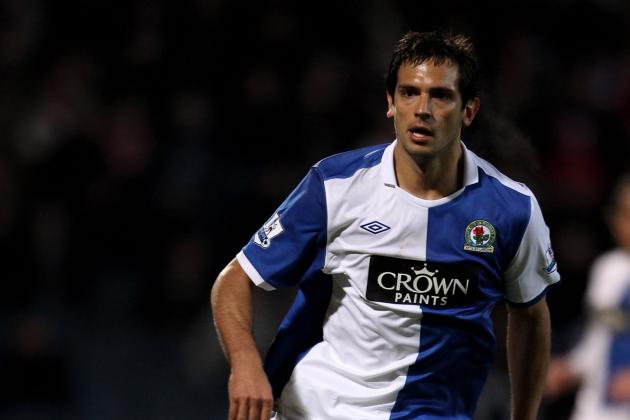 Alex Livesey/Getty Images

Roque Santa Cruz is a genuine bloke and a good striker.
Mark Hughes should know one when he sees one and he bought him twice: first for Blackburn; then for City.
But whether due to injuries or management changes, Roque has had a raw deal. Currently on loan at Real Betis, having been back to Blackburn previously, he is undoubtedly another player City want to unload.
Once upon a time, Sir Alex might have had an interest and he might still have value as a fourth striker, because of his height and strength, but he is unlikely to arrive at Old Trafford, as he's on the wrong side of 30.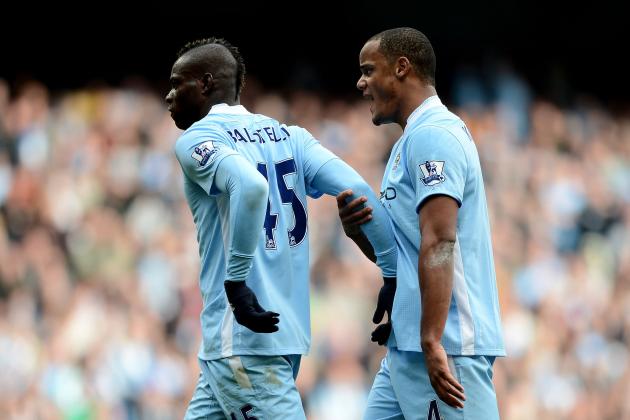 Laurence Griffiths/Getty Images

Mario Balotelli is undoubtedly one of the most talented footballers in the world, but like Ravel Morrison, he is dangerously unpredictable.
Any manager would covet Balotelli's skills at still only 21, but when Roberto Mancini considers substituting him after only five minutes, you know you have a problem child on your hands.
One that cost an estimated £20 million.
City would be delighted to recoup most of that fee, and he will almost certainly head back to Italy where he feels most at home.
Sir Alex would love the talent, but there is no way he would put an unexploded bomb like Balotelli in the United dressing room. It was hard enough having Carlos Tevez.
As with Tevez, whoever is prepared to pay the highest fee and take the wage bill off their hands can have either of these strikers, because Mancini (or whoever succeeds him) wants to buy Edinson Cavani and reduce the wage bill before FFP strikes.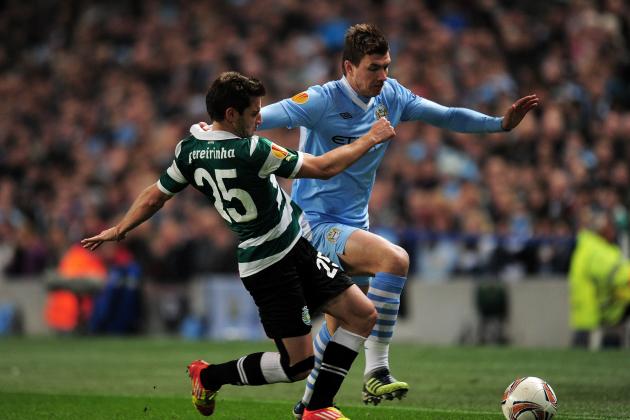 Shaun Botterill/Getty Images

Of all the strikers that City are likely to sell this year, Dzeko is probably the one that would interest Sir Alex the most.
While his employers will reluctantly let Aguero go if they get the right exchange with Real Madrid, Dzeko has been a big disappointment.
His body language in recent weeks suggests that his mind is elsewhere, just when City need him most.
So let's consider why Sir Alex would seriously consider buying him as a replacement for Berbatov.
Ferguson was very keen to sign him three years ago at 23. Although he has been a disappointment at City, he does at least understand the Premier League and has adapted quite well. Surely he would score a bucketful of goals from crosses by Valencia, Nani or Young?
He is 6'4", has good ball skills, can shoot with both feet and is one of the best headers in European football.
His stats are impressive as well. For Bosnia, he has scored 20 goals in only 42 appearances.
23 in 59 games for Manchester City isn't bad, but for Wolfsburg in the Bundesliga, he scored 85 in 142 appearances while still only young.
Sir Alex was a striker himself and can nurture and develop Dzeko's undoubted talent in the way he did with Wayne Rooney after Ronaldo's departure.
The question is, would City let him cross Manchester? If the price was right (probably £30 million), surely they would have to think seriously about getting him off the books. They have two wayward strikers that they have to shift as well, and there is a shrinking market for high cost players in Europe.
He would be a sure-fire success at Old Trafford and his unassuming manner (in contrast to his two 'infamous' colleagues) would fit within the United team structure very well.
Sign him up, Fergie!