Manchester United Need to Blow Past Arsenal and Sign Clint Dempsey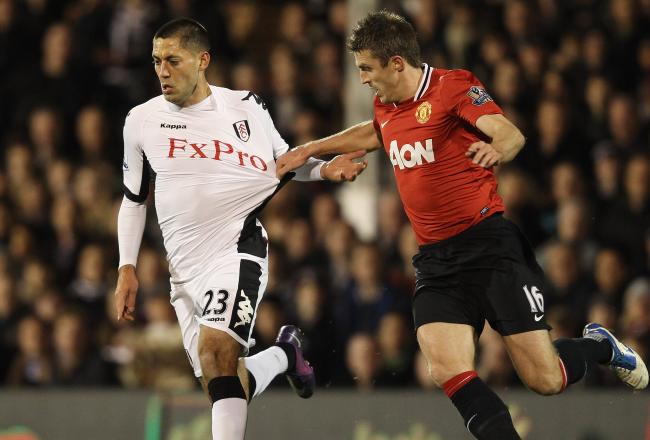 Clive Rose/Getty Images
Manchester United are locked in a fierce battle with cross-town rivals Manchester City for the league title. If the Red Devils can hold on, it will be their fifth piece of league silverware in six years.
But there's a battle being waged behind the scenes—the kind of tussle that VPs of finance have with club presidents in back rooms until well after midnight.
It's the battle for transfer players.
The debate is surely being had at Old Trafford between Sir Alex Ferguson and the Red Devils' front office—is Fulham striker Clint Dempsey a good fit for Manchester United?
Arsenal has reportedly taken the lead in deciding if the 29-year-old forward would look good in a Gunners uniform. The Daily Express has said that Arsenal "could make a £10 million summer move" for the American.
Just as important as the battle for Premier League supremacy is the battle for roster supremacy. It's what gets you to the kind of lead this late in the season that Manchester United is enjoying.
In my opinion, Ferguson and the rest of the Manchester United brass need to go after Dempsey if they have any chance at securing the title next season.
There are many who are of the opinion that staying a big fish in a small pond like Fulham has been the catalyst for Dempsey's meteoric rise. I agree—Fulham provided regular starting opportunities in the Premier League and helped hone his game.
Many bigger clubs would have taken Dempsey when he was a star with the New England Revolution, but would he have been given the 40-plus starts he's enjoyed at Craven Cottage in three of the last four seasons?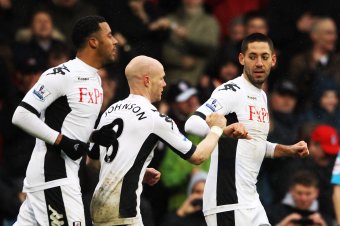 Dempsey (right) has scored or assisted 18 of Fulham's 39 goals so far this season.
Scott Heavey/Getty Images
Certainly not. As an unproven MLS player, Dempsey would have been given a dozen league starts and appeared in several low-level Europa League or Champions League fixtures.
But Dempsey has grown into a proven Premier League star, netting 21 goals in all competitions for Fulham and making headlines all over the world for his performance over the season.
Those two hat tricks against Charlton and Newcastle in January—they ain't nothing to sneeze at.
But back to Manchester United's need to wrestle Dempsey away from Arsenal. For one, the Red Devils don't need their second-biggest competitor for the league title (behind City, of course) nabbing one of the hottest prospects in this summer's transfer window.
The Gunners are already averaging nearly three goals a match without him. Pairing Dempsey with the likes of Robin Van Persie, Theo Walcott and Alex Song would make United's climb up the league mountain all the steeper next season.
Also, does Ferguson—and the rest of the Red Devils organization for that matter—need the embarrassment of letting another great player slip through their fingers? £10 million seems like a reasonable price to pay, especially for a club with as deep a pockets as United, to experiment and see if Dempsey pairs well with Wayne Rooney.
At the very least, it's a good insurance policy. Far less embarrassment in signing an underwhelming player than letting an overwhelming one go to another club.
All that said, this isn't just about saving face and keeping Dempsey away from Arsenal.
Should Manchester United try and sign Clint Dempsey?
Dempsey's best suited for a role as a winger, attacking midfielder or striker. United is loaded with those types of players right? Wayne Rooney, Danny Welbeck, Javier Hernandez, Ashley Young, Nani, Antonio Valencia—the list goes on.
But with the exception of Rooney, are any of these players better than Dempsey?
Welbeck and Hernandez have been inconsistent as of late, the former because of form and the latter because of injuries.
Young has played well as of late, coming on strong against Blackburn and Tottenham, but that's two opponents in the last two months the midfielder has excelled against. He played all 180 minutes of both legs against Athletic Bilbao and managed just two shots on goal.
Nani hasn't scored since before Christmas and is, by his own admission to ESPN, not at his best and in need of recovering his dropped form.
Valencia has been a force to be reckoned with in recent weeks, but how long will the Ecuadorian last at this high a level? Besides, Valenica isn't a goalscorer—he's a goal-supporter. His 14 assists in all competitions for the Red Devils far outshines his six goals. Valencia has never collected more goals than assists in his nine-year career.
But besides the need to keep him out of Arsenal's clutches and the need to give Rooney someone a notch above his current attacking partners, Dempsey realizes his need to take the next step in his career in the Premier League.
The AOL Sporting News has reported the American as saying "If one day I get the opportunity to play for a big club, in the Champions League, that'll be great...I'd lie if I said that wasn't a dream."
Manchester United, please wise up. Put a respectable offer on the table and make sure Arsene Wenger doesn't even get within handshake's length of Clint Dempsey.
This article is
What is the duplicate article?
Why is this article offensive?
Where is this article plagiarized from?
Why is this article poorly edited?

Manchester United: Like this team?