NHL Playoffs 2012: 5 Things We Can Expect out of a Caps-Bruins Series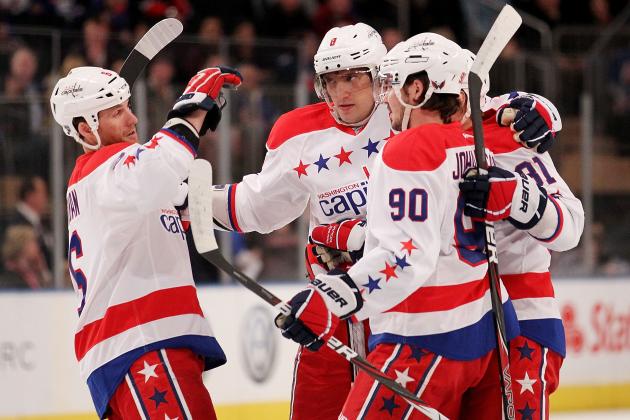 Nick Laham/Getty Images

The Washington Capitals came back from the dead and not only managed to capture a playoff berth, but after Saturday night's action which saw all 30 teams square off, the Washington Capitals will now travel to Boston to take on the defending Stanley Cup champions.
After the Ottawa Senators were thrashed by the New Jersey Devils and the Capitals easily handled the New York Rangers, Ottawa learned their fate would be against New York as the eighth seed in the East.
The Rangers, who were trying to supply Vezina trophy favorite Henrik Lundqvist with his 40th win of the season, were scored on early and often by the Capitals. Alexander Ovechkin scored seconds into the game on his patented wrister from the circle from a face-off win by Brooks Laich.
Ovechkin would lead his team to an easy 4-1 victory in which Braden Holtby, Washington's now de facto starting goaltender, played admirably.
Although the Capitals could not capture another Southeast Division pennant, they should be excited about getting a shot at last year's champs. Even though the Capitals will be entering the series as a heavy underdog, should they win the first round, it would be a bigger confidence booster than beating anyone else.
If the Caps want the Cup, they will need to win the best. Here are some things that could go down in the first round.
Begin Slideshow

»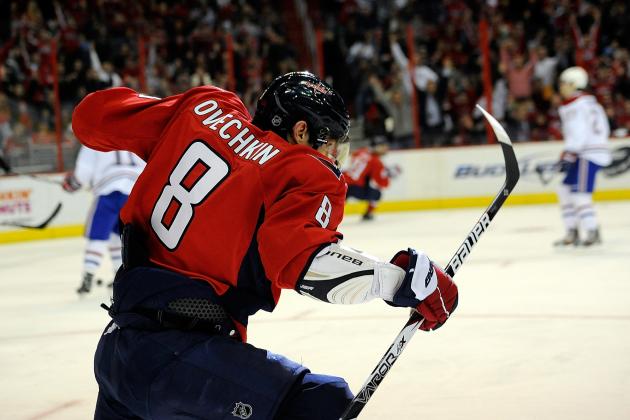 Patrick McDermott/Getty Images

One statistic nobody ever hears about is how Alex Ovechkin stacks up against the all-time greats in the history of the NHL.
Would you be surprised if I told you that Ovechkin is second all time in playoff goals per game, only behind Pittsburgh Penguins legend and now owner Mario Lemieux?
Scoring goals at a pace of 0.676, Ovechkin is not far behind the Hall of Famer who holds the record at 0.710 during his career.
Alex had a subpar season by his own standards, only notching 37 goals. It's noteworthy that Ovechkin showed us flashes of what is about to go down in the postseason when he went on a tear in the final weeks, carrying his team into the playoffs.
When it comes to being clutch, nobody currently in the NHL scores more points in the playoffs than Ovechkin either—currently fifth all time with 1.351 points per outing.
Last season, the Bruins bullied their way through the Eastern Conference before turning the Vancouver Canucks into their own personal punching bags, literally.
The Capitals are going to need to more big hits from players other than Troy Brouwer and Alex Ovechkin.
Look for rookie defenseman Dmitri Orlov to throw a hip check or two in an attempt to make a name for himself in the Stanley Cup playoffs.
Fourth-liners Jay Beagle and Matt Hendricks are going to be called upon to protect the Caps' stars. Hendricks never turns down a good fight and will be the go-to guy when Dale Hunter needs some enforcement.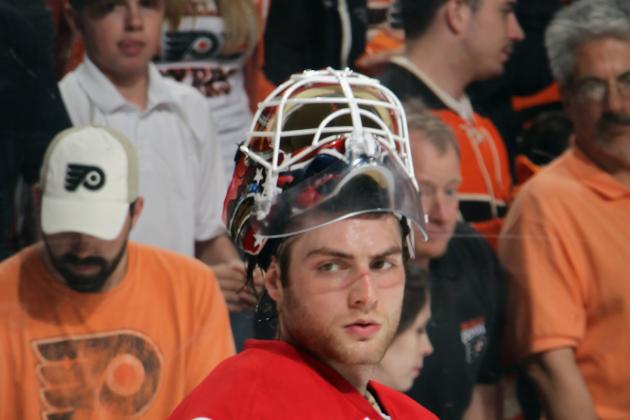 Bruce Bennett/Getty Images

After Florida's Marco Sturm decided to do his best Tomas Holmstrom impression, starting goaltender and last year's playoff goalie, Michal Neuvirth suffered a nasty-looking injury to his left leg.
Rookie goalie Braden Holtby took over for the injured Neuvirth and backstopped the Capitals to a win over the Southeast Division rival Panthers, ensuring a sixth consecutive playoff berth.
The 22-year-old has never appeared in a postseason game and has been limited in regular-season action this year.
Washington's No. 1, Tomas Vokoun is still currently out with an injured groin. The timetable for his return has not been revealed.
It will be interesting to see, if and when Vokoun and Neuvirth return, will Holtby be sent back down if he's performing admirably?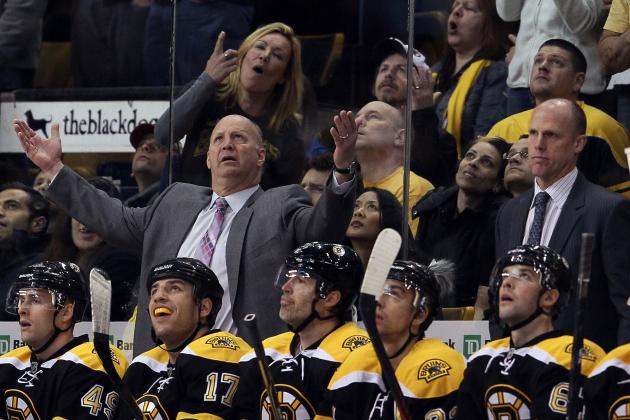 Elsa/Getty Images

At this point in time, it's pretty safe to say that Bruce Boudreau would have gotten the Caps into the exact same spot that Dale Hunter has found his team in—just inside the playoff bubble.
Claude Julien is a Stanley Cup winning coach who has managed to get all his players buy into his tough, grind-it-out system with an emphasis on defense that still manages to put up plenty of goals.
Dale Hunter's system, or lack there of, has been something mystifying to Caps fans and general observers alike. When he was first hired, Hunter was expected to bring in a defense-first system with an increased intensity regarding players hitting and backchecking.
None of Hunter's changes were very apparent, and the Capitals have looked similar to Boudreau's Caps after they abandoned their fire-wagon, five-goals-scored-per-game, offensive-juggernaut ways.
If Hunter does not have a good showing in the playoffs, he could find himself back in the Major Juniors next year as he does not have contract terms past this season.
Semin's postseason performances, as of recent, have been games to forget.
Semin's porous play last year was overlooked because of the fact that it only took five games to oust the Rangers. Then, the Caps ran into the Tampa Bay lightning, and the judgement began. Nobody could overcome Tampa's trap system.
Alexander Semin has had a poor statistical year but has been heating up near the end of the season. Semin's last-minute goal against the Florida Panthers ensured a playoff berth for his Caps.
Semin has often been cited as having the best wrist shot in the entire league. The Caps will need that shot to go high and through the net to beat Tim Thomas who won last year's Vezina and Conn Smythe trophies.
Semin is playing under another contract year, and there have been questions surrounding his future in Washington. If Semin doesn't provide the goal scoring the Caps need against the staunch Boston defense, this may be the last year we see Alex in a Capitals' jersey.