Arsenal FC: 19 Players from 19 Premier League Teams for Arsene Wenger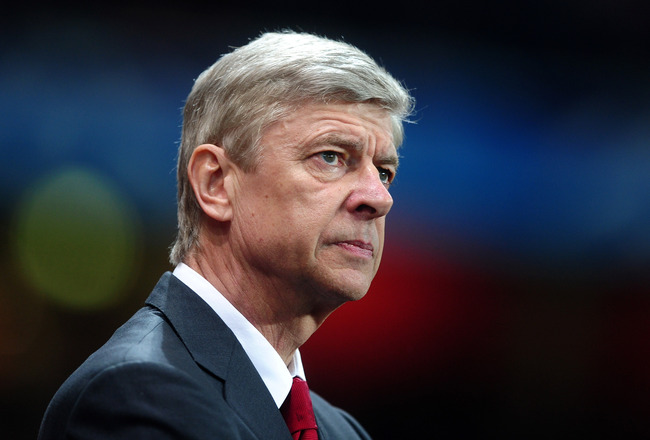 Laurence Griffiths/Getty Images
Throughout Arsene Wenger's tenure, he has very rarely signed a player from another Premier League team. This scribe can only think of one—Sol Campbell.
Even then, Campbell had finished his contract with Spurs and agreed terms with Arsenal without negotiating with their rivals. (If you can think of any others, feel free to comment with you suggestions! I would like to know)
Not only does this show a remarkable respect towards other clubs, but it emphasizes the principle that Wenger insists on nurturing his own talent, in order to make his mark on the game. So you can see why giving so many of his proteges away to Manchester City hurt so much for the Frenchman.
So I began to consider which player from each of the other teams in the league Wenger might like to have in his squad.
I don't expect everyone to agree with my selections, on the contrary I'd prefer you didn't frankly, but I have chosen players that would fit in well alongside the current squad.
Without further ado, lets see the results...
Aston Villa: Gabriel Agbonlahor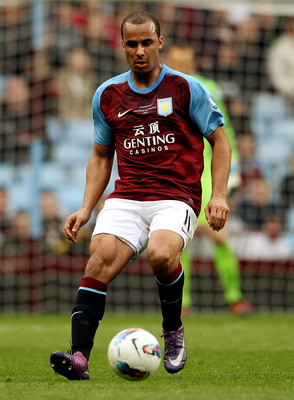 Scott Heavey/Getty Images
Though he is suffering a bad spell of form at the moment after a strong start to the season, Agbonlahor still has the qualities of a top-class striker that could fit into the Arsenal team.
The Englishman's key trait is his pace. Coupled with his strength to keep possession in tight situations, this makes him a formidable striker.
He is Aston Villa's current longest-serving player, joining the academy in 1994, and is seven goals away from overtaking Dwight Yorke to become the club's Premier League record goalscorer.
At just 25 years old, he still has a lot to offer the Premier League. If he adds consistency to his game, who knows how successful he can be?
Blackburn Rovers: Junior Hoilett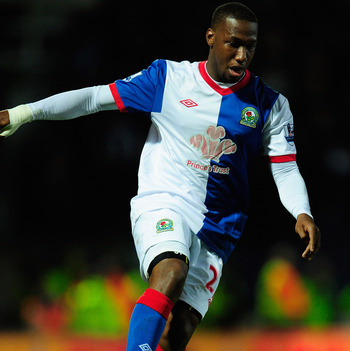 Stu Forster/Getty Images
Having been heavily linked in a summer move to the Emirates, Junior Hoilett has slowly become one of Blackburn Rovers most important players in their fight from relegation.
The 21 year-old Canadian, like Agbonlahor, has bags of pace and trickery down the left flank, which would suit Arsenal's wing play perfectly.
Hoilett's composed dribbling and ability to pick out a decisive through ball will also be most appealing to Wenger after giving a lot of problems to Alex Song and Bacary Sagna when the two sides met in September.
Many have tipped Hoilett to be one of the Premier League's next biggest stars. We shall wait and see.
Bolton Wanderers- Jussi Jaaskelainen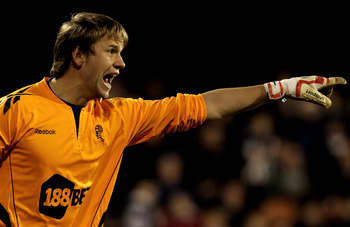 Ian Walton/Getty Images
One of the Premier League's longest-serving foreign players, Jaaskelainen has consistently been linked with Europe's top clubs over the years but has remained in the north-west since his move in 1997.
With over 500 Premier League appearances, Wenger may be keen to add him as an experienced backup to another difficult to pronounce (and type!) goalkeeper in Wojciech Szczesny.
With the likely sale of Manuel Almunia and only Lukasz Fabianksi and Vito Mannone for cover, experience would be a key attribute to have in reserve.
Jaaskelainen would most likely be unwilling to quit the club he has spent nearly 15 years playing regularly for, only to be on the bench for the majority of the time. However, Champions League football and the chance at winning a league winner's medal could be a deciding factor.
Whatever the case, the Premier League will always remember him as an outstanding goalkeeper.
Chelsea: Didier Drogba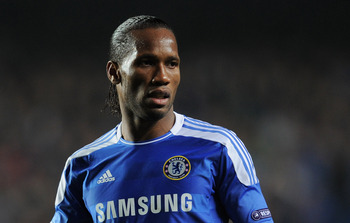 Michael Regan/Getty Images
So often a thorn in Wenger's side when Arsenal and Chelsea clash, Drogba would be a magnificent acquisition to the Gunners.
At 34, though, he may not have time on his side to make any telling contribution across an entire season, but his performances this season show he still has desire to do well for his team.
As dream strike partnerships go, Drogba and van Persie up front together would be up there with one of the best. The Ivorian's physical strength and aerial prowess would blend well with van Persie's deft first touch and powerful volleys.
Everton: Leighton Baines
Richard Heathcote/Getty Images
The diminutive full back has often been linked to Arsenal and for good reason.
One of the best crossers in the league, he played every single minute of the Toffee's games in the 2010-11 campaign, showing his importance to the side.
The most appealing aspect to Wenger would be Baines' attacking instincts and clever reading of the game. He is also somewhat of a free-kick and penalty specialist, which you can never be short of in a squad.
This season alone he has scored five goals for Everton, a decent rate of return for a left back. His crossing would benefit the likes of van Persie, with his fierce volleys, and Maroune Chamakh (when he is on good form) for his heading ability.
Fulham: Brede Hangeland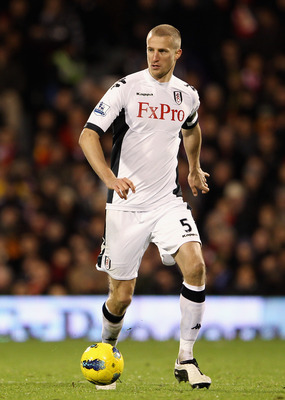 Scott Heavey/Getty Images
There were several Fulham players I could have picked, but I settled on Brede Hangeland, who has been a consistent performer for the Cottagers.
The Norwegian's 6'6" frame means he is a constant threat from set pieces in attack and a valuable asset in defending them to. His calm nature combined with superb technique would suit Arsenal's play very well.
His abilities are such that he would compliment any of Vermaelen, Koscielny, Djourou or Mertesacker effectively.
Liverpool- Steven Gerrard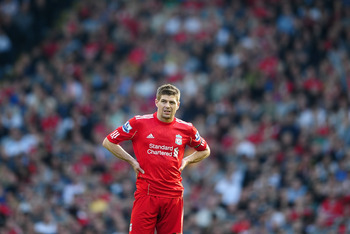 Laurence Griffiths/Getty Images
Who else could it have been?
In a seemingly steadily declining Liverpool side, Gerrard will ponder leaving his boyhood club for pastures new, in pursuit of that ever elusive Premier League winners medal.
Gerrard's never-say-die attitude and determination to win would eradicate those games Arsenal tend to have where they lack confidence and motivation to push on for the equalizer/winner.
At 31, he still could have a lot to offer the Premier League and a midfield three of Song, Wilshere and Gerrard would surely blow over any other unit in the league.
Manchester City: Vincent Kompany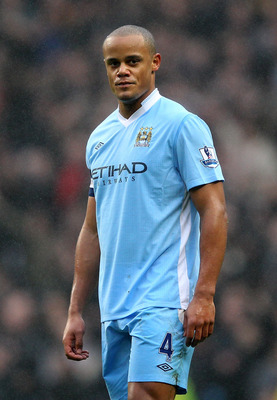 Alex Livesey/Getty Images
There could be several players at Man City which Wenger would want/want back, but I chose Vincent Kompany for his brute strength and uncompromising play.
So often it has been said how Arsenal lack a backbone or a toughness to their play, which was so often shown by Tony Adams, Patrick Vieira and Martin Keown. Kompany's presence would solve that issue.
Alex Song's ability to play perfect attacking balls might see him adapt to a new position in future seasons, and with a player like Kompany shielding the back-four, it would give Song license to roam.
At the moment, he joins attacks too often and can often leave Arsenal susceptible to quick counter-attacks.
Acquiring Kompany's signature would allow Wenger to exact a little revenge on a team that has sapped him of several star players over the past couple of years, leading many to suggest Arsenal's academy as a feeder club.
Manchester United: Ashley Young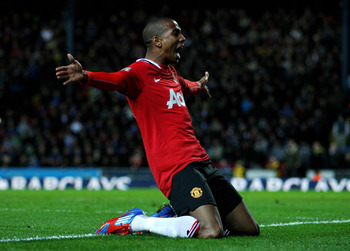 Clive Brunskill/Getty Images
Again, several names could have appeared here, but I chose Young purely for his speed, trickery, final ball and ability to shoot from distance spectacularly.
A life-long Arsenal fan himself, Young would complement Theo Walcott's play superbly, and give van Persie assurances that he would receive good service from either flank.
I was surprised Wenger didn't put a bid in for him last summer, since the player has become one of Man. United's stand out performers this season. Then again, how many times have we said that?
Newcastle United: Hatem Ben Arfa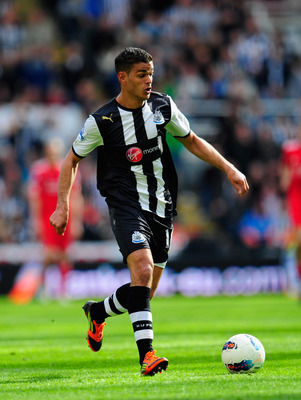 Stu Forster/Getty Images
Given the success of the Toon this season, Wenger would probably be keen on a lot of the players there.
I chose Hatem Ben Arfa simply because, since coming back from his horrific leg injury—breaking his tibia and fibula after a nasty challenge by Nigel de Jong—he played exceptionally well, scoring some superb goals and livening an already jubilant Newcastle team.
Due to Ben Arfa's pace, skill on the ball and vision, you never quite know what you are going to get with him, making him unpredictable and difficult to defend against.
His skills would offer more creative verve up front, supplying more quality passes and crosses to van Persie, which could be a good thing.
Norwich City: Anthony Pilkington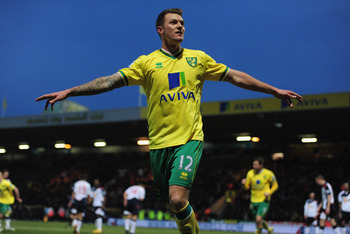 Jamie McDonald/Getty Images
Signed for £2 million from Huddersfield Town last summer, many an eye brow was raised when Canaries boss Paul Lambert opted to scour the lower leagues for players in their first season back in the Premiership.
Pilkington came from League One, after Huddersfield just missed out on promotion, and has been a success for his side all through the season.
The aspects most appealing to Wenger would be his age.
A 23-year-old striker coming from League One to the Premier League and scoring goals is certainly a mark of talent. His ability to strike lethal shots from distance, as well as trickery in the box, make the forward a handful for Premiership defences.
QPR: Adel Taarabt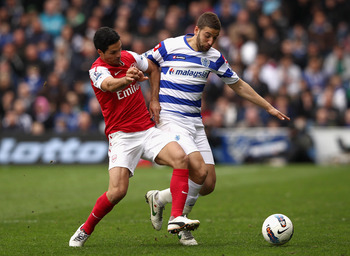 Ian Walton/Getty Images
Question marks have been raised thus far as to whether Taarabt can make it in the Premier League, with mostly poor performances throughout the season from him.
The Moroccan is certainly talented. You only have to look at YouTube videos of the player last season to see his skills on show.
He is a quick and intelligent player who can score spectacular long-range efforts and would fit in nicely with the current Arsenal squad, with the likes of van Persie, Walcott and Song to boost Taarabt's performance.
News recently of his Shisha pipe smoking with Arsenal forward Maroune Chamakh though, would have all but ruled the player out of a potential move to the Emirates.
Stoke City: Ryan Shawcross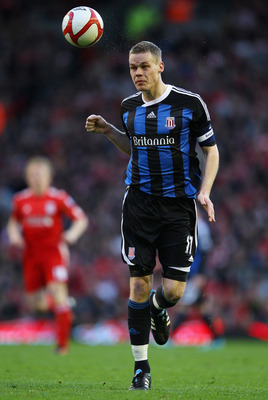 Alex Livesey/Getty Images
Once a reserve player for Manchester United, his move to Stoke has seen Shawcross become an integral figure for the Potters, so much so they named him club captain.
His tough uncompromising determination in the tackle, as Aaron Ramsey found out two years ago, and a strong aerial threat make him very appealing to Wenger.
Shawcross' style of play would compliment that of Laurent Koscielny's as the Englishman's aerial defence would serve as a potent partnership with Koscielny's tough tackling and excellent man-marking.
Sunderland AFC: Stephane Sessegnon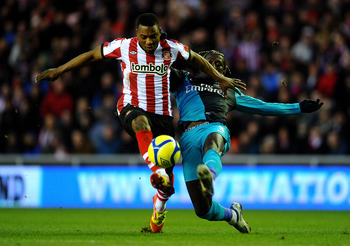 Laurence Griffiths/Getty Images
Wenger will have been impressed by the Beninese forward's powerful performances this season, to the extent that rumours have circulated suggesting Wenger will put a bid in for him.
Sessegnon's lethal shot, stocky presence up front and eagerness to track back and press high up the pitch make him a wanted player in the Premier League. He has been outstanding all season, especially since Martin O'Neil took over.
Another reason Wenger may like to sign him is for his versatility. Sessegnon can play on either wing, as a lone striker, support striker or in an attacking midfield role, meaning he could be excellent injury cover.
A strong and powerful support striker to van Persie would probably increase the Dutchman's prolific goalscoring record, a notion most Arsenal supporters would relish.
Swansea City: Gylfi Sigurdsson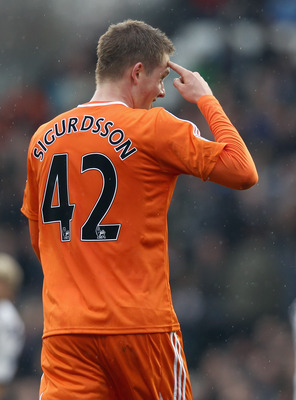 Ian Walton/Getty Images
The on-loan Hoffenheim midfielder has been an absolute revelation for Swansea City, scoring six goals and providing three assists in his first 12 appearances.
The most prominent features to Sigurdsson's play are his thunderbolt shots from outside the box and his passing.
If Sigurdsson can achieve as much as he has with Swansea, Wenger might consider what he could achieve with the likes of van Persie, Walcott, Gervinho, Song and Wilshere around him to provide more passes and offer more passing opportunities.
Tottenham Hotspur: Gareth Bale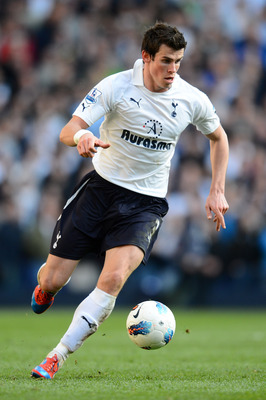 Mike Hewitt/Getty Images
Gareth Bale has come from obtaining the record for most Premier League appearances without being on the winning side (24) to becoming one of the world's most sought after wingers.
Bale's phenomenal pace and dribbling skills are a handful for every team Spurs have come up against. His performances against Inter Milan in the Champions League last year showed what a talent he is.
Wenger would rue the fact that such a talented footballer plays for his fierce rivals, but the Welshman could achieve so much more in an Arsenal shirt. Similarly, Arsenal could achieve so much more with Bale in their ranks.
West Brom: Peter Odemwingie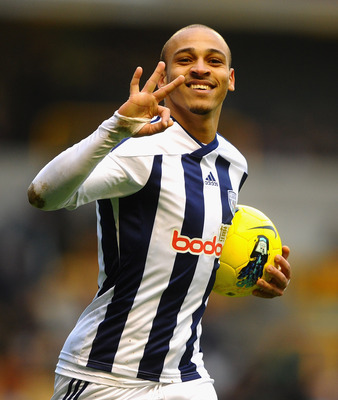 Laurence Griffiths/Getty Images
Ever since his goalscoring debut for West Brom two years ago, the Baggies knew they had found themselves a new strike wonder.
Wenger has spoken of his admiration for the Nigerian, who he has followed since Odemwingie's days in a Lille shirt.
The speed and precision the Nigerian exudes on either flank and up front for West Brom is essential to them gaining three points every match day.
Linked with an Arsenal bid last summer, the 30-year-old would present an experienced signing for the Gunners.
Wigan Athletic: Hugo Rodallega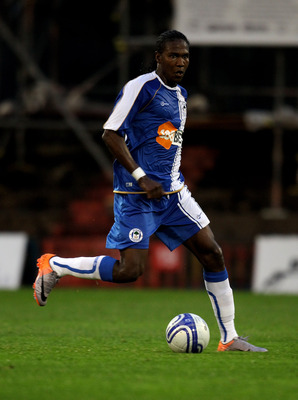 David Rogers/Getty Images
Having been consistently linked with Arsenal for a couple of years now, Rodellega is probably one of the most talented players in a Wigan squad which look doomed for relegation every year, yet they never seem to go!
A powerful free-kick taker with a penchant for speculative efforts, the 26-year-old Colombian striker's stamina and eye for a pass show why Wenger has been linked with signing the player before.
If Wigan go down to the Championship this season, Rodellega, who is a class above the rest of the squad, would be one of the first names to go. For a cut price fee, Wenger could be tempted to sign him.
Wolverhampton Wanderers: Roger Johnson
Shaun Botterill/Getty Images
I'm not going to lie, I found this last one a bit more difficult.
Wolves look destined to go down this season after showing consistently poor form under new manager Terry Connor. One player who Wenger was linked with buying last season, before moving form Birmingham, was Roger Johnson.
Johnson's tough tackling and height would, like Hangeland and Shawcross, be a welcome addition to the squad.
Johnson would also add English steel to the defence, reminiscent of Tony Adams and Martin Keown, and while those two Arsenal legends are far better defenders than Johnson, he hasn't had the chance to be in a quality team with quality players in front of him.
With Wolves likely relegated, Wenger may be tempted by the cut-price deal.
Keep Reading

Arsenal: Like this team?