Masters 2012: Contenders Who Won't Waver in Pursuit of Green Jacket
April 7, 2012

Andrew Redington/Getty Images
There may not be a ton of big names near the top of the Masters leaderboard right now, but that doesn't mean that they're going to fold like a cheap suit. There are a couple top contenders in the hunt, and they figure to hang around deep into Sunday—but there are also some middling players who are in line to score a huge victory as well.
It's difficult to say for sure which golfers will be able to withstand the immense pressure of contending for the green jacket and which will melt away, but it's interesting to speculate. With several top dogs struggling, this is a great opportunity for a surprising player to come out on top—but there are still some elite golfers who will have something to say about it.
Here are three competitors who will be in contention until late on Sunday.
Along with Tiger Woods, Rory McIlroy was considered the favorite to win the Masters. Unlike his counterpart, he hasn't disappointed thus far, as he is one shot back of the lead at four-under par. McIlroy was fantastic in the second round with a score of three-under, and he hasn't shown any signs of falling off.
McIlroy collapsed when he had a chance to take home the green jacket last year, but with another year and a major championship under his belt, he is in a better spot to finish the job.
McIlroy is the No. 2 player in the world for a reason, and that is because he has all the tools necessary to win the biggest tournaments. McIlroy is by far the biggest star near the top of the leaderboard, and while that could most definitely affect him negatively in terms of pressure, I expect him to thrive off of it.
Miguel Angel Jimenez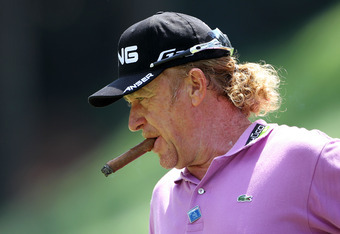 Jamie Squire/Getty Images
Despite being one of the better and more consistent players in the world, Miguel Angel Jimenez consistently flies under the radar. He always seems to be in contention at majors, even though he has yet to win one, but it seems like he is a very likely candidate to break through one day.
His moment may finally come this year at the Masters, as he is just one shot behind the leaders at four-under par after two rounds.
Jimenez has never won on the PGA Tour, but the 48-year-old veteran does have 18-career European Tour wins, so he knows how to close out a tournament. Jimenez is older and not in as great of shape as most of the golfers he'll be in direct competition with, but he is extremely savvy and understands the limitations of his game, so he will be able to remain in contention and perhaps pull off a surprising victory.
Louis Oosthuizen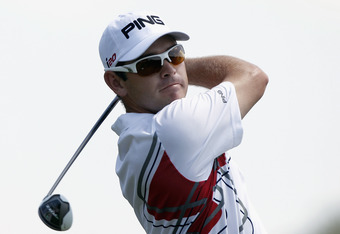 Matt Sullivan/Getty Images
In 2010, unknown South African golfer Louis Oosthuizen shocked the golfing world by coming out of nowhere to win the Open championship. Since that time he has been a consistent contender, but he still doesn't receive the recognition that a major champion probably should. That obviously doesn't bother Oosthuizen though, as he continues to go about his business and compete.
Oosthuizen is one stroke behind the leaders after two rounds at four-under par, as he did a nice job preserving his first-round performance with an even-par round on Friday. This year marks the first time Oosthuizen has made the cut at the Masters, so Augusta hasn't been kind to him—but his experience as a major winner should do wonders.
Oosthuizen may not be viewed by most as a serious contender, but he will be tough to shake this weekend.