MLB Trade Buzz: Nationals Dealing John Lannan to Cubs Makes Total Sense
April 6, 2012

Rob Carr/Getty Images
The big story with the Washington Nationals this week concerns their demotion of pitcher John Lannan to Triple-A Syracuse and Lannan's subsequent request to be traded. 
Nationals general manager Mike Rizzo and manager Davey Johnson basically responded to Lannan's request with a "Yeah, yeah—whatever" and maintained that the team was not going to deal him away. 
Hanging on to Lannan might actually be the smarter move for the Nats, considering a pitching staff rarely makes it through the long baseball season with only five starting pitchers.
It's easy to see Lannan being needed later in the season. Lannan's made it pretty clear that he wants to go elsewhere, so perhaps it's in everyone's best interests to eventually accommodate that wish.
At least one team expressed interest in Lannan soon after he was sent down to Syracuse. According to the Sun-Times' Gordon Wittenmyer, the Chicago Cubs inquired about Lannan this week. Apparently, the Cubs have had several conversations recently about putting together a deal for some left-handed pitching.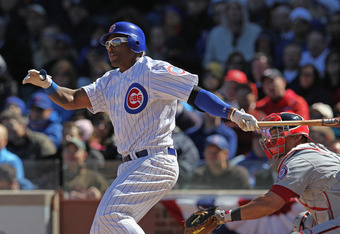 Jonathan Daniel/Getty Images
The Cubs are also looking to deal a player that could provide the Nationals with some much needed help, in center fielder Marlon Byrd.
The Nats have been searching for a center fielder for years now and Byrd could be a nice short-term solution as he's only under contract for this season. He could certainly fill the position adequately until phenom Bryce Harper is deemed ready for the majors. 
One of the reasons the Nats reportedly haven't been able to trade Lannan is his $5 million salary. Though the Cubs surely don't want to take on payroll, they'd actually save some money if Byrd was involved in such a deal, as he's set to be paid $6.5 million this season.
It's possible that salary is higher than Rizzo would like to pay, but a major league caliber center fielder isn't likely to cost any less than what Byrd makes. 
The Cubs are also reportedly interested in Tom Gorzelanny, another veteran left hander who's been pushed to the Nationals' bullpen. At $2.1 million, he'd represent better savings for the Cubs.
Gorzelanny pitched for the Cubs before, which would make you think they'd feel like they'd been there and done that. But that was with the previous administration at Wrigley Field, not the new Fenway Park Midwest crew.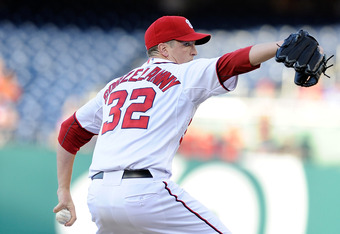 Greg Fiume/Getty Images
Gorzelanny might arguably be a better fit for the Cubs too, as they're looking for a left-handed reliever more than a starter.
One of the reasons the Nationals sent Lannan to the minors is that they didn't think he'd want to pitch out of the bullpen. Gorzelanny is also more of a strikeout pitcher than Lannan, which is what you'd prefer in relief. 
But Lannan for Byrd looks like an ideal trade for both the Nationals and Cubs. It's such a good fit that I'm frankly embarrassed that I didn't include the Cubs on my list of teams to which Lannan could be traded. You should really call me out on that one, if you care to do so. 
This deal probably makes too much sense to happen. Is that what we're all thinking here?