St. Louis Cardinals: Previewing the Weekend Series in Milwaukee
April 6, 2012

Sarah Glenn/Getty Images
This weekend the St. Louis-Milwaukee baseball rivalry will be renewed in Miller Park.
The Cardinals make their return to the place where they clinched the National League pennant last October.
Now it's a new season, and that means there will be many new faces. The two players most notably missing from this year's installment of the Cardinals-Brewer rivalry are Albert Pujols and Prince Fielder.
While both teams are missing two of their top sluggers from last season, they are both still very talented and will both be competing hard for the National League Central Division title.
Here now is a preview of this weekend's series between the Cardinals and the Brewers.
Game One: Friday 3:10 PM, TV: STL: FS-M—MIL: FSN
Pitching Matchup: Jaime Garcia vs Yovani Gallardo
Game Two: Saturday 3:05 PM, TV: FOX
Pitching Matchup: Adam Wainwright vs Zack Greinke
Game Three: Sunday 1:10 PM, TV: STL: FS-M—MIL: FSN
Pitching Matchup: Lance Lynn vs Randy Wolf
Three Things to Watch:
1) Prince-less Brewers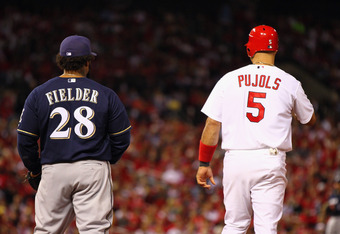 Dilip Vishwanat/Getty Images
We already have seen the Cardinals offense in action without Albert Pujols, but what will the Brewers look like without Prince Fielder. Obviously, lots of pressure will be put on Ryan Braun to carry his 2011 MVP season over into 2012.
The Brewers also brought in Aramis Ramirez in the offseason to help fill some of the void that the departure of Fielder left in the lineup. Ramirez will likely need to hit .300 throughout the season and drive in 90+ runs if the Brewers are to have a strong offense.
2) Cardinals Starters
In each game there is an interesting reason to watch each Cardinals starter.
Game 1 features Jaime Garcia on the road.
Every Cardinals fan knows the road woes that Garcia went through last year. He posted a 4.61 ERA, had an opponents batting average .313 and posted a record of 4-3. Garcia was extraordinarily bad at Miller Park last year with an ERA of 8.03. Garcia showed the ability to be spectacular at home, and St. Louis would love to see this translate over into his road starts.
Game 2 features Adam Wainwright, which is one of the most anticipated starts in baseball this season. After missing all of 2011 due to injury Wainwright appeared to be in top-form during Spring Training. His return is much anticipated by the Cardinals organization, as well as their fans.
Finally game 3 features Lance Lynn. Lynn has only started two games in his brief major league career, and is only in the rotation because of an injury Chris Carpenter suffered during Spring Training. Without much of a timetable for the return of Carpenter, the Cardinals will need Lynn to pitch well in his absence. Sunday's start should give us an indicator to whether Lynn can hold down a role in a big league rotation, or if St. Louis needs to look for another starter.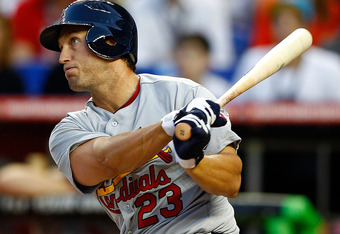 Mike Ehrmann/Getty Images
3) Deep Freese in Milwaukee
David Freese just flat out destroyed Milwaukee in the playoffs last year. He was especially great at Miller Park in the NLCS, with eight of his nine NLCS RBIs coming on the road. Freese carried his success from the playoffs into Miami on Wednesday and I expect the success to continue in Milwaukee this weekend.
Cardinals Player to Watch: Matt Holliday
Matt Holliday will need to lead the St. Louis offense this season. Holliday has been great with the Cardinals so far, but he has not shown enough production to be the focal point of an offense. On Wednesday in Miami, Holliday struggled going 0-5. Look for his production to pick up this weekend, and he should be in top form coming into the home opener next Friday against Chicago.
Brewers Player to Watch: Ryan Braun
Obviously, the player to watch for Milwaukee is defending National League MVP, Ryan Braun. Braun will need to have the same kind of production he did in 2011 if the Brewers are to have a shot at the playoffs in 2012. I think Braun's numbers will be down a little though in 2012, because the protection of Prince Fielder will not be there. Braun though, will still be very dangerous this season.
Final Line
This is a huge division battle early on in the season.
The Cardinals play division opponents all the way until the beginning of May, and they really have a chance to seize control of the division early on. If the Cardinals can take two out of three this weekend against Milwaukee it would be a successful weekend trip before heading to Cincinnati.
Look for some tough competition all week long, but Sunday could be the toughest of the games to win, since Lance Lynn is on the mound.