Oakland A's: 5 Surprising Moves Made Prior to Opening Day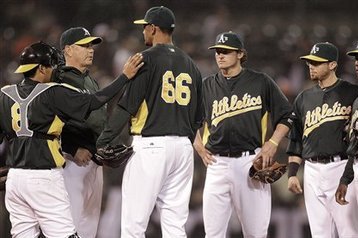 The A's 2012 regular season resumed Friday against the Mariners, and finally their roster appears to be set, for now. They chose to go in interesting routes, like maintaining only a four-man rotation and having three lefties in the bullpen, but it's safe to say that this roster is only temporary.
With that said, there are several surprising names on the A's 25-man roster and several surprising names playing in Sacramento right now. For the time being, having a seven-man bullpen and an extra outfielder is a luxury they can afford, but one they won't be able to keep in the coming months.
Having players like Daric Barton and Brett Anderson not far away from returning from injury, expect the A's to continue to shuffle around their roster until they're at full strength. In the meantime, these players will be called upon to produce for the A's, and who knows, some may impress enough to warrant staying in Oakland once other guys are scheduled to return.
These are five surprising moves the A's made when finalizing their opening day roster.
Begin Slideshow

»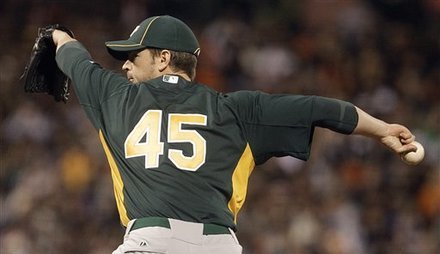 Though more experienced than other potential starters for the A's, Godfrey doesn't have nearly as much upside as the other candidates. His spring training this year didn't help much either. In 17.2 innings pitched this spring, he gave up 10 earned runs for an ERA of 5.09.
In the end, what saved Godfrey was his last start in San Francisco last Monday when he threw five shutout innings. The occasional solid outing won't save Godfrey, though, if he wants to remain in Oakland for the long haul. If he wants to stick in the rotation, then he'll have to drastically improve the consistency he showed in spring training.
This is it for Godfrey. If he doesn't succeed in Oakland this year with this opportunity, then there's a good chance he'll be calling another city home next season.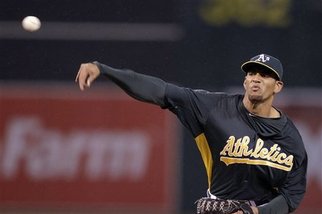 The recent demotion of Tyson Ross was considerably surprising considering that he's a better prospect than Godfrey, had a great spring and the No. 5 rotation spot remains unfilled.
Not much more could've been asked of Ross this spring as his ERA was a minuscule 1.84 in five starts. Combine that with the success and potential he's displayed in years past while pitching for the big club, and Ross' spot on the roster was almost a given.
Obviously the A's had different plans, and they probably included holding off on a fifth starter until they have to. When they do though, expect Ross to get the call barring anything drastic happening while he's in Sacramento.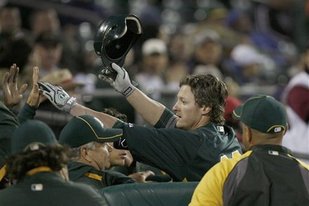 Like the Ross-and-Godfrey spring training battle, this was a surprising decision. Yes, the A's gave Donaldson the nod early in spring, but Sogard is younger, a better defensive player and had a much more productive spring.
Sure, Donaldson had four hits Wednesday against San Francisco, but that occurred after he was already named the starter while batting .224. Sogard on the other hand tore it up this spring, hitting .302 with three HRs.
What this decision ultimately came down to was depth. By declaring Donaldson the starter it made Adam Rosales expendable, clearing another roster spot. Donaldson can only play third and catcher, while Sogard can play third, short and second, making him a much more valuable utility man.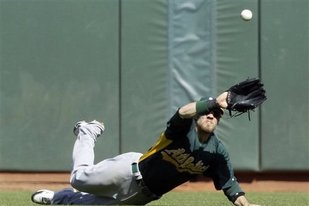 It's strange the A's would elect to carry six outfielders, especially considering how well defensively their starting outfielders play.
Cowgill's greatest asset is his arm and fielding abilities, making him a very good go-to guy for a defensive replacement late in games. Who exactly would he replace though? Coco Crisp and Yoenis Cespedes are terrific defensive players, and even Josh Reddick is an above-average defender.
The only conceivable reason for the A's to keep Cowgill is that he gives them another right-handed bat coming off the bench when Johnny Gomes is in the lineup at DH. Without him, the A's are left with only Anthony Recker hitting right-handed coming off the bench during those games.
Cowgill should enjoy the time he has in Oakland, because once Manny Ramirez comes back from suspension, his days there are likely numbered.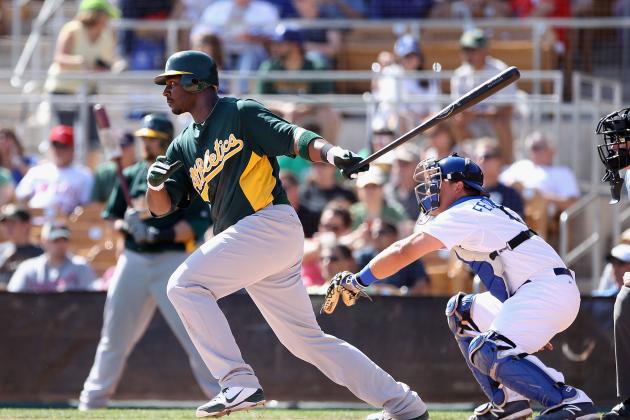 Christian Petersen/Getty Images

Though no young top prospect really established himself as an every-day big leaguer, it's a bit surprising the A's didn't give any of them a chance to prove themselves considering the holes in their roster.
Brad Peacock and Jarrod Parker essentially forced themselves into a demotion with their shaky spring, but what else does a player like Chris Carter have to prove in Sacramento? Eventually he'll have to be given a legitimate shot at first base, and this was the perfect year to do so.
Carter's numbers this year weren't particularly impressive, but neither were any of the other first base candidates. Even if Carter wasn't given the first base job, wouldn't he have been just as good an option at DH against lefties as Johnny Gomes?
Time is running out for players like Carter and Michael Taylor, and it'll be said if their time in Oakland ends before it ever even started.