MLB Opening Day 2012: Brewers vs. Cardinals Live Blog, Play-by-Play Reaction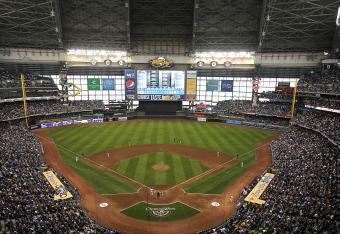 Jonathan Daniel/Getty Images
The wait is finally over.
Opening Day for the Milwaukee Brewers is upon us. Fittingly enough, the defending National League Central division champions open the season where their last one ended: at Miller Park against the World Series champion St. Louis Cardinals.
Of course, both clubs come into the beginning of this season with markedly different appearances from the last time they met.
Over the last few months, both of these squads have experienced massive roster realignments.
For the Brewers, they lost longtime first baseman Prince Fielder, third baseman Casey McGehee and hitting coach Dale Sveum. Fielder signed on with the Detroit Tigers, McGehee was traded to the Pittsburgh Pirates and Sveum became the new head skipper of the Chicago Cubs.
For the Cardinals, it was the farewell of former first baseman and three-time National League MVP Albert Pujols and the retirement of future Hall of Fame manager Tony La Russa. Pujols agreed to a 10-year, $254 million contract with the Los Angeles Angels last December.
Nevertheless, both teams will be forced to progress without their lost pieces. Today marks the beginning of what looks to be a very enticing season in the National League Central division.
My name is Alec Dopp, and I'm here to take you through a live play-by-play blog of today's Opening Day events at Miller Park. First pitch is set for 3:10 PM CT, but I will continue to keep you updated throughout the day as information becomes available.
Baseball is finally here, folks. Kick off the season right here at Bleacher Report.
Final score: Brewers 5, Cardinals 11
Alec Dopp covers the Milwaukee Brewers as a Featured Columnist at Bleacher Report. Follow him on Twitter @alecdopp and read his blog.
A big thanks goes out to all those who kept up with us during today's festivities. Congratulations to the Cardinals on starting their season 3-0.
Gomez and Braun fly out, ending the game.
Rickie Weeks promptly follows with a single up the middle. One away for Carlos Gomez.
Kottaras finally generates some offensive productivity, going yard to deep left field for a three-run home run.
Lucroy takes one for the team, gets hit by pitch which puts him on first. Backup catcher George Kottaras at the plate now.
Alex Gonzalez flies out in foul territory for the first out and then Mat Gamel strikes out swinging. Brewers down to their last out here on opening day.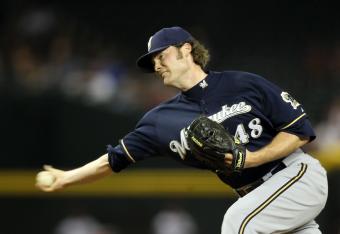 Tim Dillard gets out of a rough inning with a line-out to Gonzalez, who throws out Komatsu for the double play. On to the ninth.
Erik Komatsu called safe on an infield hit, runners now at the corners with just one out.
Rafael Fucal then doubles down the right-field line, scoring Carpenter and extending the lead to 11-2 here in the top of the ninth.
Pinch-hitter Matt Carpenter clears the bases with a 2 RBI double.
Dillard walks Descalso to put runners at the corners. One away for the pitcher's spot in the order.
Yadier Molina doubles down the left field line to start the Cardinals' ninth. Jon Jay then grounds out, Molina advances to third.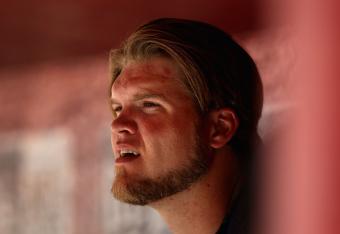 Carlos Gomez starts off the Brewers' half of the eighth with a hard-hit single to left center, but Braun follows it up with a swinging strikeout. With one away, Aramis Ramirez goes down on a foul-tip into the glove of Yadier Molina. Corey Hart then flies out to Jon Jay in the deepest part of the ballpark, retiring the side.
Tim Dillard now on the bump for Milwaukee after two relief innings from Manny Parra, gets Matt Holliday to ground out to Mat Gamel at first. With one away, Lance Berkman also grounds to Gamel for the second out of the inning.
David Freese is then retired on a ground-out to Ramirez at third. Inning over.
Morgan grounds to Descalso at second who takes the fielder's choice at second base. Runners at the corners with one down for Rickie Weeks, who grounds into an inning-ending double play.
Mat Gamel delivers his second hit of the game with a line single up the middle. Jonathan Lucroy works the count to full on Cardinals pitcher J.C. Romero and gets a base-hit, advancing Gamel to second. Both Gamel and Lucroy with two hits on the day.
Mitchell Boggs now pitching for St. Louis, Nyjer Morgan pinch hitting now.
Carlos Beltran flies out to Braun in deep left, inning (finally) over. Stretch time here in Milwaukee.
Run crosses home on a weak grounder deflected off the glove of Parra, Gonzalez unable to throw out the runner. Runner at first with two down, Parra walks Furcal.
Daniel Descalso grounds out to Gamel at first, Jay advances to third. Two away for the pitchers spot.
Yadier Molina opens up the seventh with a line-out to Braun in left. With one away and nobody on, Jon Jay stretches a single into a double thanks to Carlos Gomez struggling to get a handle on the ball in center field.
Alex Gonzalez flies out to deep center to end the inning. Brewers fail to capitalize once again with runners in scoring position.
Ryan Braun leads off for the Brewers in the sixth by grounding to Descalso at second base. Braun now hit-less on this highly-anticipated opening day.
Aramis Ramirez pops a lazy fly ball to center, two away now for Corey Hart, who doubles down the left field line.
Lance Berkman doubles to right center, Gomez struggles to get a handle on it. Beltran scores, extending the lead.
With two out, David Freese strikes out to end the inning. Cardinals extend their lead over the Brewers to 7-2.
Rafael Furcal singles down the line in left, gets caught trying to stretch it into a double. Great throw by Ryan Braun and tag by Rickie Weeks.
Carlos Beltran continues his hot hitting by singling to left. Runner at first for Matt Holliday, he strikes out an a breaking pitch by Parra.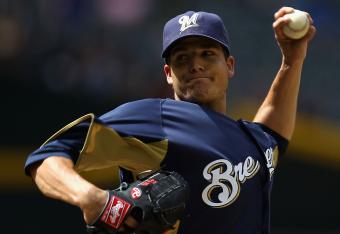 Manny Parra now pitching for Milwaukee.
This article is
What is the duplicate article?
Why is this article offensive?
Where is this article plagiarized from?
Why is this article poorly edited?