La Liga Proving That Spanish Football Is More Than Just a Pretty Face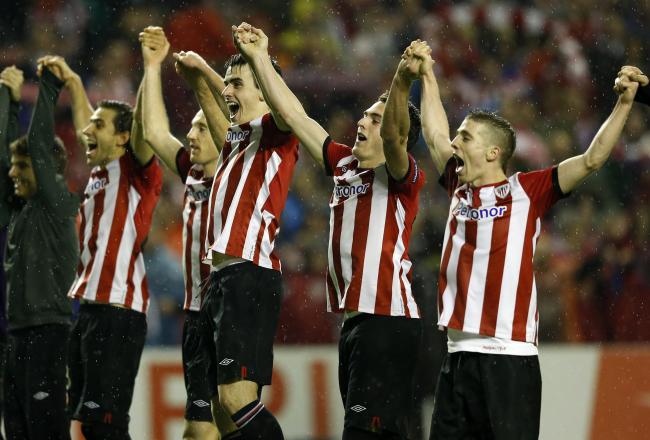 Angel Martinez/Getty Images
At a time when the Premier League is boasting one of their most exciting—albeit extremely unpredictable—seasons, and with the German Bundesliga looking set to brace themselves for a new power to challenge the might of Bayern Munich, it's fantastically refreshing to see so much from Spanish football than just the twin peaks of Barcelona and Real Madrid.
In this generation of football, there is unquestionably one king, or at least a company of royals in Barcelona's fantastic 21st-century dream team. The challenge from Real Madrid with the additions of Cristiano Ronaldo and his accompanying second wave of Galacticos have given European football as a whole an extraordinary duel with Spain as the battleground.
But La Liga has proven to be so much more than just the two regular title challengers.
Last night's Europa League fixtures proved that the teams one step below Barcelona and Madrid are just as capable as their heavyweight counterparts of making an impression, forcing a trident of Spanish clubs in the final four of European football's secondary competition.
Athletic Bilbao's triumph over Manchester United in the last round of the Europa League may have been the tipping point which resulted in so much positive attention for La Liga beyond the top two teams. The way they so comfortably and impressively dispatched of the current Premier League leaders was rightfully met with a wave of praise.
The club's manager, Marcelo Bielsa, has seen his stock skyrocket following both legs against the Red Devils and Bilbao, built around a fantastic array of youth, have drawn even greater attention ahead of this summer's transfer window.
But even before the season resumed following the turn of the year and the winter break, there was already so much to be excited about (however, not quite Tim Tebow levels of excitement).
Levante were capturing the hearts of Spanish football fans up and down the country with their early-season exploits and achievements, before eventually being recognized internationally for their great displays on the pitch. The team at one point topped La Liga for the first time in the history and took all three points from Jose Mourinho's Real Madrid back in September.
In the meantime, their city rivals Valencia were forming their impressive charge on a top-four finish. Unai Emery, who has received much criticism from the club's own supporters, has managed to keep the team competitive following the high-profile departures of Juan Mata, David Villa and David Silva in recent summers.
Up until the past few weeks, Valencia looked comfortably set to win the "second title" in Spain behind the top two, and now make up one third of the Spanish contingent looking to capture the Europa League title.
Even before Spain looks at the possibility of another Champions League title heading to either the Camp Nou or the Bernabeu, La Liga's next group of top clubs have already outperformed their English counterparts in Europe—teams who are in a much higher economic standing.
Atletico Madrid's purchase of Radamel Falcao demonstrated that the club mean business following their sales of Sergio Aguero and Diego Forlan to Manchester City and Inter Milan, respectively.
It would have seemed a much more sensible option to rebuild quietly in the background, with the 40 million euros paid for the Colombian's services used much more economically around the club. But it was a sign of impressive intent, and one which might have had a much greater impact if Diego Simeone had been brought in earlier to save the club's season.
It would be a fantastic advert for the Spanish league if La Liga clubs could take home the Champions League and Europa League trophies in May. Coupled with the very high possibility of another European cup at this summer's Euros in Poland and Ukraine, there can be no hiding from the fact that La Liga is on a massive and incredible high.
That high is something that can only grow in the coming years and it is sure to gain much more respect from people who dismiss it as nothing more than a two-club league.
This article is
What is the duplicate article?
Why is this article offensive?
Where is this article plagiarized from?
Why is this article poorly edited?