Warren Sapp Hits Nail on Head with Harsh Critique of Gregg Williams' Bounty Talk
April 6, 2012

Kevin Winter/Getty Images
Former star defensive tackle and current NFL Network analyst Warren Sapp has never been afraid to run his mouth, which has put him in hot water more than a few times. That said, his harsh criticism of Gregg Williams' bounty system couldn't be more on point.
Sapp didn't take Williams' locker room speech prior to a New Orleans Saints playoff game against the San Francisco 49ers as lightly as other former players, instead choosing to take the high road, according to Steve Corkran of the Bay Area News Group.
"This is the most heinous, egregious thing in the history of this game," former Raider defensive lineman Warren Sapp told the Bay Area News Group, adding that Williams' actions were "an anomaly ... one in three billion."

"Not for one second would I sit in a room and listen to someone say, 'We're going to take out someone's ACL' without standing up and saying, 'What the hell are you talking about?'" he said. "The way you play defense isn't about malice. It's about putting you in fourth-and-more than you can handle."
Football has and will always be a vicious game. Players are going to get injured on a weekly basis, and some of those ailments are significant. Thanks to the constant talk about concussions, everybody knows about the long-term health problems that can arise.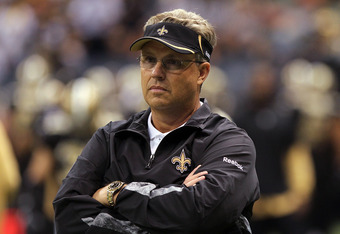 Matthew Sharpe/Getty Images
For a veteran coach like Williams to go as far as calling for injury shots was completely unacceptable, no matter the circumstances. Even though hyperbolic rhetoric has become a way to make a point, that doesn't mean there isn't still a line people shouldn't cross.
There should be a certain level of respect everybody involved with the league has for each other. Winning will always take precedent over anything else in sports, but sometimes it's important to step back and think about the future.
Is taking out a player's knee or attacking their head really a good idea? Absolutely not. Nobody will remember a wild card round playoff game in 10 years except for the guy who never fully recovers from a cheap shot.
It's also important to note the game in which Williams gave the speech, the Saints gave up 407 yards and 36 points in a loss to the 49ers. They allowed the game-winning touchdown pass with nine seconds left, so the message didn't resonate well.
You have to hope that's because the players knew better. They might not have been willing to step up like Sapp suggested, but they weren't about to hurt somebody just for the sake of doing it. After all, the karma train never steps moving.
Hopefully this becomes the ultimate learning experience for coaches. Not only for those in the NFL, but at every level of the sport, because that's not how the game was meant to be played.
As for Williams, he shouldn't be allowed to coach again. If Roger Goodell wants to suspend players for multiple games based on a single hit during any given game, a coach who pushed his stars to go beyond that for an extended period of time has no place in the NFL.
If the league takes the issue of concussions as seriously as they say, Williams won't be allowed on the sidelines. A message needs to be sent, and this provides the perfect opportunity to do it.
Give credit to Warren Sapp for speaking out about it when other players seemed unwilling to. He hit the nail on the head, and hopefully players throughout the league heard what he said and agree wholeheartedly.
That's the only way for the NFL to put this bounty mess to rest and move on.