Ryane Clowe's Cheap Trick Proves to Be Critical as Sharks Top Kings in Shootout
April 6, 2012

Christian Petersen/Getty Images
As the Los Angeles Kings and the San Jose Sharks took the ice for game No. 81, a playoff sense loomed over the Staples Center.
The Kings held a one-point advantage over their northern California rivals and with the regular season quickly coming to a close, both teams knew how important two points were.
Apparently, San Jose's Ryane Clowe knew more than every other player on the ice on Thursday night.
Clowe interrupted an odd-man rush for the Kings by intentionally putting his stick on the ice from the bench, causing Jarret Stoll to lose control of the puck while Los Angeles was on the power play.
The incident occurred shortly after the Kings tied the game up at five with three minutes left in regulation.
Long-time Kings color commentator Jim Fox was very vocal about the incident saying, "Someone on the bench played the puck! A San Jose Shark player on the bench reached on to the ice and touched the puck!"
As the sellout crowd at Staples Center erupted in boos and all of the Kings raised their hands in disbelief, not one whistle was blown from any of the referees.
With the game reaching its closing minutes and so much at stake, how was something like that not called? How does that sort of classless, pathetic play go unnoticed?
During postgame interviews, Scuderi joined Fox and Bob Miller in the booth and commented on the play. Neither Scuderi, Fox or Miller had ever seen a play like that happen before and the one question still lingers: Why was nothing called?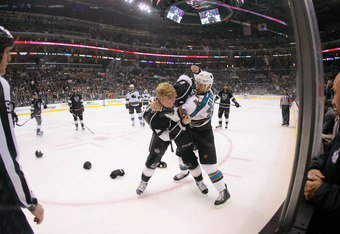 Victor Decolongon/Getty Images
With so much riding on the game, how was it that none of the referees noticed the immature move by Clowe?
It is the equivalent of former New York Jets conditioning coach Sal Alosi tripping the Miami Dolphins' Nolan Carroll in the middle of a punt return during a game in 2010. Alosi resigned after the stunt.
Clowe wasn't even penalized.
The Sharks ended up winning 6-5 in a shootout. The Kings clinched a playoff spot and are currently tied with the Sharks with 94 points as both teams finish the regular season against each other Saturday night in San Jose.
After Clowe's cheap attempt at being a hero, the Kings will be sure to come out Saturday night with anger. There's just no way you let a player get away with pulling a stunt like that.
Instead of getting back on the ice and adding another tally to your two-point night, you decide to be the four year old of the NHL and take the game into your own hands. You may have gotten away with this one, but don't expect the Kings to take it lightly.
Hopefully Gary Bettman won't either.