He Played Last Year? Timo Perez and Other Former Mets Toiling in the Minors
April 6, 2012

Eliot J. Schechter/Getty Images
Ah, baseball season has begun once again, New York Mets fans. It's another year that will surely bring us to the highest of highs and, unfortunately, the lowest of lows.
As we sit in front of our televisions watching David Wright, Ike Davis and Johan Santana, we easily forget about those former Mets, who were still plying their trade somewhere in professional baseball as late as last year, who created for us indelible memories in years past.
Take, for example, Timoniel "Timo" Perez. He was the speedy, defensively solid outfielder who the Mets signed out of Japan in 2000 and who, in the first two series of the 2000 playoffs, helped propel the team toward the Fall Classic—despite playing only 24 regular season games that year.
In the National League Division Series, he hit .294 with three RBIs against the San Francisco Giants, and in the Championship Series, he hit .304 with eight runs scored against the St. Louis Cardinals—not bad for a guy with fewer than 50 regular season at-bats.
Perez played for the Mets through 2003, so it has been nine long seasons since he donned the team's uniform—and five years since he played in the major leagues at all. Yet, the now 36-year-old was still speeding along in the Detroit Tigers' system last year, hitting .304 with 16 stolen bases in 122 games for their Triple-A squad, the Toledo Mud Hens.
The left-handed hitter has played all over the baseball map since his final major league foray in 2007, spending time in independent baseball and in Mexico. In 2009, he hit .326 with 16 stolen bases in 98 games split between the Mexican League's Rojos del Aguila de Veracruz and the independent New Jersey Jackals.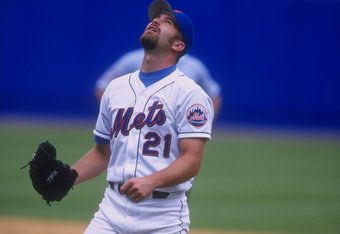 David Seelig/Getty Images
Speaking of independent baseball, former top prospect-turned-big-league bust Bill Pulsipher, 38, has spent plenty of time at that level in recent years.
As part of the highly-touted—and highly disappointing—Generation K, the big left-hander came to the big leagues alongside Jason Isringhausen and Paul Wilson with lofty expectations. None of the pitchers lived up to their potential, with Pulsipher bombing the most notably.
While Isringhausen went on to become an All-Star closer and Wilson became a steady cog in the Tampa Bay Devil Rays' and Cincinnati Reds' starting rotations, Pulsipher never quite found much success at any of his big league stops.
He began with the Mets in 1995 and posted a decent 3.98 ERA in 17 starts. He missed 1996 and 1997 due to injury and rehabilitation, and upon his return in 1998, he posted a 5.10 ERA in 32 appearances (11 of which he started).
He was then shipped off to the Brewers, making a brief return with the Mets in 2000. Long story short, he performed poorly then, and in 2001 and from 2002 to 2004, he did not play at the big league level. In 2005, he returned to the stage with the Cardinals...and he did not do well there, either.
You have to give him credit for never giving up, though. Since 2005, he has played in three different independent leagues, for three different independent teams, and he spent time in Mexico in both 2007 and 2009.
Like his big league career, however, his recent trips through unaffiliated baseball have not been stellar. In 2011, with the independent Atlantic League's Long Island Ducks, he allowed 125 hits in 92.1 innings while posting a .333 winning percentage. In 2007, his ERA was 5.02, and since 2003 (back when he was still only 29 years old), he has not averaged less than one hit allowed per inning in a season.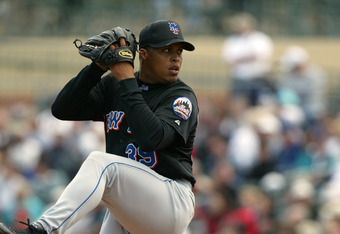 Eliot J. Schechter/Getty Images
Perhaps Pulsipher was never able to reclaim his career, whether in the big leagues or at the very bottom rung of professional baseball. But Dicky Gonzalez did—though he traveled halfway across the world to do it.
The then 22-year-old joined the Mets briefly in 2001 and had a semi-successful 16 game stint with the squad. After posting a 6.10 ERA in his first 41.1 innings, the Puerto Rico native became a dominant force down the stretch, putting up a 2.04 ERA in his final eight appearances.
But, that was it for his Mets career, and after a four game audition with the Devil Rays in 2004, Gonzalez disappeared, never to be seen again.
At least, not in the United States. The Devil Rays released him and the Yakult Swallows in Japan's Nippon Professional Baseball picked him up. He pitched for them through 2008 with some success—in 2006, for example, he went 9-7 with a 3.15 ERA in 17 appearances.
In 2009, he joined the Yomiuri Giants, with whom he still plays. His first season with the club was one for the ages, as he went 15-2 with a 2.11 ERA. Just last year, he posted a 1.80 ERA in an injury-shortened, 13 appearance season.
You may not have remembered Gonzalez, and you may not remember this next guy, either—or at least, his Mets career. Recall Mike Bacsik? He is best known for allowing Barry Bonds' record-breaking 756th career home run while pitching for the Washington Nationals in 2007. Yet, in 2002 and 2003, the southpaw starter took the mound a combined 16 times for New York, going 4-4 with a 5.77 ERA.
After he left the Mets, he pitched for the Texas Rangers, then in the minor leagues in 2005 and 2006. He reappeared with the Nationals in 2007, but following the 2008 season it appeared as if his professional career was over.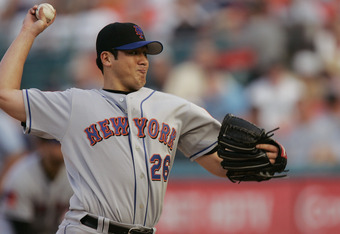 Eliot J. Schechter/Getty Images
Not so. In 2011, he resurfaced with the independent Fort Worth Cats, making 10 starts and going 2-4 with a 4.01 ERA. Coincidentally, he was teammates with former Mets prospect Robert Manuel, who was traded to the Cincinnati Reds in 2006 for pitcher David Williams.
Unlike Bacsik's Mets career, people may remember Jae Weong Seo's. Over four seasons with the team, he appeared in 77 games and went 22-24 with a 3.85 ERA—ho-hum numbers during a very ho-hum era in Mets history.
As a 26-year-old rookie in 2003, he started 31 games for the team, winning nine matches and posting a 3.82 ERA. Not terrible, and certainly not unmemorable, but fans may most recall his stellar, though abbreviated 2005 season, when he went 8-2 with a more-than solid 2.59 ERA in 14 starts. That was coming off a struggle of a 2004 season, in which his ERA was almost five.
He could never repeat his success from that year, and by 2008, he was out of baseball—that is, American baseball. Returning to his native land of South Korea, Seo joined the Kia Tigers of the Korean Baseball Organization, a team he is still with today. With them, he has been a steady performer, posting a 3.34 ERA in 2010 and a 4.28 mark in 2011.
It seems strange. To the casual observer, once a player departs from the big league stage, it's like he is gone for good and his career is over—but that is not the case. Oftentimes, as evidenced by these former Mets, players continue to toil at all levels of professional baseball, ranging from the lowly independent leagues to the top leagues in other countries.
Some of the players above have careers that are in jeopardy or that are over all together. Pulsipher, for example, hung up the spikes to become the pitching coach for the independent Winnipeg Goldeyes in February 2012. Perez, though not retired or out of baseball, has been suspended for testing positive for drugs, and there's no telling where, if anywhere, Bacsik will end up.
Yet, their careers are the hallmarks sticking to it. Of never giving up. Of forever chasing the dream.
Long after they have been forgotten, long after their heydays and career zeniths, these men did not stop. They did not quit. They continued to play on—and on, and on.