Chicago Cubs: Ryan Dempster Tossed Away His Bill Murray Souvenir
April 5, 2012

Jonathan Daniel/Getty Images
Thursday was a pretty good day at the ballpark for the Chicago Cubs' Ryan Dempster.
Facing the Washington Nationals, he racked up 10 strikeouts while allowing one run and two hits over 7.2 innings. (Unfortunately, Dempster didn't get the win, as Kerry Wood and Carlos Marmol couldn't protect a one-run lead in the eighth inning.)
But Dempster's day was going well before he even took the mound—whether he realized it or not.
As reported by MLB.com's Carrie Muskat, renowned Cubs fan Bill Murray gave the ball he threw for the ceremonial first pitch to Dempster after autographing it. Dempster apparently didn't realize Murray had signed the baseball. Furthermore, Murray penned a personalized message: "Good luck, Ryan."
Having not seen the autograph, Dempster threw the ball to Nats leadoff hitter Ian Desmond for the game's first pitch.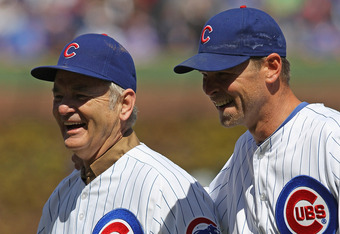 Jonathan Daniel/Getty Images
Desmond singled into right field and then asked for the baseball, wanting a souvenir from Opening Day. But after bringing the ball into the dugout, Desmond saw the autographed message to Dempster. 
Muskat didn't report whether or not Desmond gave the ball back to Dempster, but he presumably did. Personally, I think Desmond could've just crossed off the "Ryan," wrote in an "Ian," and taken home a Bill Murray autograph to show friends and family. But I tend to be a softy toward a fellow Ian.
I'm more curious about Dempster missing the autograph. Pitchers check the baseball pretty carefully, tossing back ones they don't like. Of course, that's more of a "feel" issue with how much dirt might be on the ball or in the seams. 
Next time Dempster gets a baseball from a celebrity fan, he might want to check for a signature. Unless it's from Jim Belushi. Go ahead and throw that baseball and let someone hit it.