Boston Red Sox Opening Day Concerns: Can Aceves, Melancon Close out Big Games?
April 6, 2012

The night before Thursday's Boston Red Sox/Detroit Tigers opener, former Red Sox closer Dick Drago told me,"I don't like the idea of Aceves as closer. He's not a strikeout pitcher, and there will be times when you just need to blow someone away to win a game."
How prophetic was that?
To recap, Ryan Sweeney tied the game 2-2 with a triple in the top of the ninth. Manager Bobby Valentine brought in Mark Melancon to pitch the bottom of the inning. After he got Ryan Raburn to fly out to right, Jhonny Peralta singled to right on an 0-1 pitch, and Alex Avila followed with another single, this time on a 1-2 pitch.
Valentine made another pitching change—this time a questionable one. He brought in newly-anointed closer Alfredo Aceves, who hit Ramon Santiago with a pitch and then gave up the game-winning hit to Austin Jackson, leaving a final score of 3-2. The strikeout-prone Detroit leadoff man drove the ball past diving third baseman Nick Punto (a defensive replacement brought in to start the inning after Valentine lifted Adrian Gonzales for a pinch runner in the top of the ninth).
Even though it's only game one, with 161 more to go, Facebook posts and calls to Boston-area radio stations showed some Red Sox fans are already in full panic mode. While reports of possible jumpers on the Tobin Bridge proved to be false, the doom-and-gloomers were having a field day.
Drago knows a thing or two about closing; he was the lights-out hero of the pennant-winning 1975 Red Sox team. He—and others—don't understand the rationale of acquiring two closers in the offseason (Melancon and Bailey), and then not using one when the other gets hurt.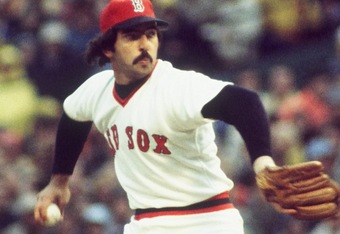 (We're not even going to discuss new starter Daniel Bard as an option. His move to the rotation is an experiment that needs to play itself out.)
Yes, Aceves has been an extremely valuable and versatile member of the Boston pitching staff, after doing equally as well for the Yankees for a couple of years. Yes, he is also a clutch pitcher; in late and close situations, in tie games or with a one-run lead, batters hit less than .200 against him. He had seven games in which he came out of the bullpen for at least three innings and didn't allow a run, and four more in which he allowed just one run.
But in his four-year major league career, he has exactly four saves, with his two saves in 2011 coming when he pitched multiple innings in games the Red Sox blew wide open.
In his nine years in the minors, he posted exactly one save—and that was in 2003 while he was pitching in the Mexican League.
On the other hand, 26-year-old Mark Melancon registered 20 saves in 25 chances for the hapless Astros last season. He finished a whopping 47 games for Houston in 2011, while posting a 2.78 ERA. He ended up with an 8-4 record in 71 appearances, holding opponents to a .234 batting average and striking out 66 batters while walking only 26.
As I wrote back on January 2, "He saved more than 35 percent of his team's wins last year even though he did not become the closer until mid-May."
Perhaps the first question that ran through Valentine's mind when he learned that Bailey would be out for months was one I also asked: "Can Melancon make the transition from the laid-back, sparsely attended, meaningless games played by the bottom feeders of the NL Central to the pressure-cooker known as Fenway Park during a pennant race?"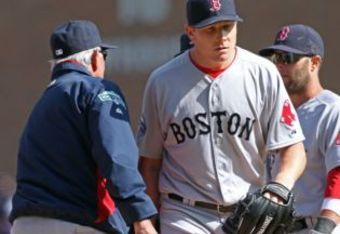 To be fair, Melancon did appear in 16 games for the Yankees before being traded to Houston in the Lance Berkman deal in 2010—so he is not totally unfamiliar with the AL East.
But as Drago says, "How will we ever know, if Valentine doesn't give the guy the chance to sink or swim?"
In Drago's opinion, Valentine overmanaged the bottom of the ninth by being too quick to yank Melancon. "It's the first game," he says. "Let's find out what the young man is made of. Instead, he gets yanked after three batters. What will that do to his confidence going forward?"
The numbers bear out Drago's point. At that juncture, a strikeout would have been huge, and Austin Jackson is a prime strikeout candidate, with 351 punchouts in his first two major league seasons. His 181 Ks last year was third in all of MLB.
In his career, Aceves has averaged 6.3 strikeouts every nine innings. Melancon has averaged 7.9, and reached 8.0 in 2011. He also throws one to two mph harder than Aceves.
I think Drago is right; the decision to make Aceves the closer needs to be revisited, and quickly. Melancon needs to get the ball, and even let him struggle a bit if that's what it takes to find out what he's made of.
Otherwise this team will not be able to finish games with confidence.