Cincinnati Reds Prospects Showcased Their Talents in Tuesday's Futures Game
April 8, 2012

In case you missed it, this Tuesday was the Reds final scrimmage. The game was played against the Reds' "Futures" team and it's a great opportunity for young Reds prospects to showcase their talents.
The roster included highly touted prospects like; Donald Lutz, Billy Hamilton, Didi Gregorius, Daniel Corcino, newly acquired JJ Hoover, Kyle Lotzkar as well as a few others.
Former Reds great, and current A-level pitching coach, Tom Browning said this of the game:
"It's a great opportunity to see where the big leaguers play. This is as close to the Major Leagues as they can get without actually playing here. And it gives the organization another chance to evaluate them."
Browning is spot on with his assessment of the annual game, but there's one thing he left out that I feel is rather important. This game is a really great chance for fans to see what kind of talent we have to look forward to.
Personally, if I lived in Cincinnati, or at least closer than 700 miles away, I would have skipped the French History class that I'm currently sitting in to see this game.
Some prospects made a pretty good impression in Tuesday's seven inning exhibition.
Billy Hamilton went 2-3 including a single to lead off the game and a bunt single later in the sixth inning. Hamilton, unsurprisingly, also contributed a steal to futures effort and would have had a second had he not over-slid second in the first inning.
Donald Lutz, who came on very strong last year, went 2-2 with a two-run homer off Reds starter Mike Leake. That home run knocked in Neftali Soto who led off the inning with a single to left. Soto also went 1-3 in the game.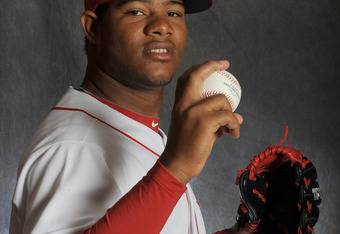 Rich Pilling/Getty Images
Daniel Corcino took the hill for the Futures and contributed two impressive innings allowing one hit while striking out two.
The hit he allowed was a leadoff double off the bat of Brandon Phillips. Corcino proceeded to pick off Phillips at second.
The following inning was Corcino's last and he struck out Chris Heisey and Jay Bruce consecutively to end the inning.
JJ Hoover, who was recently acquired for out of shape prospect Juan Francisco looked in top form Tuesday night. Hoover pitched one inning, but in that one inning he struck out Ryan Ludwick, Drew Stubbs and Brandon Phillips en route to picking up the victory.
The Reds were short on offense but the team's one run came from a solo home run by Zack Cozart in the bottom of the fourth inning. Cozart had a hot spring and has continued into the regular season through the team's first two games.
Mike Leake was relieved after four innings by Homer Bailey who allowed just one hit in two innings.
Bailey turned the ball over to young star Aroldis Chapman who pitched just two thirds of an inning. In his appearance Chapman struck out Yorman Rodriguez and Didi Gregorius before turning the final out over to Sean Marshall.
The Futures defeated the Reds 2-1 in seven innings.
I will continue to post updates on how the organization's top prospects are performing all season long as some are off to an already promising start.