The Most Despicable Acts in Sports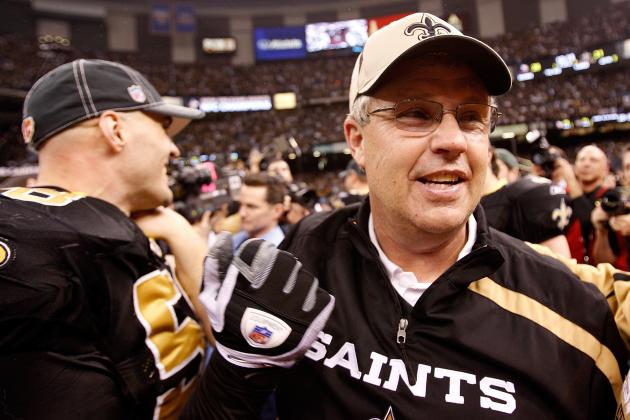 Chris Graythen/Getty Images

The New Orleans Saints bounty program has been making headlines for weeks now and the fallout has been considerable, to say the least.
The organization is facing substantial fines and the loss of draft picks and head coach Sean Payton and general manager Mickey Loomis have both been issued serious suspensions.
All that already and the NFL and commissioner Roger Goodell hasn't even begun yet to deal with the players involved.
But it seems that the harshest punishment will be saved for Greg Williams, the defensive coordinator at the center of this. Things were looking bleak for the indefinitely suspended Williams from the beginning and the recent release of locker room audio has compounded his troubles.
Everyone has, and is entitled, to their own opinions on what the proper punishment for something like this should be. But there is no question that malicious attacks with the intent to injure have no place in sports. Williams and the Saints are obviously going to be made examples of, but this obviously isn't an isolated incident.
Unacceptable behavior is being either coached or condoned in a lot of sports—hopefully the Saints incident helps shine a spotlight on some of it. Let's take a look at 20 ugly incidents in sports.
Begin Slideshow

»
It's pretty much an unspoken rule in the NHL that you don't mess with the other team's goalie—even when there's an all-out brawl, the opposing goalies tend to fight each other.
Long-time Rangers' agitator Sean Avery isn't exactly known as a rule-follower, which is why he had not problem cheapshotting Bruins goalie Tim Thomas in the back of the head with his stick as he skated by him.
We've all heard over and over again that football is a violent game. That's obviously true, but there are still boundaries.
The Raiders' Richard Seymour definitely overstepped the boundaries in 2010, when he punched Steelers quarterback in the face, breaking his nose.
You probably didn't expect to see any ladies on this list, but on occasion they have been known to mix it up like the men with dirty plays.
In 2009, New Mexico women's soccer player Elizabeth Lambert was suspended indefinitely (reinstated a year later) for various acts of slapping and hair-pulling during the course of a game against BYU.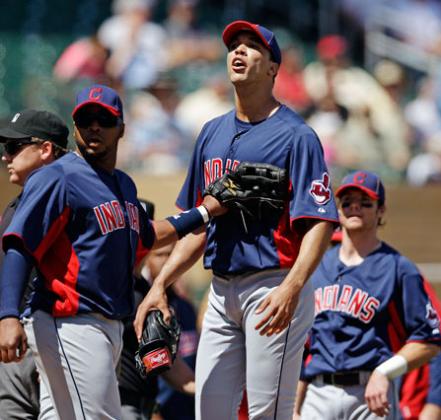 For the most casual of baseball fans (like me), it's really difficult to follow all of the weird, unwritten rules of the game. There are just a lot of things that you can and can't do that seem arbitrary.
That being said, even I know that pegging a batter with a ball and inciting a bench-clearing brawl in an exhibition game is seriously frowned upon. Like very seriously frowned upon.
Indians pitcher Ubaldo Jimenez was recently suspended five games for doing just that.
Despite the fact that football is a violent sport, it's not often that you see something like this. For whatever reason, on field fist fights between players are just not something that happens much in the NFL.
Well, former Titans cornerback Courtland Finnegan didn't let that deter him from goading Texans superstar wide receiver Andre Johnson into a fight in 2010. Finnegan was probably looking to get the Texans best player off the field, and it worked since they as both ejected.
Dale Hunter is now the coach of the Capitals, but for decades he was one of the meanest characters in the NHL—an impressive distinction in the goon-heavy league of the 80's and 90's.
One of Hunter's uglier incidents came in the 1993 playoffs against the Islanders. After Pierre Turgeon stole the puck off his stick and scored, Hunter runs and unsuspecting Turgeon into the boards from behind.
Turgeon missed the rest of the playoff series and the series following.
We all know that Clippers superstar Blake Griffin can get under your skin with one of his monster dunks—ask Kendrick Perkins about that. Well apparently he's been doing that since college.
In the first round of the 2009 NCAA tournament, Griffin was lifted up and dropped on his head by Morgan State's Ameer Ali.
If parents can't manage to behave themselves as onlookers to a children's football game, how can't anyone expect kids to behave themselves?
Parents are supposed to set an example in terms of patience and sportsmanship, and running out onto the field to attack a referee sets the exact opposite example.
Now I'm wondering if that last slide was old footage of LeGarrete Blount's peewee league and it was his father that attacked the referee. At least we'd have an explanation for this nonsense.
Blount has performed for the Buccaneers since being signed as an undrafted free-agent, but it was his season-long suspension for punching an opposing player after an Oregon loss that likely prevented him from being drafted in the first place.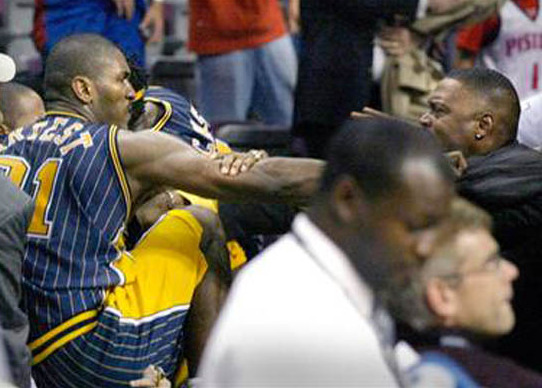 The Lakers' Metta World Peace wasn't always the eccentric, yet mostly likable goofball we know today. He used to be the unpredictable and violent Ron Artest who played for the Pacers.
Artest's most famous incident is obviously the 2004 rumble he started in Detroit. With less than a minute to go in the game, a fan in the stands chucked a drink at Artest, and Artest responded by climbing into the stands and assaulting any fan in his way.
Some more athlete on fan violence, this time in the English Premiere League. In 1995, Manchester United's Eric Cantona was being taunted by a fan who was hurling racial insults at him.
Cantona wasn't prepared to turn the other cheek and, instead, made his way to the stands, leapt in the air and kicked the fan in the chest full-force with both of his feet. He was fined £20,000 and banned from playing football.
On Thanksgiving day 2011, the Lions met the Packers and for the first time in about a decade that they had something to play for late in the season. Perhaps the pressure of the game was too much for the Lions second year defensive tackle Ndamukong Suh, or maybe he just likes hurting people.
Either way, Suh was ejected early in the third quarter of the game for stomping on Packer Evan Dietrich-Smith. Suh denied the charge on a few occasions and offered a half-hearted apology/explanation for the incident—insisting he was just trying to keep his balance.
Suh was suspended two games for the incident, and his reputation as a dirty player took another hit.
In early 2012, boxer Derek Chisora confronted David Haye at his post-fight press conference and incited a full-on brawl, with entourages and onlookers getting mixed up in the mess.
The two traded several blows and Chisora threatened to "shoot" and "burn" Haye during the hubbub before brandishing a bottle and smashing it on someone's face.
In a move that would be almost unimaginable int he NFL today, in 1986 the Packers Charles Martin was suspended two-games for this season-ending hit on Bears quarterback Jim McMahon.
Actually, calling this a "hit" isn't entirely accurate. Martin's well after the whistle play on McMahon was more of a malicious bodyslam that might be met with criminal charges if it happened today.
In 2000, Bruins enforcer Marty McSorely was charged with criminal assault with a weapon for his stick attack on Canucks forward Donald Brashear. McSorely's stick struck Brashear in the head and he suffered a Grade 3 concussion as a result.
He plead not guilty to the offense and (kind of) apologized (for his stick) but McSorley's long history of dirty hits probably didn't help him—he was found guilty of assault and suspended indefinitely but managed to avoid jail time.
Italy took on France in the 2006 FIFA World Cup Final in Berlin and it was Italy that emerged with the victory. Unfortunately, that game is best remembered for the headbutt heard round the world, than anything else.
France's Zinedine Zidane was ejected in the 110th minute of the game after headbutting Italy's Marco Materazzi—who he claimed had insulted his sister.
Albert Haynesworth's 2006 stomp of Cowboys center Andre Gurode really makes Ndamukong Suh's recent incident look pretty tame by comparison. It wasn't the first time Haynesworth would be in trouble and it certainly wasn't the last.
The stomp left Gurode with 30 stitches in his head and left Haynesworth with an unprecedented five game suspension. Haynesworth said he was disgusted with his actions, but obviously he didn't learn any lasting lessons from the event.
ESPN recently ran a story entitled "Todd Bertuzzi hit on Steve Moore in 2004 as a cautionary tale for the New Orleans Saints bounties." It discussed some of the parallels between the incidents and the ongoing litigation that still drags on in the Moore case.
An excerpt from the ESPN piece paints a very clear picture of the Bertuzzi incident:
His team was behind 8-2 in the third period, and Todd Bertuzzi's shift was over. But he stayed on the ice and stalked Colorado Avalanche forward Steve Moore up and down the length of the rink during that March 8, 2004, game, taunting Moore and demanding a fight. Bertuzzi, who is 6-foot-5, 245 pounds, wanted payback for what Bertuzzi and the Vancouver Canucks thought had been a cheap shot by Moore on Canucks star Markus Naslund three weeks earlier.

No penalty had been called on the Moore-Naslund collision in the Feb. 16 game, and an NHL review of the play concluded it was a legal hit. But Canucks players and management were infuriated and made little attempt to hide their intent to exact a measure of physical revenge on Moore.

"There is definitely a bounty on his head," said the Canucks' Brad May shortly after Moore leveled Naslund.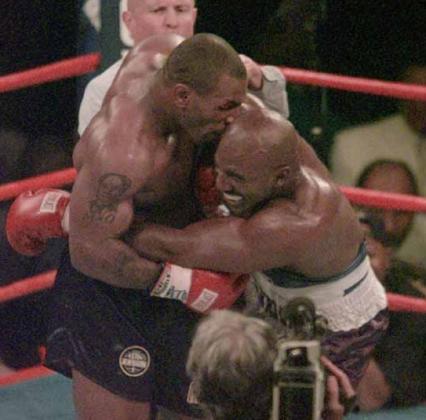 Nom Nom Nom
Ah yes, the bite heard round the world. Everyone remembers the highly anticipated Tyson vs. Holyfield rematch in 1997—but not for reasons anyone had expected prior to the fight.
After losing the first two rounds decisively, Tyson was obviously frustrated and decided he needed to change his tactics. Unfortunately for Holyfield, his new tactics included cannibalism.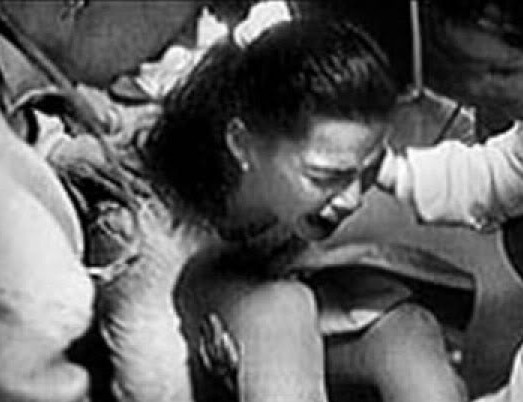 Tonya Harding's orchestrated plot on figure skating rival Nancy Kerrigan prior to the 1994 Winter Olympics is undoubtedly one of the strangest and most horrifying events in sports history.
Fearing that she had no chance at defeating Kerrigan, Harding and her white-trash accomplices hatched a scheme to take out the competition. Kerrigan was attacked with a collapsible police baton at the 1994 U.S. Figure Skating Championships in Detroit.
Luckily Kerrigan escaped with just a seriously bruised knee—there was talk of a much more permanent solution earlier on in the plotting. Kerrigan went on to win silver in the Olympics and Harding didn't even finish in the top 10.